Part of the Solution: Meet Michael
Posted on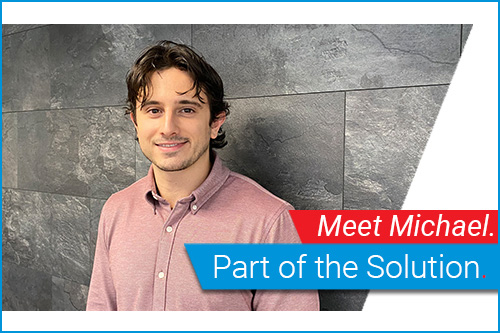 mk North America believes in offering not only a better product, but also a better solution; and our employees are an integral part of this belief. These are some of the faces that are Part of the Solution – making your next conveyor system a success.


Continue reading to learn how Michael is Part of the mk Solution.
Meet Michael
Michael is a Mechanical Project Engineer; having started his career with mk North America in June 2018 as a Mechanical Design Engineer. Michael is the lead technical person for mk's VersaFlex line of flexible flat-top chain conveyors. In his current role he assists with application review, completes all phases of mechanical design engineering for customer projects, in addition to procurement preparations for these projects. He also spends time assisting the mk sales team – internally and externally, as well as customers, during all phases of a project from concept through the final build acceptance test.
I asked about what motivates him at work, to which he replied: Every day we get to work on various solutions to the many projects that our team get tasked to engineer. With the ability to use our expertise in designing some intricate solutions for our customers, each day has a new and exciting feel (and challenge). With the launch of the VersaFlex product line and the chance to help grow and expand this product line I get the opportunity to have an impact on this growth day by day.
When asked if he had any advice for new employees or customers he said: At mk the dedication to give our help to everyone whether it is a customer or fellow employee is what sets us apart from others. We respect everyone as they are members of our team as we help come to a solution whether it be for a customer or mk as a company.
Michael was nominated for this spotlight by Dave Johnson, Engineering Manager, Aluminum Conveyors and Factory Automation. "Michael's dedicated efforts in spearheading the successful launch of our VersaFlex product line has been instrumental in enabling mk North America to expand into new markets and strengthen our position in the industry" says Dave.
The mk Difference
mk's President, Andreas Haussmann, often refers to the individuals that work at mk as "the difference" – the reason mk is becoming a premiere conveyor system manufacturer. "At mk North America," says Andreas "we believe that our people make the difference. It's their ingenuity, their passion and their dedication that make mk stand out, as the leading manufacturer of standard and custom material handling solutions".


If you are in the market for a conveyor system that meets your unique needs, then look no further than mk North America. We are the company that provides custom solutions for your unique application. mk North America, better products, better solutions – all because of team members like Michael.
---