Extruded Aluminum Framing Systems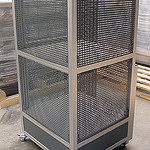 mk North America, Inc. is a leading manufacturer of extruded aluminum framing for machine building and other framing applications. As one of the pioneers in this industry mk has developed a product offering over the last 20 years which in terms of quality, variety, value and flexibility is second to none.
Our pre-engineered aluminum framing system enables you to reduce lead time and cost for engineering and fabrication.
Browse Aluminum Framing by Type: