A Look at Machine Guarding in the Factory
Posted on
Dangers in the factory setting are a very real concern. The combination of heavy machinery, moving parts and a fast paced work environment, create a need for extra safeguards to protect workers. Legal requirements and OSHA standards also ensure these measures are met so that operators are safe.
Machine guarding keeps the various hazards presented by operating machinery under control. To do so, physical guards are used to create a barrier between dangerous parts of the machine and a worker's ability to have contact with those areas. These guards must be secure, durable and tamper resistant and they must allow workflow and productivity needs to be met.
Conveyors, some of which move at very fast speeds, can easily grab unintended objects. While there are safety measures at workplaces to stop machines in emergencies, you can never be too careful. These considerations must be factored when designing a safe workplace. With proper guarding, factories can improve safety and reduce accidents.
In this post, we'll take a closer look at the various types of guarding offerings used in the factory and how mk North America can help your workplace remain compliant.
Machine Guarding
One of the most common forms of safety around machinery in the factory are guards. They come in different forms and types all with the goal of restricting workers from injuries. Guards placed around the nip point of a machine or other moving parts, can prevent clothing from snagging and pulling someone into a machine to a catastrophic outcome, or fencing may be used over an area of the machine to restrict access.
Perimeter Guarding
In this measure, guards are installed to block off access to an area of the machine where dangers are present as a way to reduce foot traffic in the area and limit hazards. Interlocking switches are also used to ensure that the machine cannot start if one of these points is open. This guarding method works for instances when access is needed to preform maintenance on the machine.
You can also add visibility into a work area by creating a perimeter guard that uses paneling that's clear or another color. Different types include clear polycarbonate for the most unobstructed view as well as smoked or grey polycarbonate when lasers are being used, for example.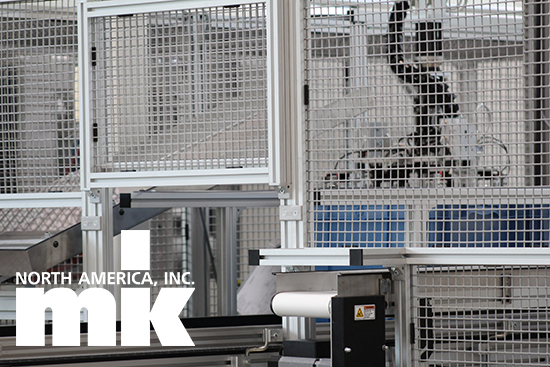 In other settings, PVC coated wire mesh is a more economical option for perimeter guarding. The mesh comes in different sizes, and can be coated in black or yellow, if an area needs to stand out.
Enclosures
As opposed to sectioning off an area with a fence, grate or other separation, enclosures guard an employee by enclosing a specific hazard. This can be a motor, moving chains or other component of a machine that present danger when in operation. The safest method of operation is with enclosure guarding around it.
Tunnel Guards
Tunnel guards are used to provide access to hazardous areas of a machine while keeping operators safe. The tunnels isolate the machine, such as a robotic machine, without interfering with human operators who must move around it to complete their jobs. The tunnel guard also comes off the machine guard and makes it is so that the operator cannot reach into the machine guard and get hurt, yet, at the same time it allows for product to move in and out of the restricted area.
If you'd like to discuss your workplace's specific needs, contact mk North America and we'll work closely with you to develop the perfect solution for your application needs.
---