Automated Pallet-Handling Conveyor System Benefits:
VersaMove is a non-synchronous workpiece pallet-based automated conveyor system designed to improve manufacturing productivity and product quality while allowing for maximum process flexibility.
VersaMove pallet conveyors and pallet transfer modules are offered in three platforms: VersaMove Standard, VersaMove Plus, and VersaMove Ultra to suit a wide range of applications. Each platform offers a complete series of pallet transfer, positioning, and control modules to satisfy the varied requirements of manual or automated assembly operations.
VersaMove pallet-handling conveyors are pre-engineered and modular. The system can be easily expanded or reconfigured as your manufacturing needs change. Our workpiece pallet conveyors can be used in a variety of layouts, or combined for even greater flexibility in planning production processes.
---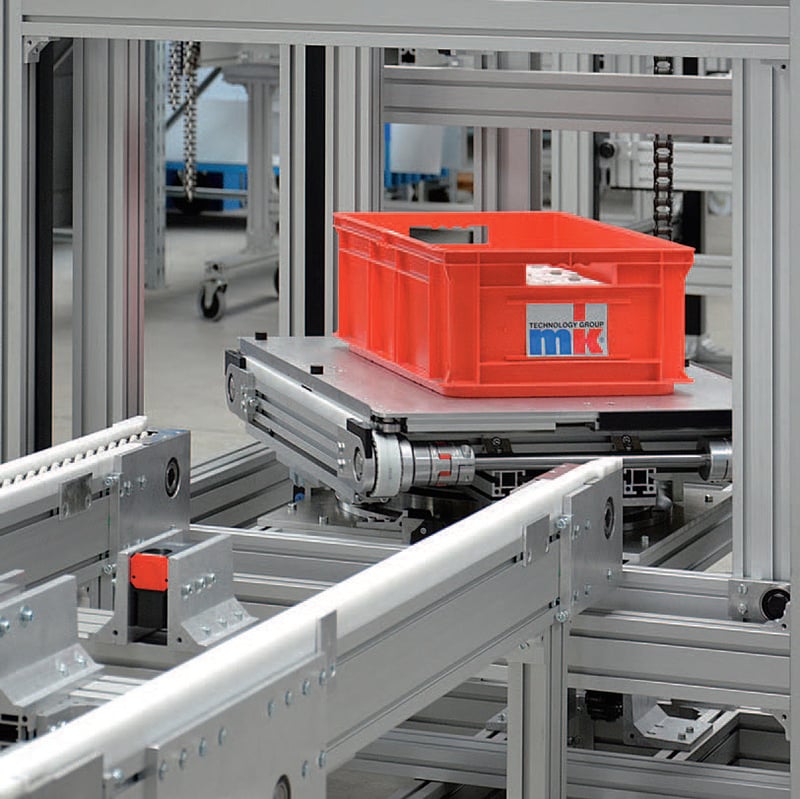 Rotate with Vertical Transfer
A rotating conveyor is mounted to a vertical transfer unit. This allows the pallet to be offloaded on multiple levels that are either inline or at a right angle to the infeed conveyor.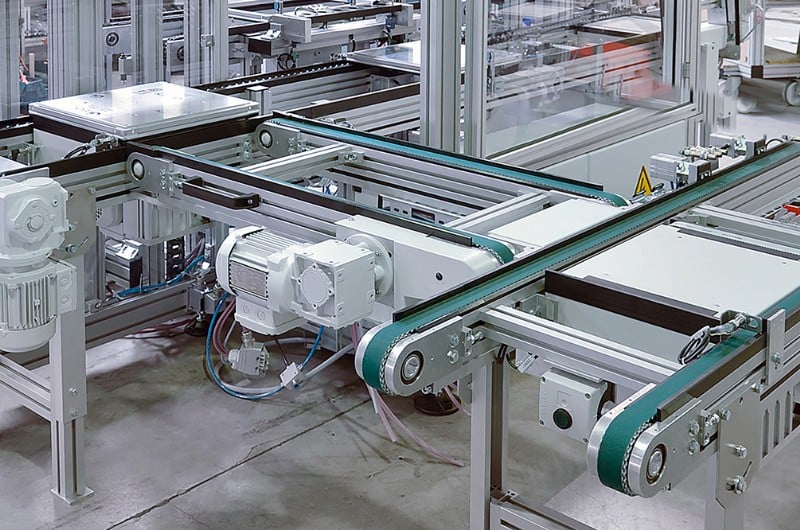 Lift Gate Conveyor for Access into Conveyor Line
Lift gate conveyors allow for easy access to the inside of a rectangular or oval conveyor system. They are also useful on long conveyor runs.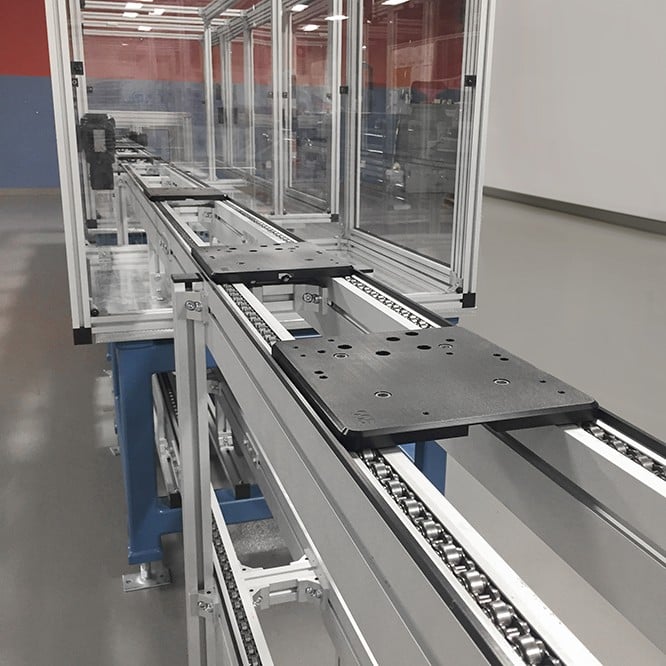 Custom Pallets on Accumulating Chain Conveyor
mk offers a wide variety of standard and custom pallets. Custom pallets are available in several material options, such as these engineered plastic ones.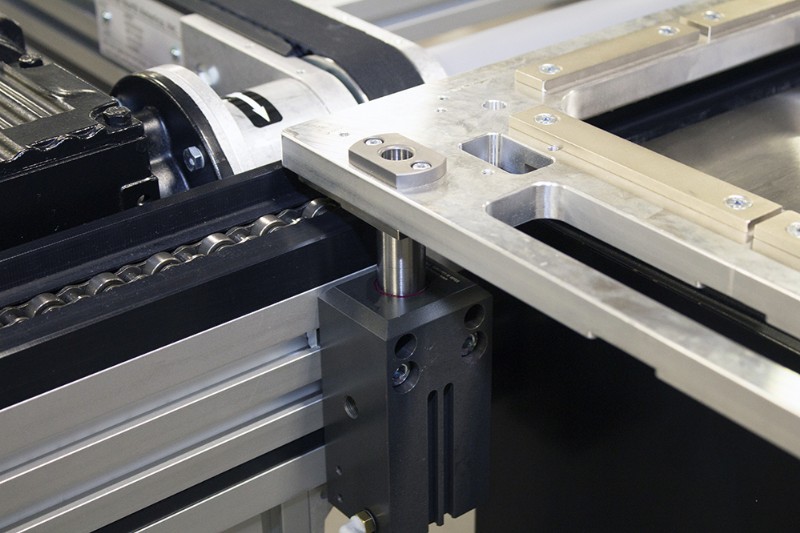 Lift and Locate Pin Engaging with Pallet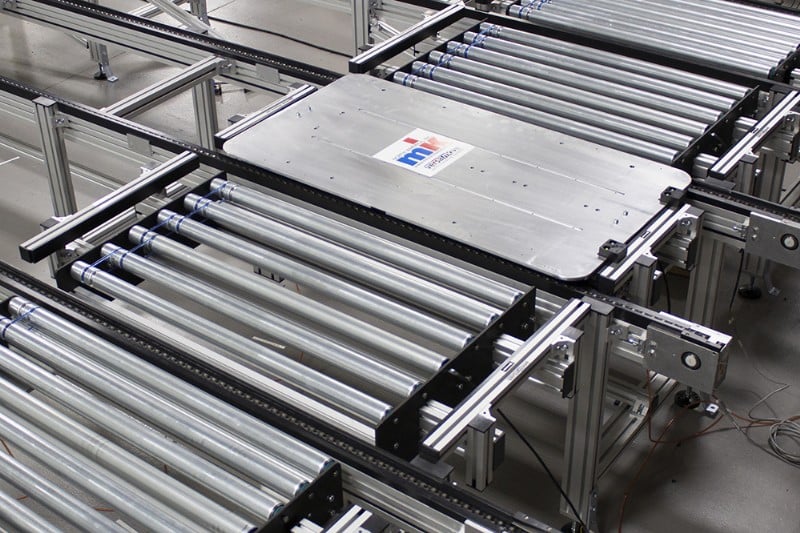 Roller and Chain Conveyors with Pallet VeraMove Plus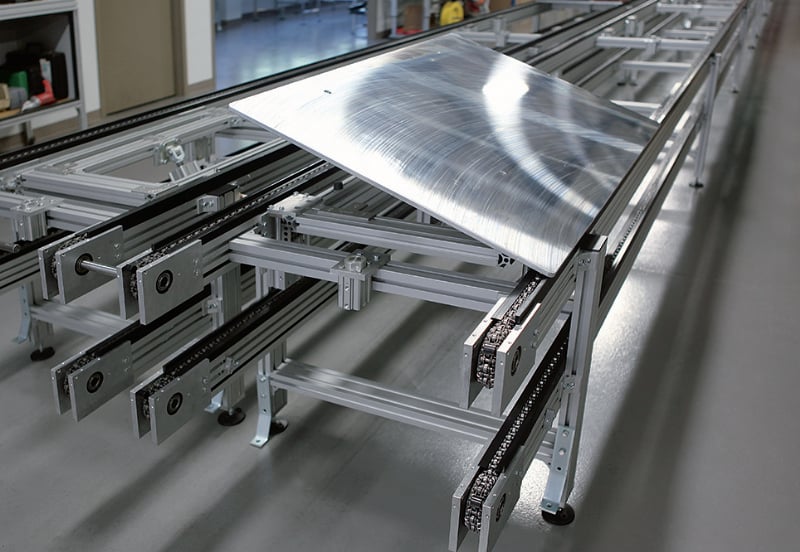 Pallet Lift and Tilt Device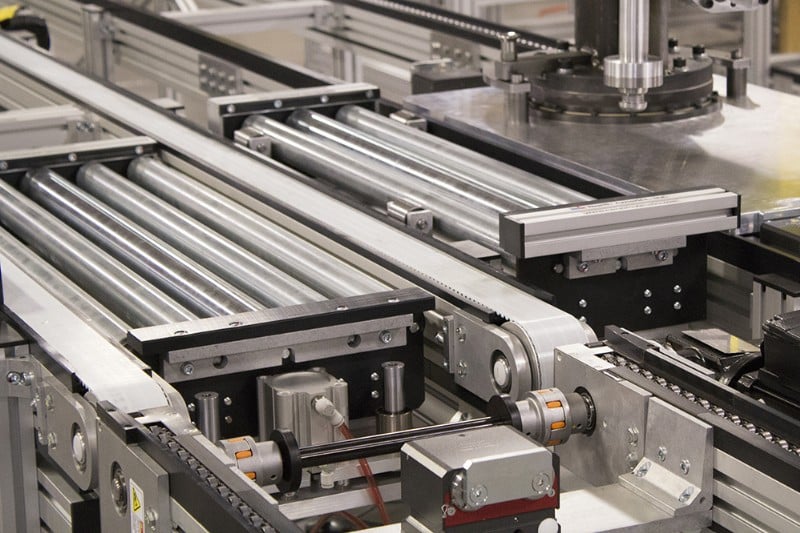 Timing Belt Pallet Conveyor with Roller Transfers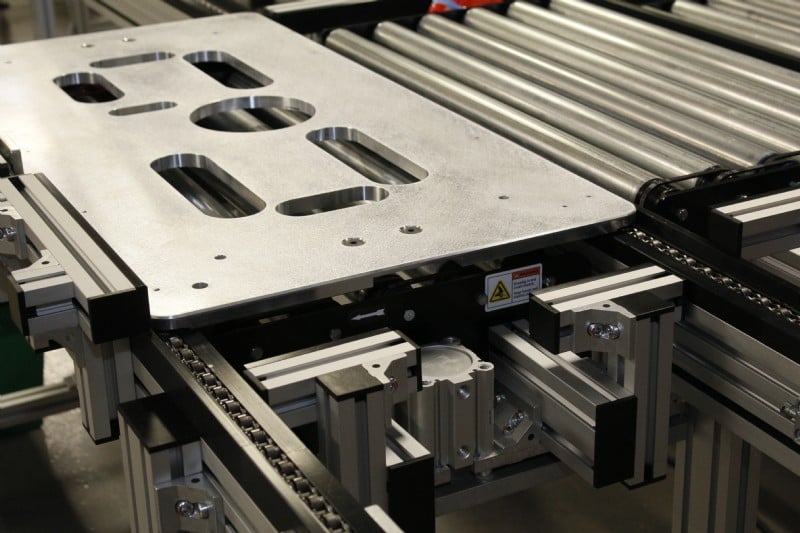 VersaMove Plus Roller Transfers with Chain Conveyors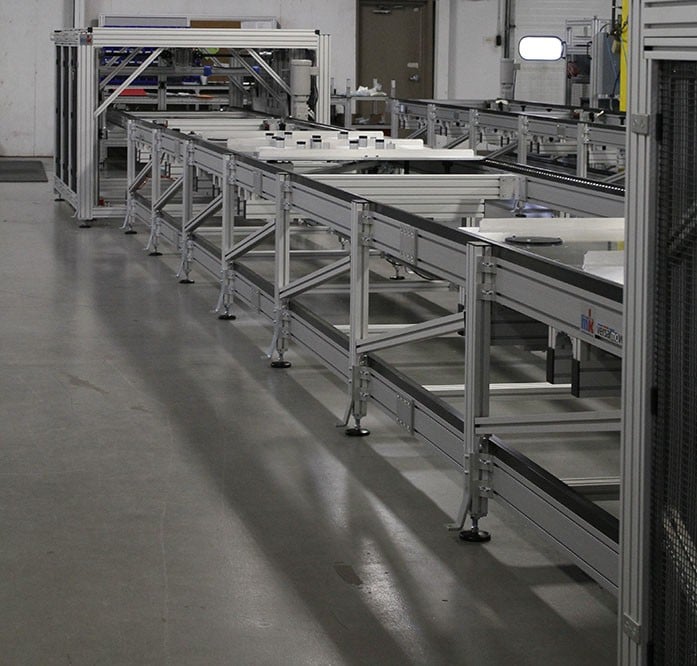 Over Under Conveyor System VersaMove Ultra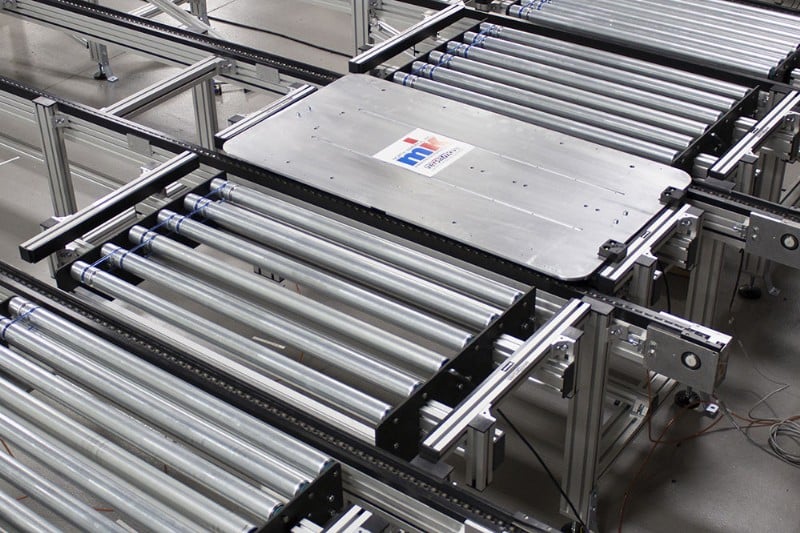 Pallet Handling Roller and Chain Conveyors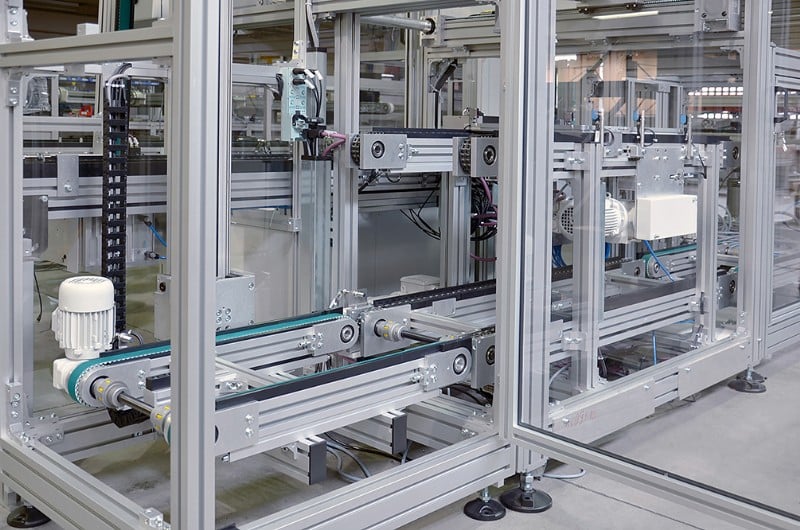 Vertical Transfer Unit
mk's linear motion modules are perfect for the vertical travel in vertical transfer units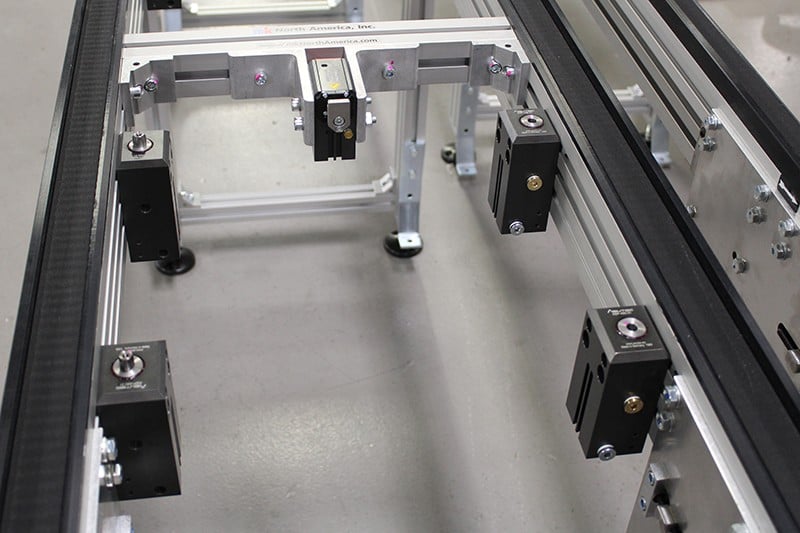 Stop with Lift and Locate
The pallet is stopped with the pneumatic cylinder (center back of image) on this VersaMove conveyor. Then it is lifted and located using the four front cylinders. The cylinders on the left have the locating pins, which mate to a bushing in the pallet.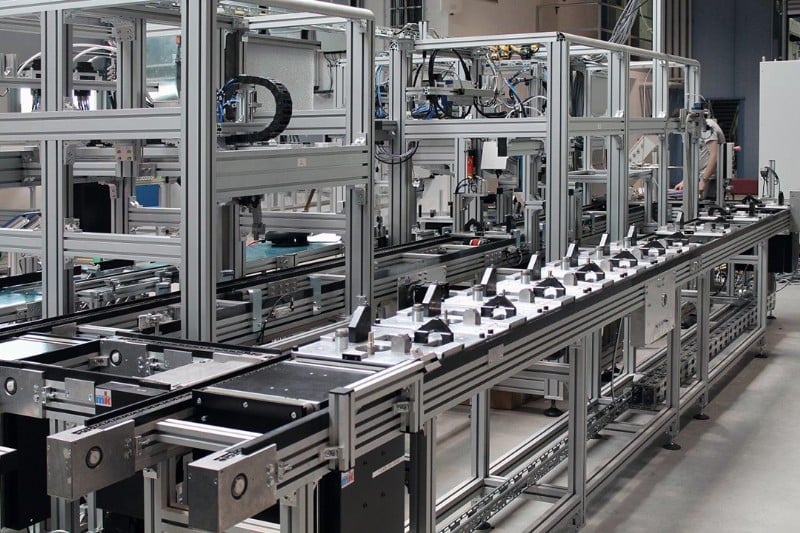 Pallet Conveyor System
Assembly line complete with pallet conveyors and work cells.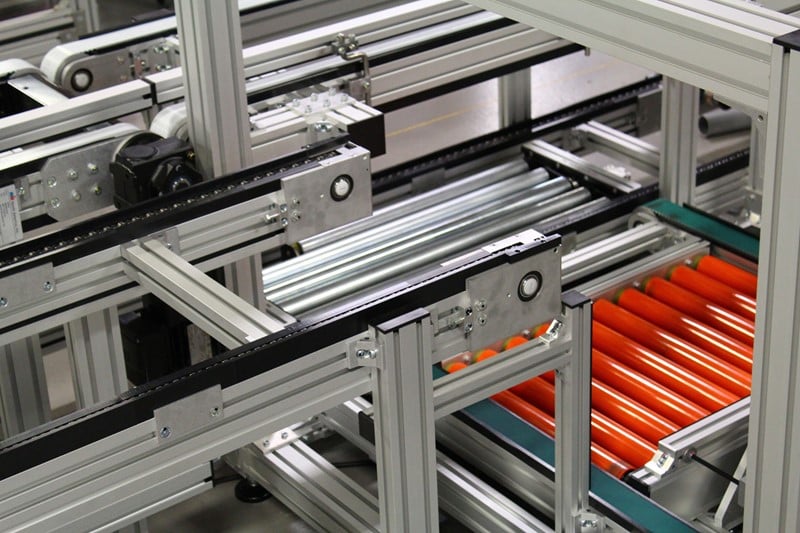 Over Under Parallel Pallet-Handling System
Here a lift and transfer is mounted between the belts on a vertical transfer unit.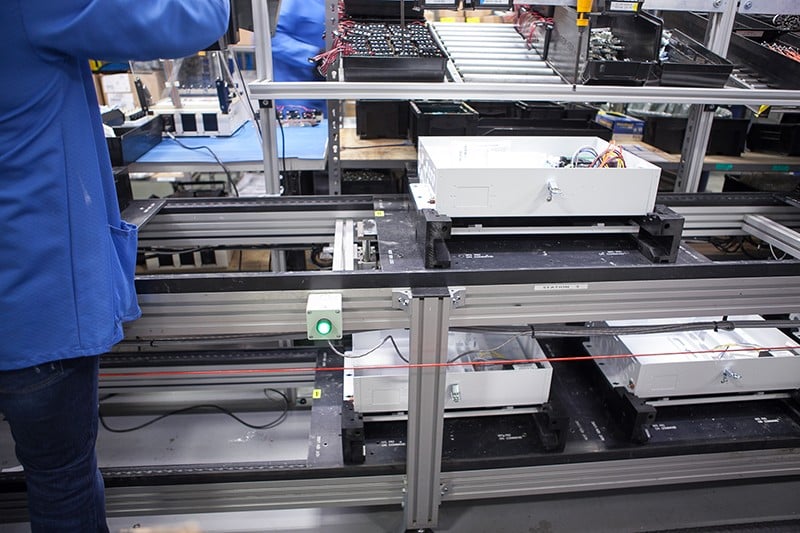 Over Under Pallet Conveyor
Operators work on the upper (over) portion of this VersaMove over/under pallet conveyor. The bottom (under) conveyor carries completed assemblies.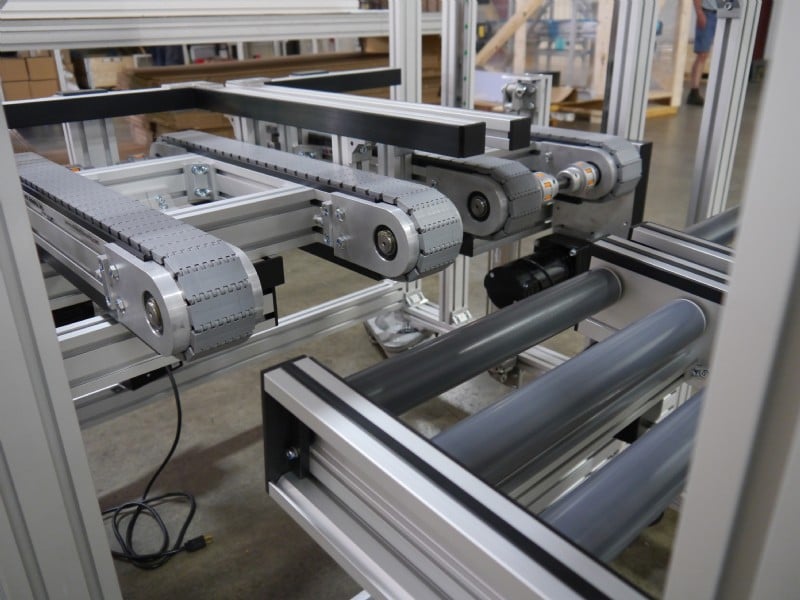 Custom Vertical Transfer Unit
Dual lane plastic modular belt conveyors as a vertical transfer unit with a gravity roller conveyor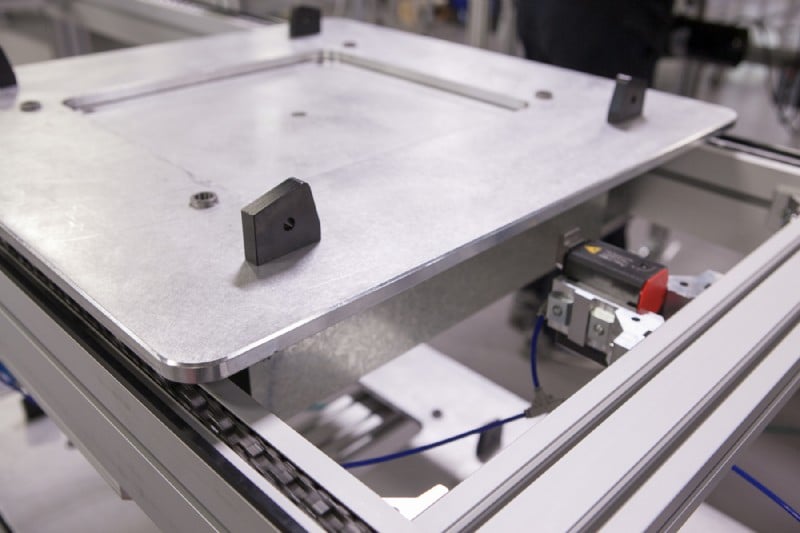 Pallet Designs
mk offers a wide variety of custom and standard pallet designs.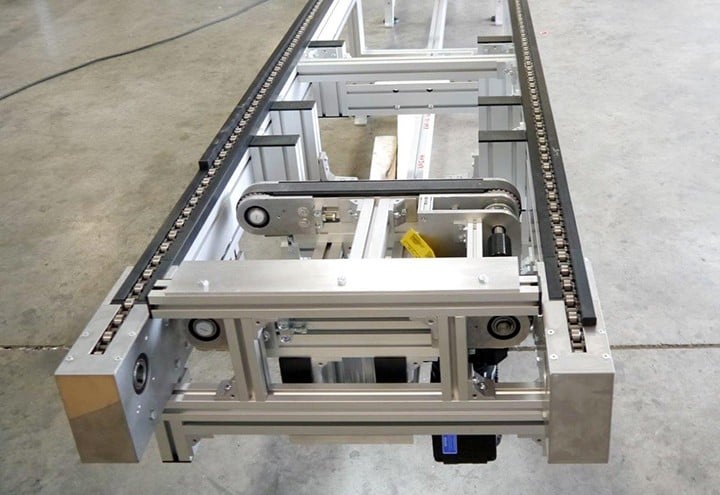 Lift & Transfer in a VeraMove Ultra
A timing belt lift & transfer in a VersaMove Ultra, SRF-P 2012 conveyor.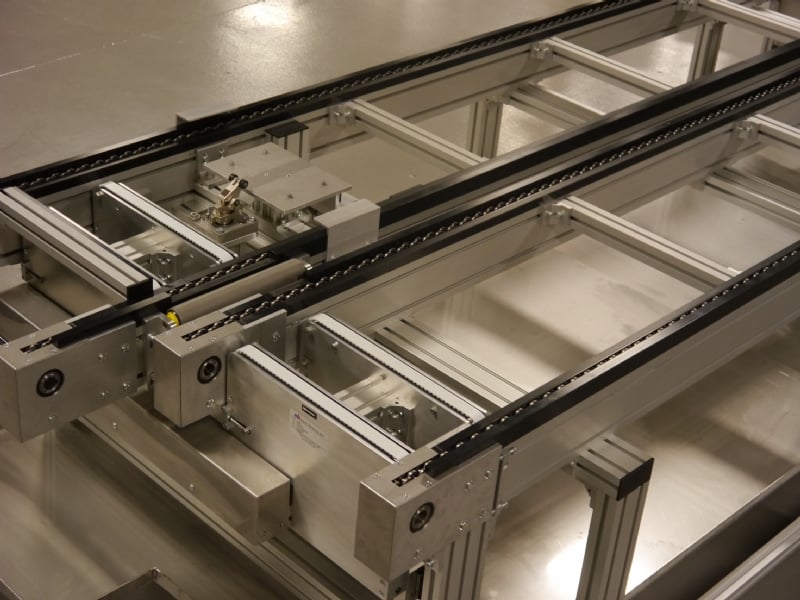 VersaMove Ultra
VersaMove Ultra conveyors in the parallel configuration with lift and transfers and soft stops.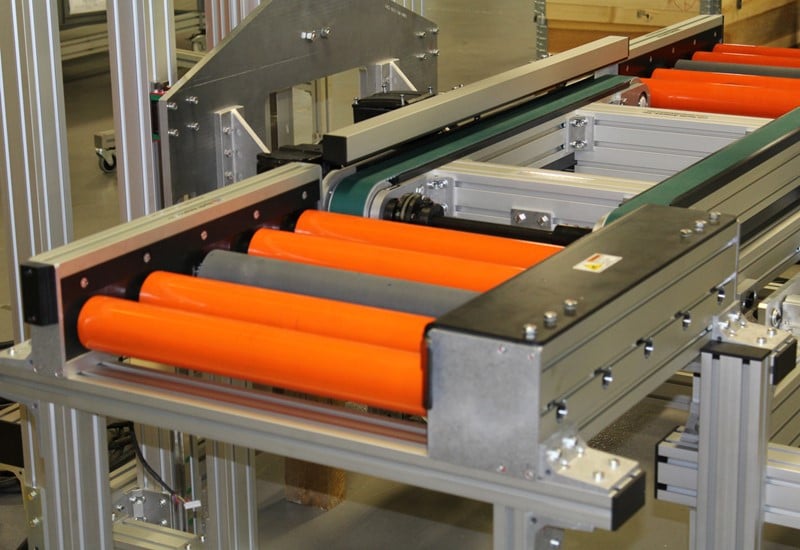 Drive Roller Transfers
Driven roller conveyors are ideal for transfers in tight areas.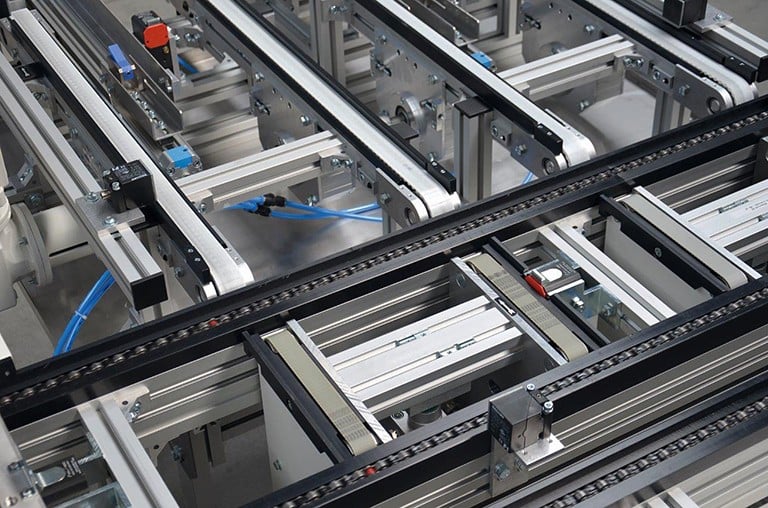 VersaMove Custom Configuration
A variety of configurations for the VersaMove are possible, as well as different combinations and custom arrangements.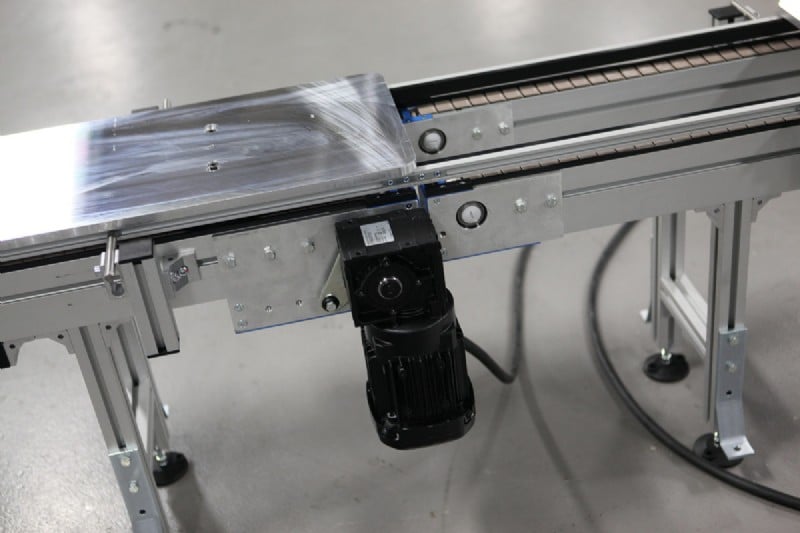 Inline Pallet Conveyors, SFC-P 1010
Here a pallet transfers off one VersaMove standard conveyor and on to the following unit.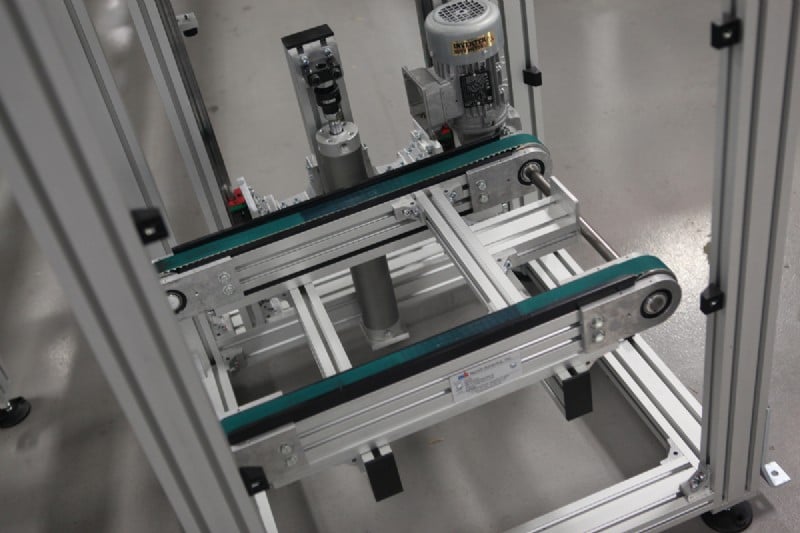 Vertical Transfer Unit
Timing belt conveyors are the primary conveyor type in Vertical Transfer Units.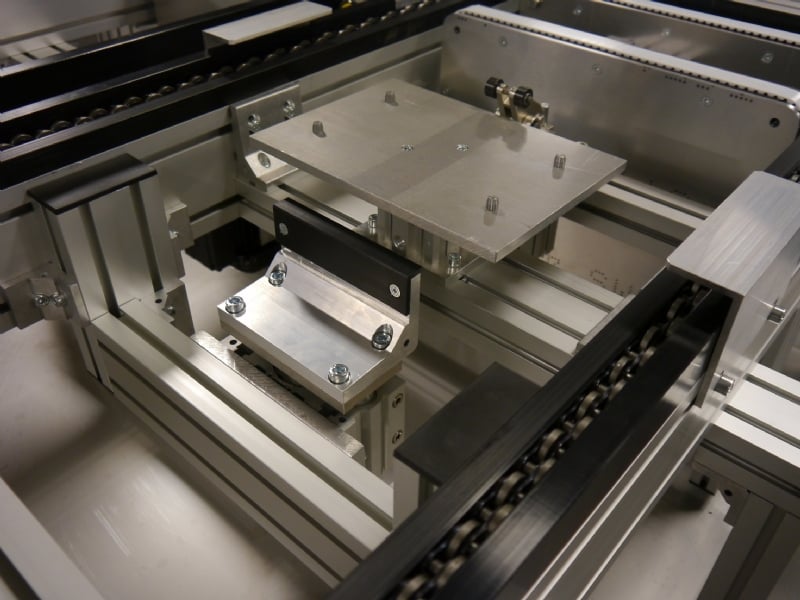 VersaMove Ultra Pallet Locate
Pneumatic devices featured in this photo include: blade stop, lift and locate, soft stop and lift and transfer.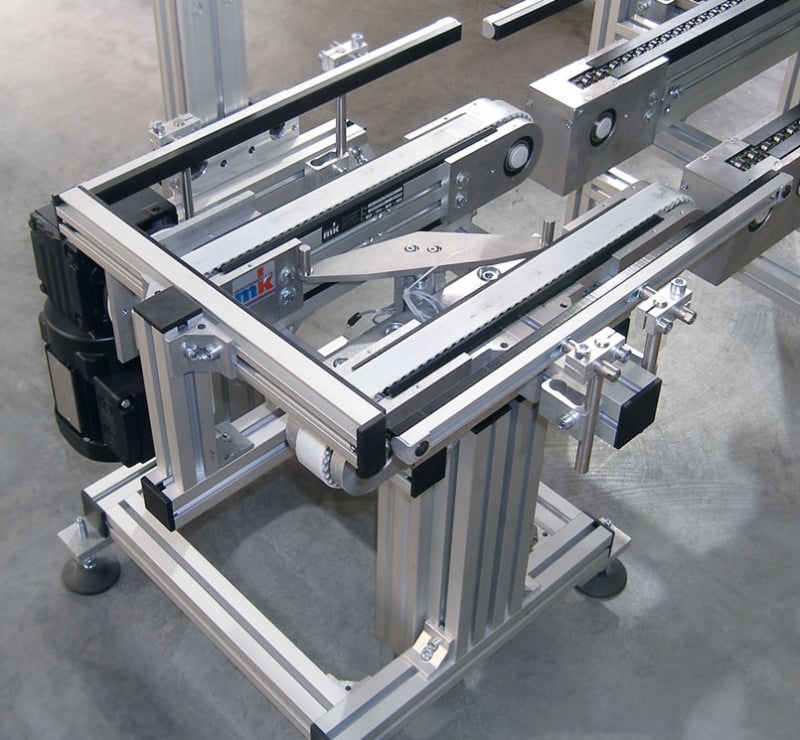 VersaMove Plus with Lift & Rotate
The pallet is fed off the accumulating roller chain conveyor and onto the ZRF-P 2010 timing belt conveyor which features a Lift & Rotate.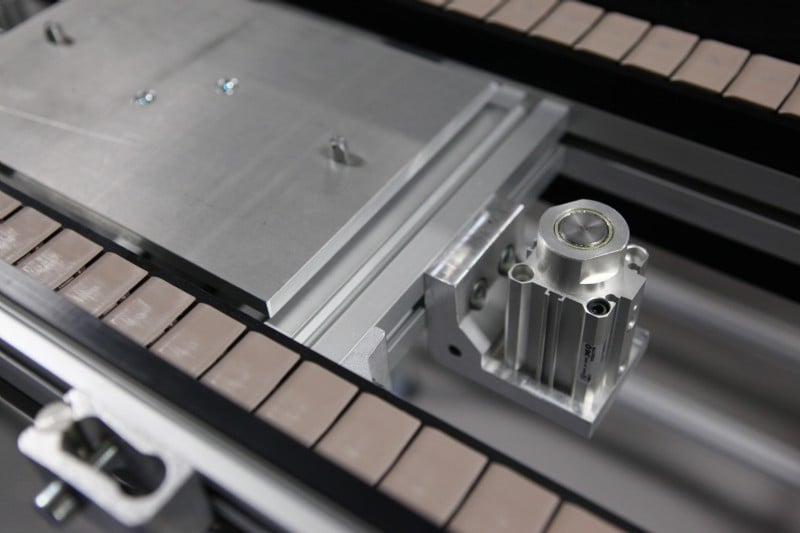 VersaMove Standard Pin Stop
Pneumatic pin stop used in conjunction with a lift and locate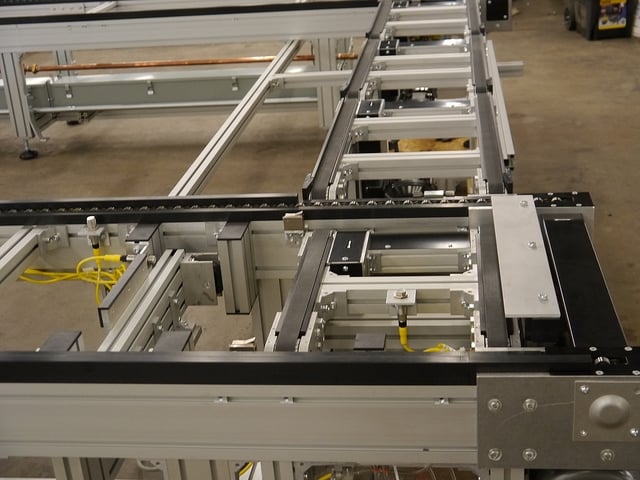 VersaMove Plus & Ultra
This photo shows a VersaMove Ultra working with VersaMove PLus timing belt conveyors.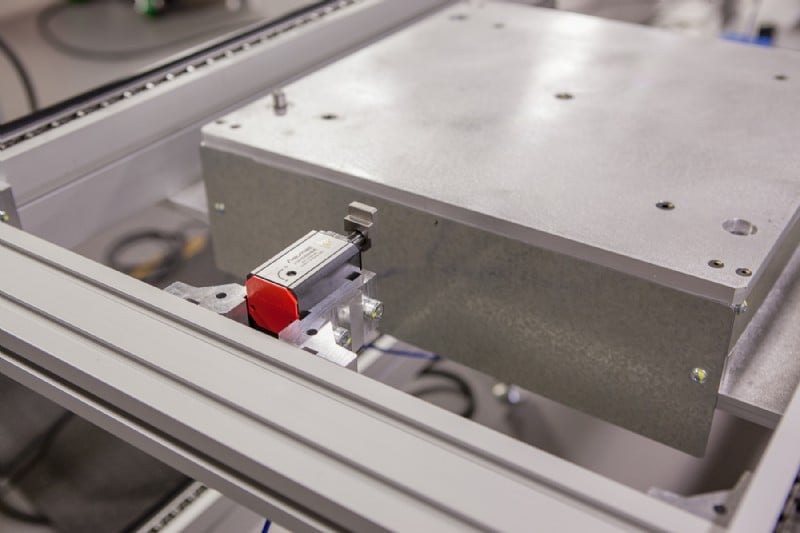 Pneumatic Stops
Stops are used in conjunction with other devices in order to ensure proper pallet positioning.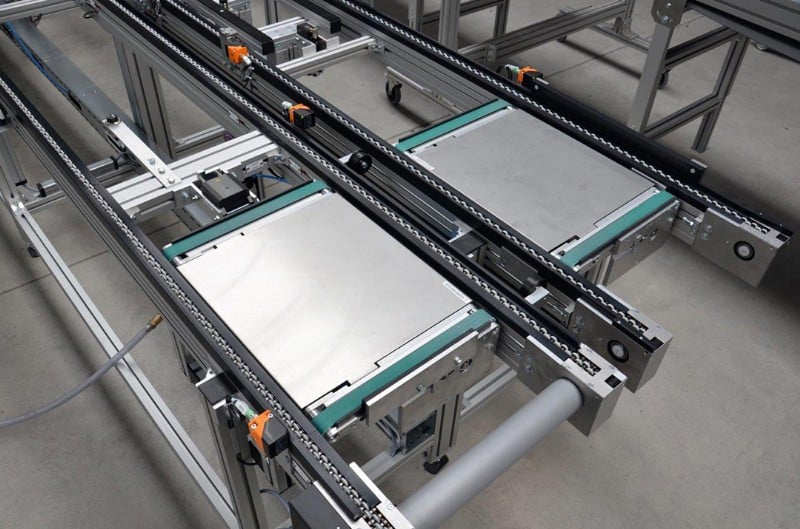 VersaMove Plus with Lift & Transfer
SRF-P 2010 conveyors in a parallel configuration with lift and transfer modules.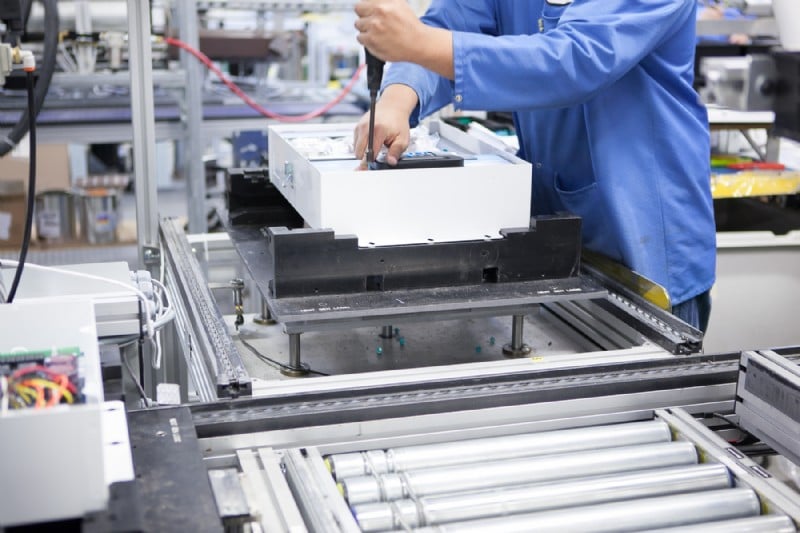 VersaMove Lift & Locate
Lift & Locates are ideal for holding product in position while it is operated on.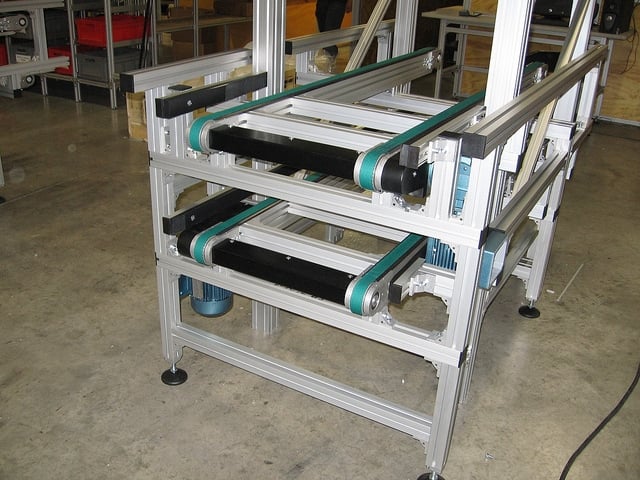 VersaMove Plus
This is an example of a ZRF-P 2010 VersaMove Plus, timing belt conveyor, in a stacked fashion; for use with vertical transfer units.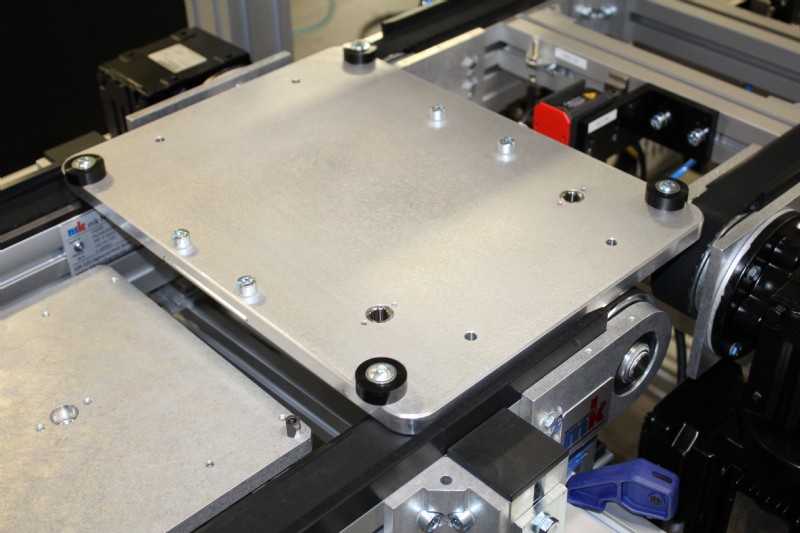 Pallet with Bumpers
The aluminum pallet features bumpers in each corner and locating bushings.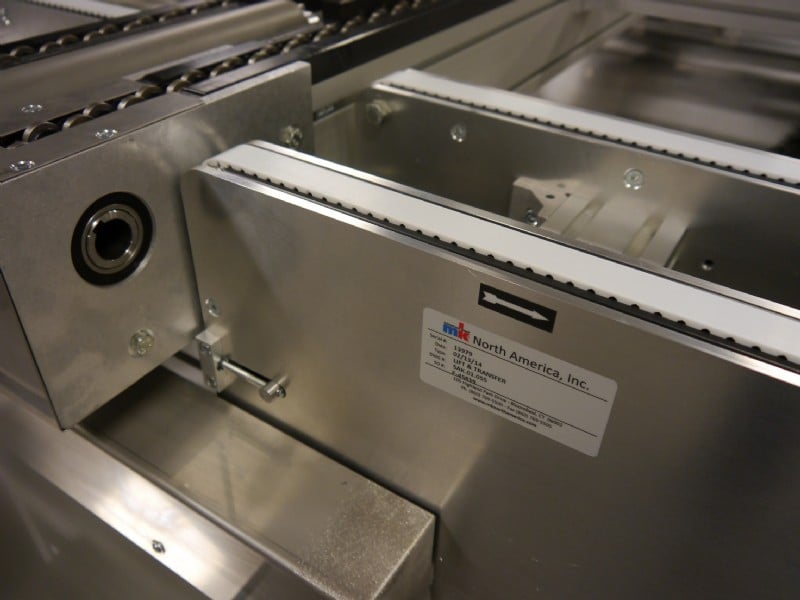 VersaMove Ultra Lift & Transfer
A VersMove Ultra with lift and transfer conveyor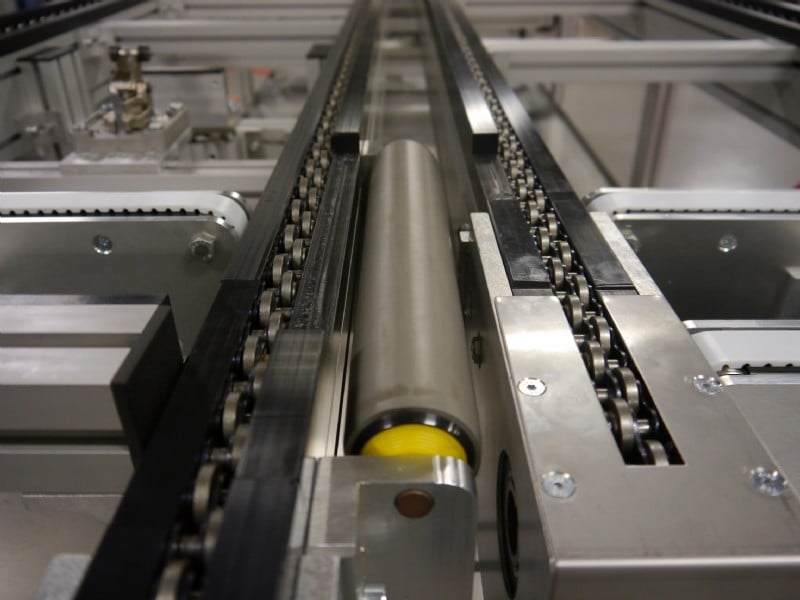 Pallet System with Idler Assist Transfer
An idler roller used to assist pallet between lanes on this re-circulating pallet conveyor system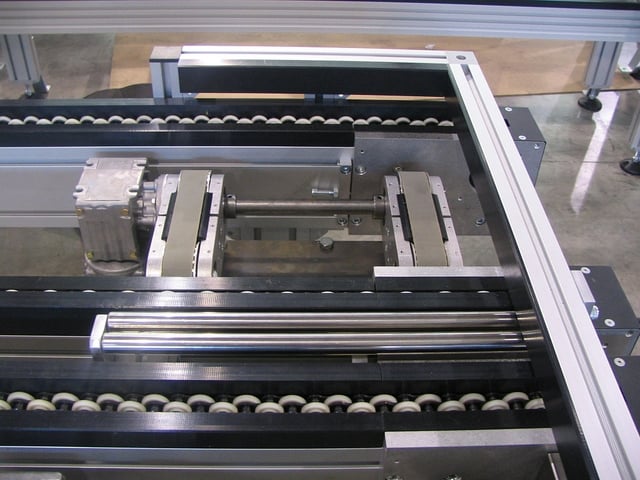 VersaMove Ultra
Lift & Transfer in a VersaMove Ultra, with a gravity roller assist between lanes.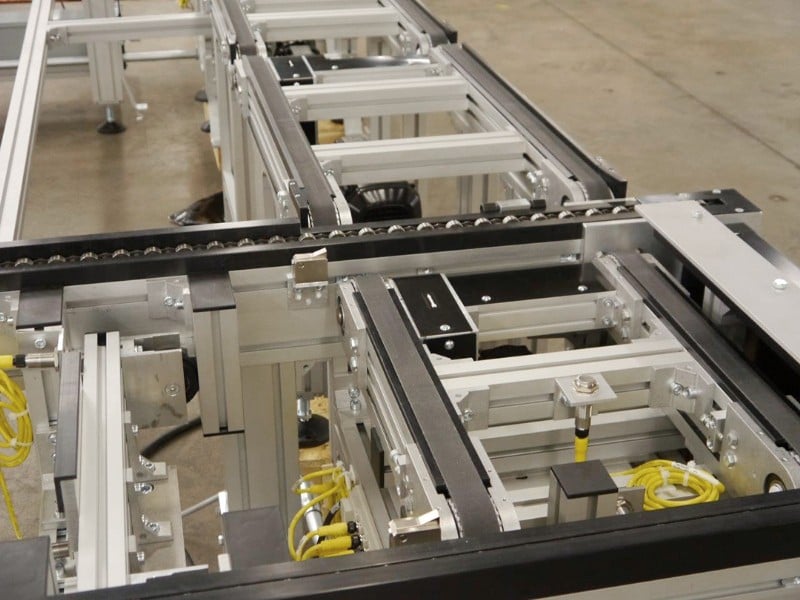 VersaMove Pallet Transfer System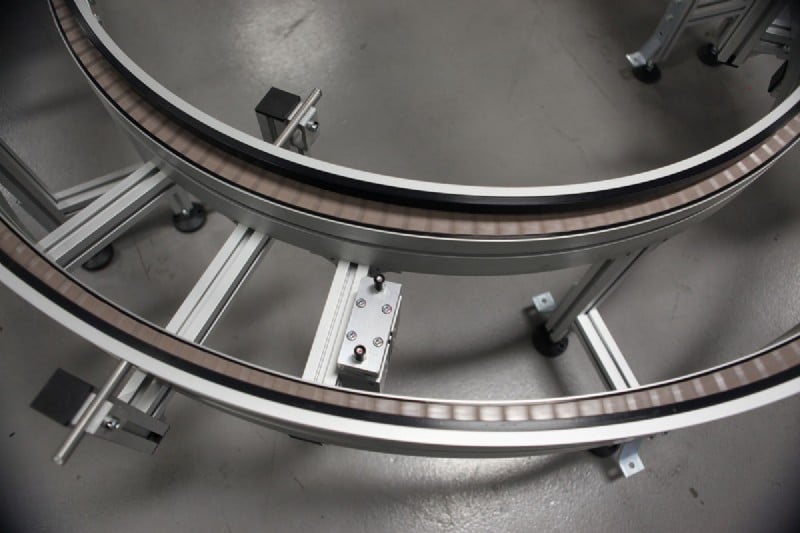 Pneumatic Locate Device on Curve FPF-P 2045
All pneumatic pallet conveyor modules from mk are installed and tested prior to shipping.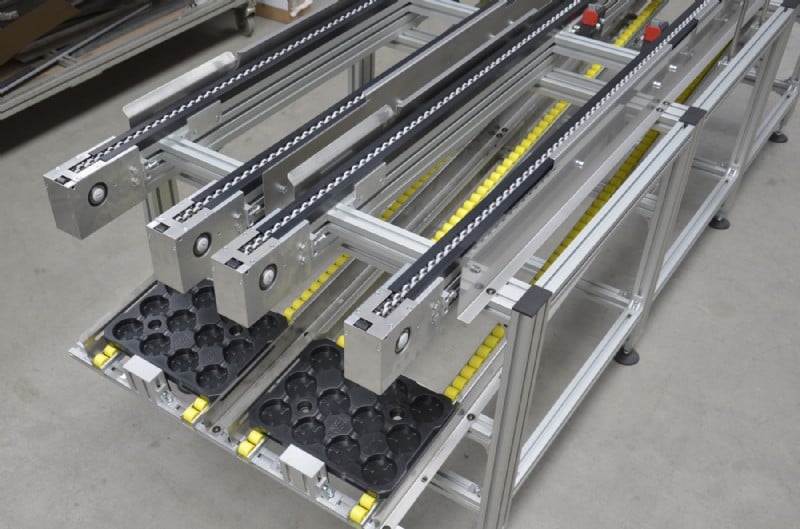 Pallet Conveyors with Roller Return
Roller conveyors are an ideal way to return pallets under mainline conveyors.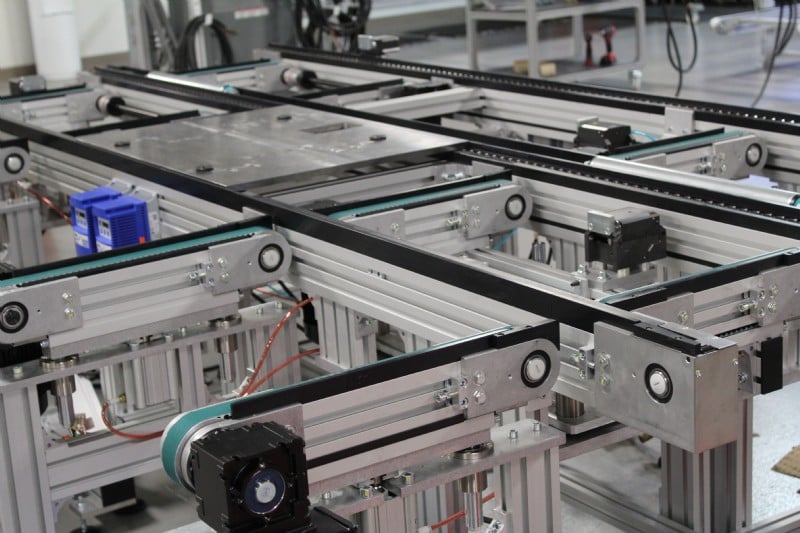 Pallet Conveyors
mk timing belt conveyors and accumulating roller chain conveyors are excellent choices for pallet-handling.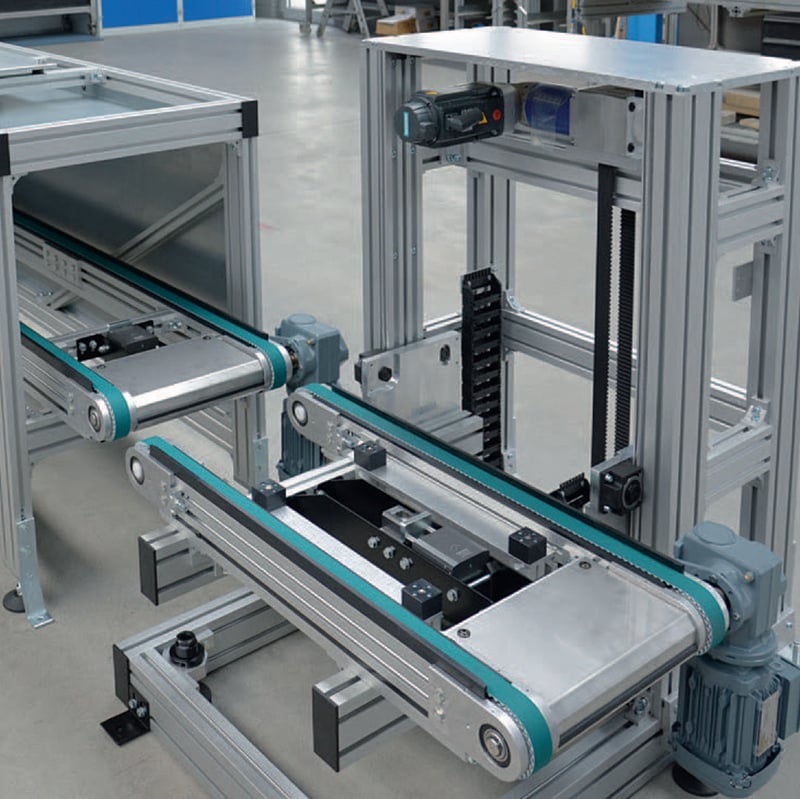 Vertical Transfer Unit
Vertical transfer units are used to move pallets between various elevations.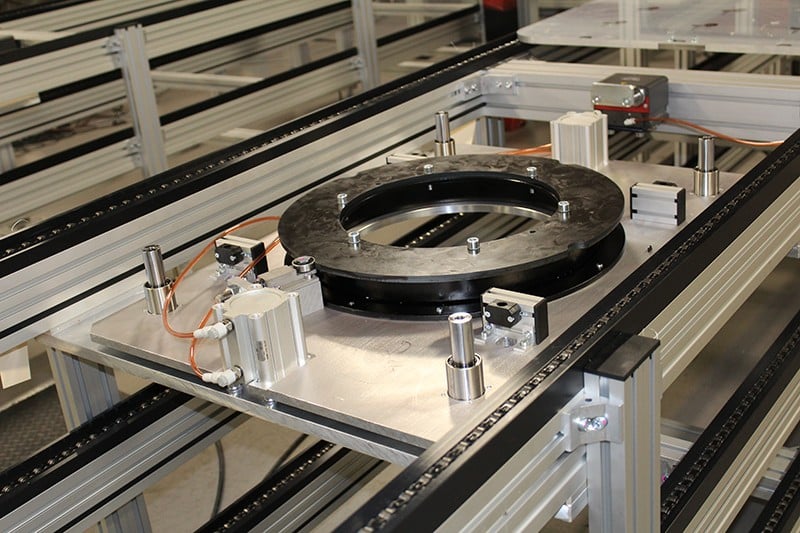 Custom Lift and Rotate
A custom lift and rotate device mounted to a pallet conveyor.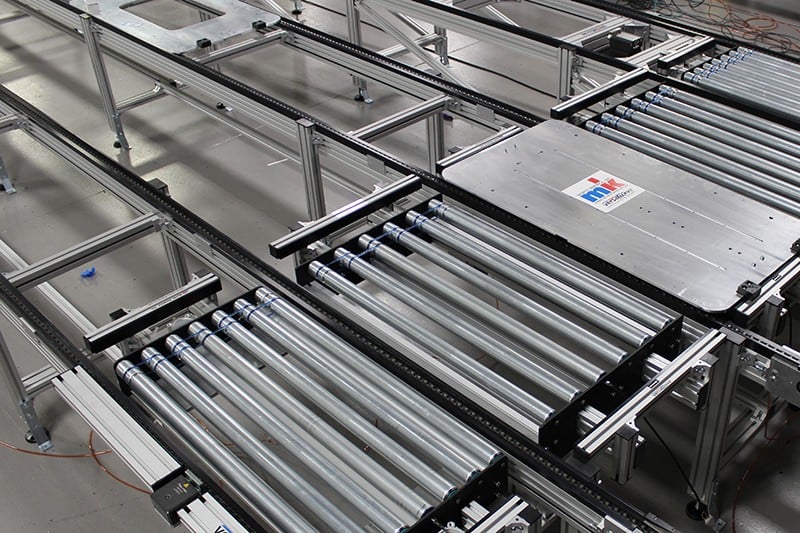 VersaMove Ultra
VersaMove ultra with roller transfers
mk VersaMove Advantages:
Belt Options - Flat Top Chain, Timing Belt and Accumulating Roller Chain are included in our versatile belting options. We are confident we can help find the solution perfect for you.
System Modules - Offered within the three VersaMove platforms are innovative modules that will compliment your pallet conveyor system. Modules include pallet stops, positioning modules, and vertical transfer units, both single and dual right angle lift and transfers, and more! Each module is an integral piece of the VersaMove system.
Configurations - Utilizing a footprint that best fits your needs, these standard configurations and be combined and configured to maximize your production and workflow. mk offers six standard configurations including In-Line, Carousel, Serpentine, Over/Under, Parallel and Rectangular.
---
With three different conveyor system platforms and four different types of conveying medium it's the great versatility and quality modules that make VersaMove a great solution. See our VersaMove Product Brochure for more details.
Need help deciding which automated pallet conveyor system is best for you?
Contact us online or call (860) 769-5500. Our experienced sales staff will be happy to assist you.