Attachment Timing Belt Conveyors: Welded & Bolted Attachments
Posted on
In today's manufacturing environment, it is often necessary to positively maintain a product's location and orientation in order to properly engage it during the assembly or testing phase. Other times products need to maintain a precise spacing and/or be indexed in synch with other equipment. Attachment timing belt conveyors are uniquely designed for these applications. mk North America offers several options for this conveyor type that may work for your particular needs.
Exploring Attachment Timing Belt Conveyors
Attachment timing belt conveyors are typically supplied in one of two ways. They can either be supplied with the attachments bolted to the belt or with the attachments adhered to it. Both of these configurations have their pros and cons, explored below.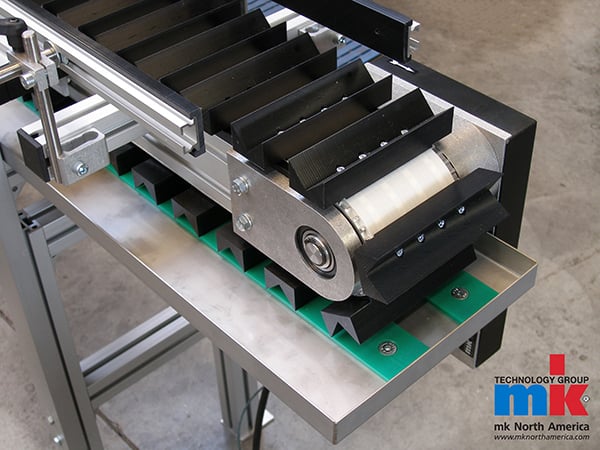 Bolted Attachments
Timing belts with the attachments bolted onto them are typically referred to as "convertible timing belts" as the customer has the option to reconfigure or change the attachments in the future. These belts are designed with a hollow tooth timing belt. The top surface of the belt is then perforated at the designed fixture location and a female nut is placed into the hollow tooth cavity on the underside. The nut is then secured in place when the fixture on the top of the belt is bolted to it. This allows for the line to be quickly changed, if necessary. Because the fixtures are not part of the belt, these replacement belts have a shorter lead-time than the alternatives. However this does leave the customer responsible for obtaining the fixtures. Customers that do not have the capability to do this can order the fixtures from mk along with their conveyor. Fixtures can be made in a variety of materials; and this type of conveyor allows for the greatest customization in fixtures. Care should also be taken with this system to ensure all nuts are attached to a fixture so that no stray parts enter and damage the conveyor system. Attachment spacing across the width of the belt is not select-able and can pose a problem for some configurations. These belts are also only available in set width increments.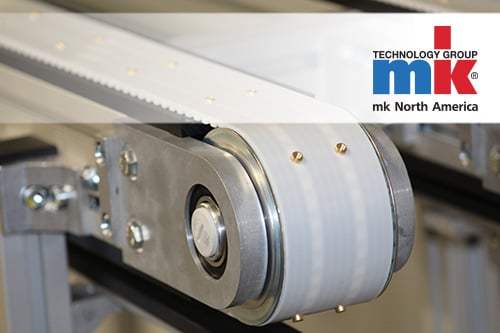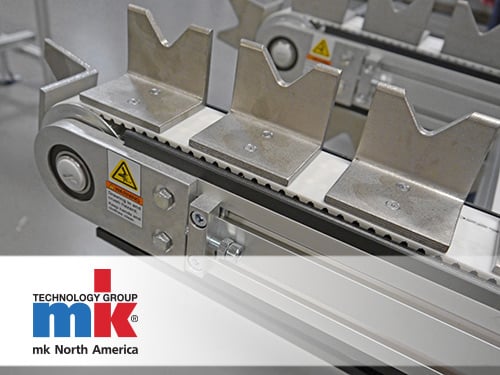 Welded Attachments
Timing belts with the fixtures permanently attached to the belt are often referred to as welded timing belts. This is because the fixtures are ultrasonically welded to the belt. This bond can be upwards of 98% of the belt's strength. Because these fixtures are welded, they must be constructed out of the same material as the belt - polyurethane. These fixtures are cast molded parts and come in a dizzying array of options and shapes. They also have the option to have metal lugs or bolts placed in them. Custom fixtures can also be developed for specific applications. However, due to the highly custom nature of these belts, the lead-time for replacement belts can be better than five or six weeks in certain instances. Customers that opt to go this route should strongly consider stocking a replacement belt to avoid costly downtime. Unlike belts with bolted attachments, these belts are available in a variety of widths including up to 18-inches.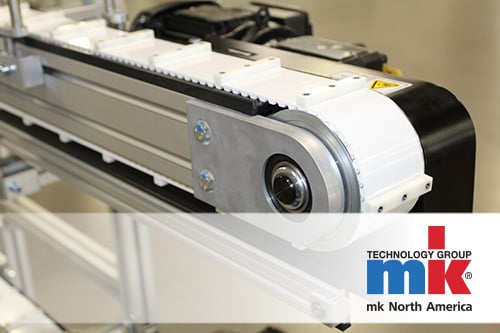 The Bottom Line
Which style timing belt is right for your application? It really depends on the application. A wide variety of factors play into the type of attachment timing belt that would be right for your conveyor. These include conveyor width, type of fixture desired, positional accuracy and repeatability needed. Other factors that can influence the buying decision include acceptable lead-time, replacement part availability and the modularity of the system. Contact an mk sales representative for assistance; they will be able to work with you in gathering information about your process and help determine the best ZRF-P 2040 or ZRF-P 3000 attachment timing belt conveyor for your needs.
---