Carousel Conveyors - Endless Options for Conveying
Posted on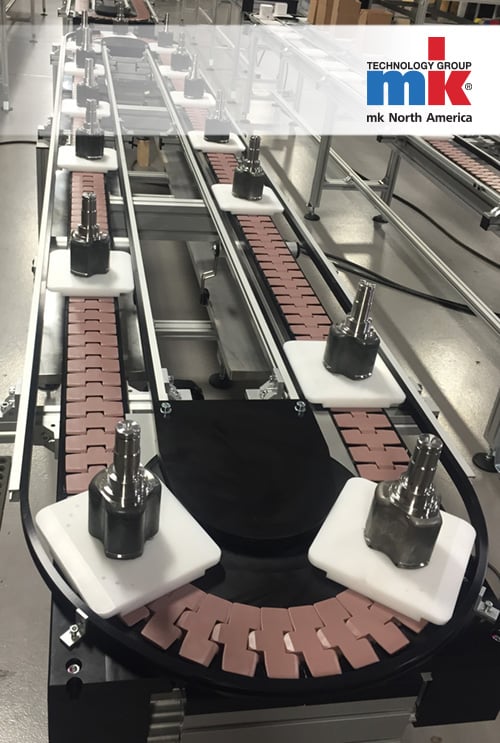 The SRT-P 2005 conveyor from mk North America combines the advantages of a table top chain conveyor with the performance of a pallet handling conveyor system.
Carousel Conveyor Configurations
The SRT-P 2005 conveyor is a recirculating part carousel conveyor. These carousel conveyors are designed using a 3.25-inch wide chain which completely runs on the top surface of the conveyor allowing pallets and parts to recirculate. Despite the chains relatively narrow width, these carousel conveyors can be configured to accept much wider parts and pallets.
These conveyors are configured as loops, either in an oval, L-shape or a horseshoe pattern. Typically parts are held on pallets, which are free floating on the system. For those unfamiliar with the concept of a carousel conveyor, it is likened to a baggage conveyor as seen at the airport, but on a much smaller and much more industrial scale. Operators, whether human or robotic, can interact with the pallets and parts. Parts can be removed from the pallets and transferred to other operations, likewise other operations can add parts to empty pallets on the conveyor. These carousel conveyor systems can be equipped with stop and locating features, adding to the flexibility and range of usage for these units.
Advantages of Carousel Conveyors for Pallet Handling
Because the conveyor chain runs in a continuous loop this type of system offers a variety of cost savings advantages. First only about half the length of chain is used when compared to a conventional conveyor system. This reduces the amount of replacement chain kept on hand for emergency purposes and cuts down on the initial cost of the conveyor. Less drives, motors and controls are used when compared to a traditional conveyor system, and the need for transfer conveyors and devices is removed. This all reduces the amount of equipment and controls needed, thus providing an economical solutions.
As with all conveyors from mk North America, the SRT-P 2005 carousel conveyors are assembled and fully tested prior to shipping. Customers are welcomed and encouraged to send along product samples for the design and test phase, and video run-offs are provided using these samples.
​
Learn More
Want to learn more or perhaps you have a system to be quoted – then contact mk North America using the form below to get started. mk is committed to being your solutions partner. mk North America, providing better products and better solutions.
---