The Importance of Having Conveyor Spare Parts
Posted on
Conveyor spare parts keep your line up and running.
Keeping conveyor spare parts in-stocks means:
having the ability to implement a maintenance plan - either PM or PdM
being prepared for the unexpected

Unexpected failures can come from a variety of sources, including acts-of-nature, operator, and upstream failures
Not only do our conveyor manuals include maintenance schedules, but they also include part lists for the conveyor. Not all conveyors are alike in length, width, speed and load capacity; there are certain spare parts in the manual that indicate that you should contact mk North America for more information.
When contacting mk for additional information, it is best to have the serial number of the conveyor you are inquiring about on-hand. You can find the serial number on the conveyor: it is either located on the frame or on the drive train cover.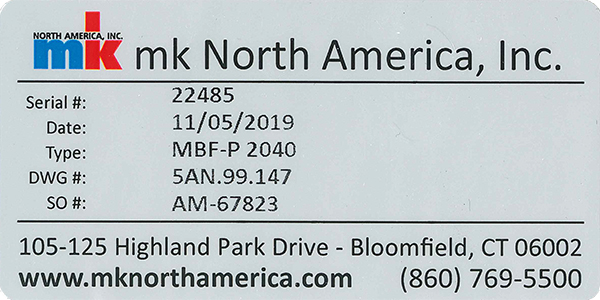 Additionally, the serial number label is affixed to the front cover of the operating manual that shipped with the conveyor.
If you are unable to locate the serial number on the conveyor or on the conveyor manual, and need assistance with the conveyor, please contact our offices. You can contact our offices using the form below, by emailing info@mknorthamerica.com or by calling (860) 769-5500 extension 3006.
---