Employee Spotlight: Celebrating 20 Years with Bob Gardner
Posted on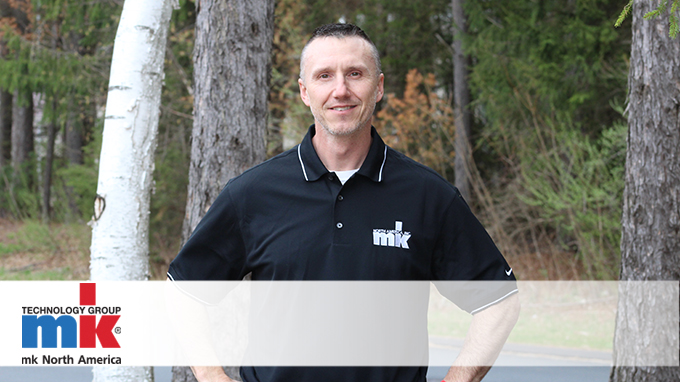 When companies are small and just getting off the ground it is common for employees to become a "jack of all trades:" well-rounded and diverse in their skills and knowledge. When mk North America, Inc. was a fledgling company 20 years ago, it found such an employee in Bob Gardner. Gardner came to mk with a background in architecture but a desire to work with his hands as he had done previously in his father's plumbing company and in construction.
Over the Years
Recently I had a chance to sit down and talk with Gardner on his 20 year tenure at mk; it was a trip down memory lane with bright hopes for the future and eventually retirement. Gardner told me how he was referred to mk by long-time friend, Mark Leavitt, during a time of transition in his life. Gardner recalls the first time he came to mk how there was just one building with no landscaping. Today the company is comprised of three buildings complete with landscaping.
Gardner was hired primarily for shipping and crating, but quickly began assisting in machining and assembly. Today Gardner is the Quality Control Manager, a task which he finds rewarding because it is mentally challenging and it allows him to work independently. The ability to work on his own, and set his own schedule within the needs of the company is one of the things Gardner likes most about mk these days.
When we spoke about how the company was 20 years ago, Gardner reflected on the camaraderie amongst everyone – from upper management on down. And it was more than just hanging out after work – without the need to talk about work and family – it was also about how everyone knew what needed to be done and got it done – from mowing the lawn to ensuring shipping deadlines where met.
Praise from the President
This hard-work and dedication are the backbone of the thanks and appreciation offered to Gardner by mk North America's President, Andreas Haussmann: "On behalf of everyone at mk I would like to congratulate and thank Bob for 20 years of exemplary service. He is one of our original employees and a true asset to our company. Without the loyalty, hard work, expertise and commitment of team members like Bob, we could never have achieved our present stature. I hope he will look back on his time at mk with fondness, pride and good memories. We are truly fortunate having Bob on our team and I wish him the very best for the years to come."
The Company and Looking Ahead
When I asked Gardner what he appreciated about the company he said: "Throughout the years mk has been very fair to its employees. They work with you to make sure the position you are in is right for them and you. I appreciate that they promote from within. Upper management has always shown me respect and let me know that my opinion matters. I also appreciate how they are able to accommodate my schedule for family needs."
We wrapped up our conversation discussing the varied jobs Gardner has had with mk – from when he first started out in shipping, to his time spent as a stock room clerk and in assembly, his time as Production Manager and then Shipping Manager, before taking on the task he's found most rewarding – Quality Control Manager. As Quality Control Manger Gardner ensures that prior to shipping all jobs that they match the exacting specifications of quotes, drawings and orders. He takes pride in his job and is truly an example of how mk employees work up to the company motto: better products. better solutions. As he ensures we are only shipping the highest quality solutions; he's helping to build our brand.
When I asked Gardner where he saw himself in 20 years we jokingly spoke about retirement. In reflecting on his architectural training, Gardner seems to have come full-circle and hopes in the next five years to be back behind a desk – but this time at mk.
---