Food Processing, Safety & Conveyors: An Overview
Posted on
Food manufacturers must meet stringent guidelines when it comes to safe handling and processing of food and other products consumers will eat or use. Failing to do so can result in production loss, recalls and hefty fines.
Rules to prevent contamination, the spread of disease and illness are in place thanks to agencies established to ensure public health needs are met.
This push is critical as 1-in-6 people in the U.S. gets sick each year from a foodborne illness according to the Centers for Disease Control and Prevention.
The Food Safety Modernization Act (FSMA) is one way the nation is working to create a food safety system that prevents illness proactively.
Rules and guidelines relate not only to how operators in a plant handle food passing through the plant, but also focuses on the equipment being used to ensure hygienic processes are in place.
Conveyor design plays a critical role in the sanitation process.
Being able to fully clean equipment is a major part of keeping hygienic standards met in food processing facilities. This post offers a basic understanding of the most used acronyms in food processing regulations.
FDA: The Food and Drug Administration is a federal agency that protects and promotes public health in the United States. Its main focus is to control and supervise the safety of food for humans and animals, tobacco products, dietary supplements, medications, vaccines and more.
USDA: The United States Department of Agriculture is also a federal executive department of the U.S. It works to develop and execute federal laws that help ensure food safety while also protecting natural resources and ending hunger. The laws relate to farming, agriculture, forestry, and food.
HACCP: Hazard Analysis and Critical Control Points is a system used to audit safe food production proactively, to prevent hazards in food before they happen in production facilities. Instead of inspecting products after they have gone through production phase to see if there is harm present, it uses measures to keep foods safe from biological, chemical, and physical hazards during different production and distribution stages.
BISSC: The Baking Industry Sanitation Standards Committee is a non-profit that focuses on proper equipment design and use for bakery equipment to ensure food safety and sanitation are happening. Manufacturers who meet the stringent ANSI/ASB/Z50.2-2013 Sanitation Standard for the Design of Bakery equipment will display the BISSC Certified symbol on their machines.
3-A: 3-A SSI is also a not-for-profit corporation that includes four associations: American Dairy Products Institute, International Dairy Foods Association, Food Processing Suppliers Association and the International Association for Food Protection and works towards improving equipment design for food, beverage and pharmaceutical industries. The goal is to ensure the most advanced hygienic designs are in place.
Food-safe Conveyors
Conveyor systems used in an automated factory setting improve production times, increase efficiency and have numerous benefits for operations.
With such a rigorous focus on hygienic systems in today's food production facilities, it's important to have a conveyor system in place that allows you to maintain the highest standards in food safety and remain compliant.
mk North America's CleanMove line of stainless steel conveyors help food plants to maintain clean standards.
The offerings are not only designed to meet FDA guidelines and BISSC regulations, but their heavy duty construction and high quality materials and components make them a top choice.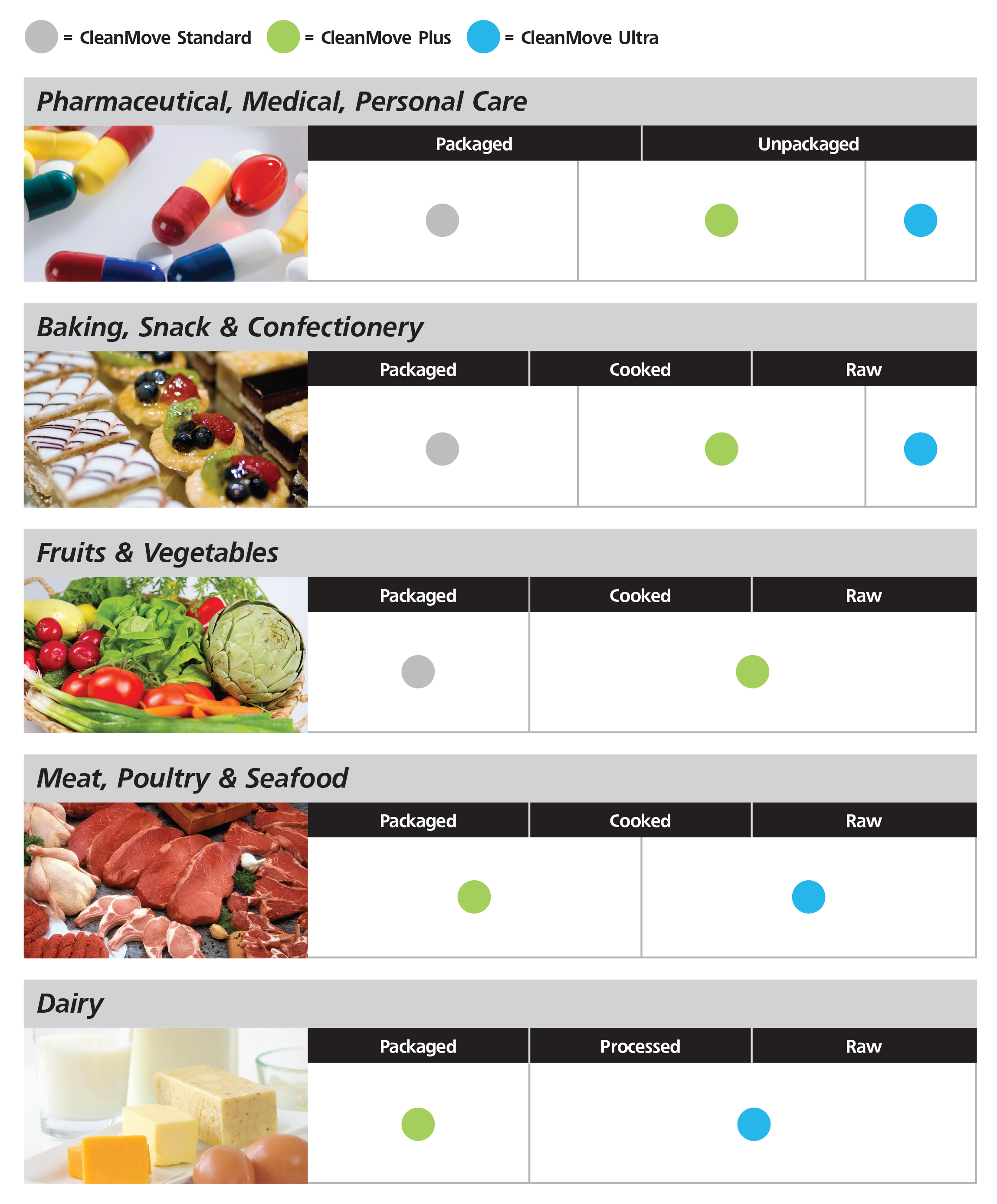 In addition to food-grade sanitary design and washdown capabilities, mk's CleanMove conveyors are available in a number of different configurations to accommodate numerous food processing applications.

Get in touch today to learn more!
---