New CAD360! Configurator
Posted on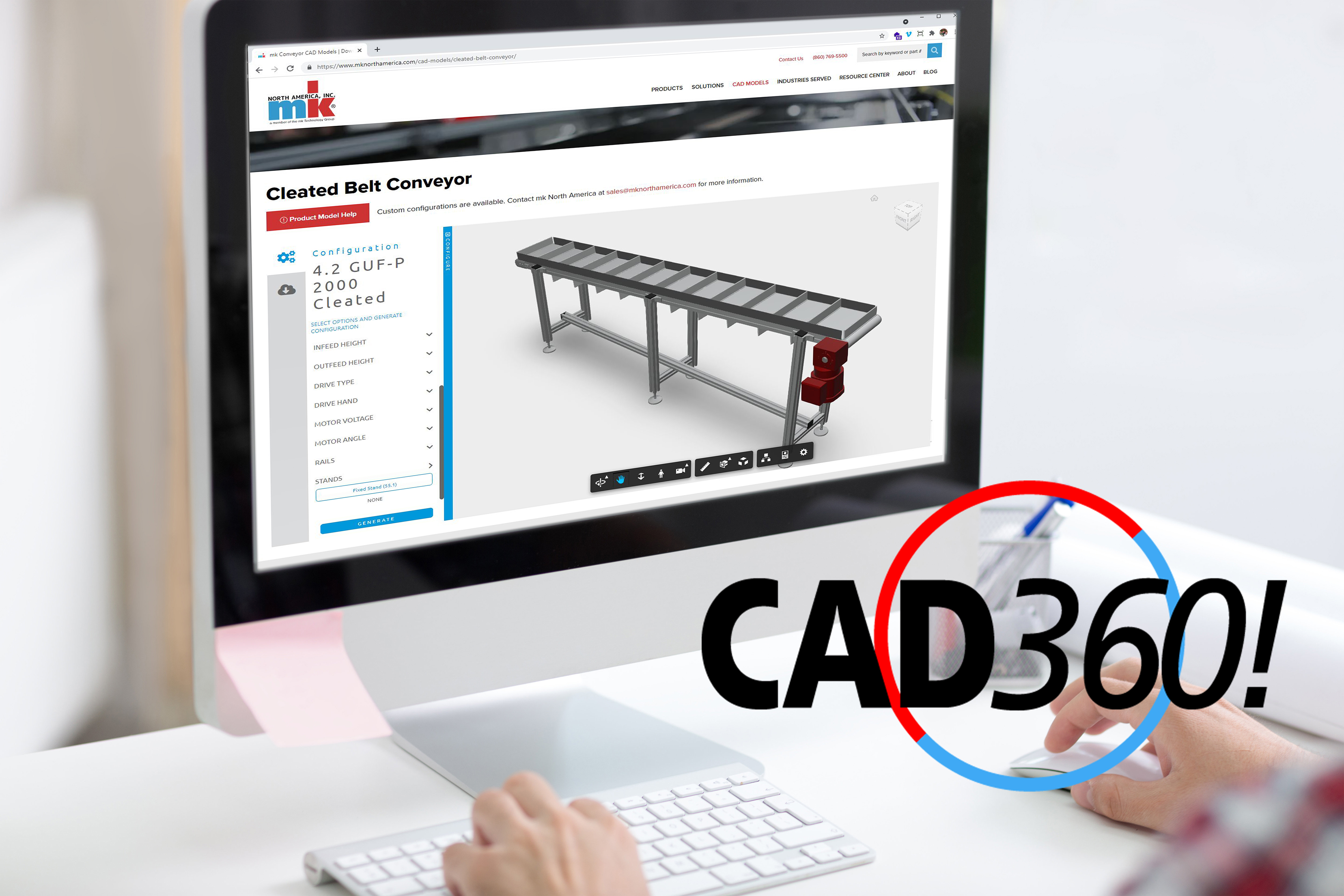 The latest version of the configurator features improved design and collaboration tools to bridge the gap between conveyor system designer and manufacturer.
This is a copy of the original press release which first appeared on ABNewswire November 15, 2021.
Leading conveyor system designer and manufacturer mk North America has announced the release of an all-new version of its online conveyor modeling tool, CAD360! This latest release features enhanced design tools and better access to equipment models to make it faster and easier than ever to design and share custom conveyor systems from the manufacturer.
The CAD360! conveyor configurator allows for 2D and 3D models to be downloaded for easier sharing across departments and provides engineers with expanded file options for their layout and design needs. There is now also the ability to download SAT files in addition to the other popular download options (STEP, DWG, and PDF).
The latest version was developed to help engineers, designers, and project managers across the industry create conveyor designs simply by inputting values. They can then incorporate this equipment into their own machine design and submit it for a quote request.
Users simply input their desired values for length, width, and height, select drive location, and desired options, and a model is generated on demand.
Live measuring, improved view control, and several other interactive modeling tools make it possible for the user to investigate model details right within CAD360!
While users will enjoy the same single-screen integrated configurator that's made the offering so popular, it's now available in an even easier-to-view format. In addition to the model being shown in a larger size for improved user experience, there are also increases in system efficiency.
User changes will now be saved as values are entered. When the 'generate' button is selected, the new model will then be configured and displayed on the screen. This saves time, system resources and speeds up the design process overall.
"The new CAD360! conveyor configurator was developed to help engineers, designers, and project managers across the industry get even better access to equipment models than before. As a design engineer myself, I know firsthand how frustrating it can be to design automation equipment without accurate CAD models for reference. It's even worse when you're forced to wait on vendors to manually send them," said Will Peters, Design Engineer / CAD360! Developer, mk North America, Inc.
"The entire goal of CAD360! from the start has been to get critical equipment designs into the hands of our colleagues so they can move forward with their automation projects as easily as possible. This new version of the configurator does just that with a friendly interface, new model interactions, and various output types. At the end of the day, we're confident this conveyor configuration tool will help bridge the gap between designer and manufacturer," said Peters.
Users will be required to register to use CAD360! which will help streamline the request for quote process should users decide to proceed with a design they've customized. Registering means their contact information will be auto-populated into the form saving valuable time and previous designs may now be recalled.
"CAD360! is often a user's first introduction to mk's portfolio of automation equipment, so we've put extra effort into making it reflect our values. From collaboration to effective design, CAD360! is the gateway to better products and better solutions," said Peters.
For more information and to begin using CAD360! visit: www.mkCAD360.com
About mk North America
Located in Bloomfield, Connecticut, mk North America, Inc. is a leading designer and manufacturer of conveyors and t-slot aluminum extrusion. mk engineers and manufacturer's conveyor systems, workpiece pallet-handling conveyors, and extruded aluminum framing systems – including guarding, workstations, and linear motion systems. mk North America is committed to offering not only a better product but also a better solution. mk works closely with their customer to ensure the best possible solution constructed out of mk products is provided for the customer's unique application.
For more please visit: www.mknorthamerica.com
---