Part of the Solution: Meet Adam
Posted on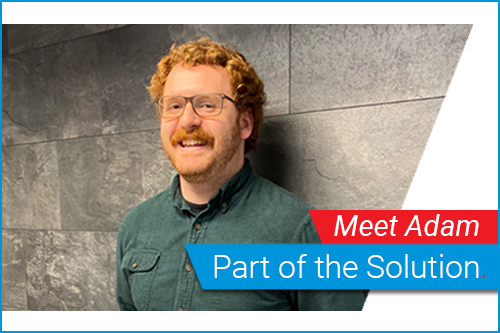 mk North America believes in offering not only a better product, but also a better solution; and our employees are an integral part of this belief. These are some of the faces that are Part of the Solution – making your next conveyor system a success.
Continue reading to learn how Adam is Part of the mk Solution.
Meet Adam
Adam is mk's Spare Parts Associate, a position he's held for the last five years. If you've ever called or emailed mk looking for a replacement part for your mk conveyor – then you've most likely worked with Adam. Prior to joining the sales team, Adam began his tenure at mk in the receiving department in 2017.
Adam's main priority is assisting customers with any after-market replacement parts needed for mk conveyors in the field. Additionally, his day-to-day responsibilities also include assisting customers with conveyor modifications - everything from lengthening a conveyor, to adding accessories such as stops, rails and support; as well as more major modifications such as changing belt type or even repurposing an entire conveyor system. Adam also helps customers with any warranty questions they may have. It's clear to see how Adam is a big part of the solution at mk.
When asked what drives him at work, Adam replied: "The mk team is the biggest driver of my work. It is a second family and a great place to work, and I wouldn't want to let anybody down. I've worked at other jobs where you are treated like a number and must follow a strict schedule and work procedure. However here I am allowed the freedom to help improve our processes, and work with customers to see what does and doesn't work. It helps to bring a certain quality and care to our work …".
Adam was nominated for this feature by mk's Sales and Business Development Manager, Scott Blais, Jr. Scott provided this testimony as to how Adam is part of the mk solution: "Adam was a natural selection (for this feature) because of his unique path here at mk as well as his dedication and work ethic towards the company. He has put in the time, effort, and diligence to succeed with mk".
The mk Difference
mk's President, Andreas Haussmann, often refers to the individuals that work at mk as "the difference" – the reason mk is becoming a premiere conveyor system manufacturer. "At mk North America," says Andreas "we believe that our people make the difference. It's their ingenuity, their passion and their dedication that make mk stand out, as the leading manufacturer of standard and custom material handling solutions".
If you are in the market for a conveyor system that meets your unique needs, then look no further than mk North America. We are the company that provides custom solutions for your unique application. mk North America, better products, better solutions – all because of team members like Adam.
---