Part of the Solution: Meet Dave
Posted on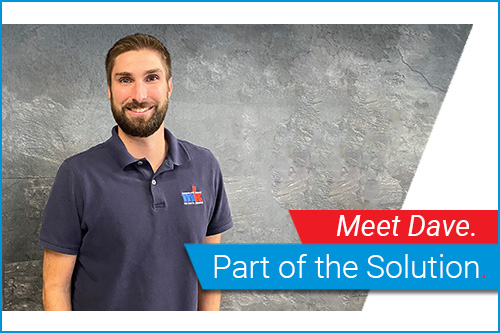 mk North America believes in offering not only a better product, but also a better solution; and our employees are an integral part of this belief. These are some of the faces that are Part of the Solution – making your next conveyor system a success.
Continue reading to learn how Dave is Part of the mk Solution.
Meet Dave
Dave began his tenure with mk North America in February 2010 as a Mechanical Design Engineer. After five years he was promoted to Senior Project Engineer, and then four years later he was promoted to Engineering Manager, Aluminum Conveyors & Factory Equipment. This is the position which he currently holds at mk.
In his role as Engineering Manager, Dave, is responsible for leading and managing a team of engineers by providing guidance, support, and mentorship. In his day-to-day duties he oversees the planning and execution of custom solutions for customers. This involves setting project goals, defining tasks, allocating resources, and ensuring projects are completed on time and within budget. Keeping the big picture in mind Dave strives to foster innovation, best practices, and continuous improvements to enhance the overall efficiency and quality of our engineering department.
This is clear in what Kai Tietje, Director, had to say about Dave's contribution to mk "Dave approaches each challenge with enthusiasm and is actively involved in mentoring his employees, challenging himself and those around him to deliver the best possible products and solutions."
I asked Dave what motivated him about working at mk after all these years. To that he replied: No two days are alike. The challenges presented by designing custom conveyor solutions for various industries and their unique requirements push me to think outside the box and create innovative solutions every day. The collaboration, support, and camaraderie I have received here at mk over the years also drives me to work hard and lead by example for the future success of this company. I have seen this company grow from 35 employees to over 100 employees because of the hard work and dedication of our team and I am excited to see what we can do in the future.
We're excited to see what the future holds for mk as well. Thanks for being part of the mk difference, Dave.
The mk Difference
mk's President, Andreas Haussmann, often refers to the individuals that work at mk as "the difference" – the reason mk is becoming a premiere conveyor system manufacturer. "At mk North America," says Andreas "we believe that our people make the difference. It's their ingenuity, their passion and their dedication that make mk stand out, as the leading manufacturer of standard and custom material handling solutions".
If you are in the market for a conveyor system that meets your unique needs, then look no further than mk North America. We are the company that provides custom solutions for your unique application. mk North America, better products, better solutions – all because of team members like Dave.
---