Part of the Solution: Meet Stewart
Posted on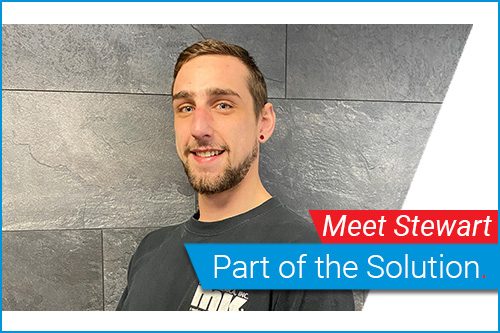 mk North America believes in offering not only a better product, but also a better solution; and our employees are an integral part of this belief. These are some of the faces that are Part of the Solution – making your next conveyor system a success.
Continue reading to learn how Stewart is Part of the mk Solution.
Meet Stewart
Stewart has been with mk North America since November 2016 as a sawyer and has held several positions since then. In his current position Stewart is an Assembler. Previously he has held positions in our shipping and receiving area and stock room.
Stewart, along with other members of the mk Assembly Team are responsible for building and testing all of the various products that mk sells and ships. Stewart's expertise is within the aluminum and stainless-steel conveyor lines, as well as safety guarding.
I asked Stewart what he enjoys about working at mk and he remarked how daily it's the "same type of work but there are different projects everyday".
Stewart also noted that he likes the "ability to be part of the solution", not only as a member of the mk team, but also part of the solution for the customer.
When asked if he had any advice for new employees he said: Work hard and take pride in what you do! Don't be afraid to take risks and learn something new. And never be afraid to ask for help or advice.
Stewart was nominated for this spotlight by Waldo Polanco, Assembly Supervisor. Waldo had this to say about Stewart: Since his start in our Saw Department back in 2016 to now being an important member of our Assembly Team, Stewart has excelled in several departments here at mk. His all-around experience gives him the versatility that makes no task too big to tackle. It is a pleasure to have him on my team. I can always count on him to get the job done.
The mk Difference
mk's President, Andreas Haussmann, often refers to the individuals that work at mk as "the difference" – the reason mk is becoming a premiere conveyor system manufacturer. "At mk North America," says Andreas "we believe that our people make the difference. It's their ingenuity, their passion and their dedication that make mk stand out, as the leading manufacturer of standard and custom material handling solutions".
If you are in the market for a conveyor system that meets your unique needs, then look no further than mk North America. We are the company that provides custom solutions for your unique application. mk North America, better products, better solutions – all because of team members like Stewart.
---