The Top Three Reasons for Using Timing Belt Conveyors
Posted on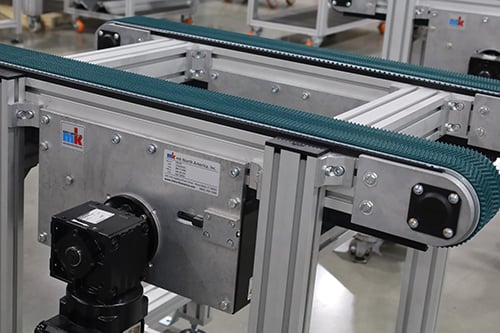 As the complexity of industrial automation and factory systems increases the need for higher precision conveyors becomes more and more apparent.
And while "precision" is one of the main reasons to use a timing belt conveyor over a traditional flat belt conveyors there are other reasons. Continue reading to learn more.
Precision Timing Belt Conveyors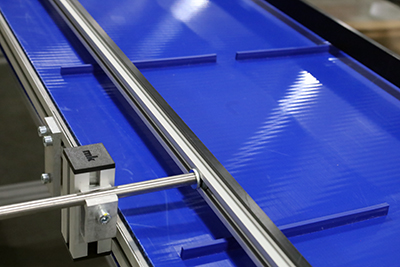 Customized Timing Belt Conveyors
Timing belts and by default timing belt conveyors are highly customizable. Timing belts are not only for indexing applications, as discussed above, but they can also be used for accumulation applications as well. When used to accumulate timing belts are typically supplied with a nylon coating on the top surface. Nylon coating can also be applied to the tooth side of the belt as well. This coating provides optimal belt and pulley interaction and reduces noise and vibration. Additional top side belt backings include various high friction surfaces, foam, and sponge rubber, as well covers that offer wear and abrasion resistance. Some of these belt backings can also be machined to allow for pockets or slots to be included on the belt's top side.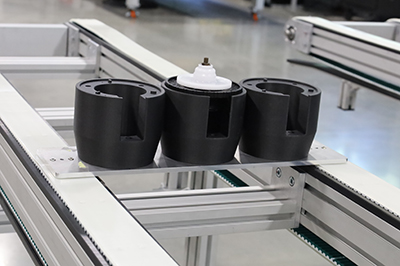 Cleated or attachment timing belts further increase the customization level offered with these conveyors. A wide variety of pre-design attachments as well as custom attachments can be ultrasonically welded to the belt. Convertible or false-tooth belts allow for the customer to bolt their own fixtured directly to the belt, via a threaded insert placed into the tooth of the belt.
High Load Capacity Timing Belt Conveyors
Because timing belt conveyors feature a positive drive, and the belts can be made with either steel or Kevlar tensile members timing belts are capable to high load capacities – often far beyond that of a traditional flat belt conveyor. For example, mk's ZRF-P 2040 timing belt conveyor is capable of loads up to 1,500 lbs. this is three times the load capacity of mk's GUF-P 2041 heavy duty belt conveyor.
Selecting a Conveyor
Timing belt conveyors have many advantages over traditional flat belt conveyors, however in many instances the functionality of a timing belt conveyor is not needed. And considering that they are more costly than belt conveyors defaulting to timing belt conveyors may not be in the best interest of the application. When you work with a full-service conveyor company, such as mk North America, you can rest assured that our team will work with you to understand the unique aspects of your particular application and recommend the best possible conveyor solution.
---