Why Custom Conveyors
Posted on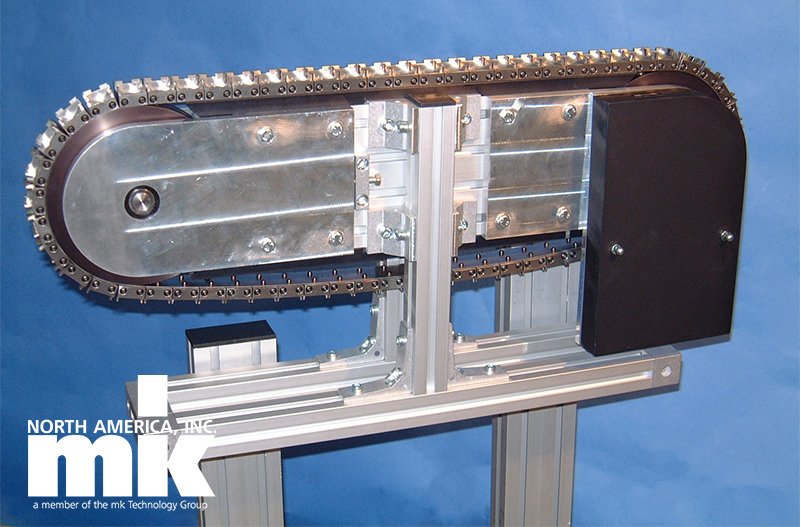 The idea of something custom, or designed specially to fit ones needs, often brings about thoughts of increased pricing and longer lead-times. However, with the variety of conveyor offerings from mk North America, Inc., that is not always the case.
Belt Conveyors
Whether it's a synthetic belt conveyor or a plastic belt conveyor, these type of conveyor from mk have nearly limitless possibilities. With nearly 10 different conveyor platforms to choose from, there is a solution for almost every layout, load and speed combination. And each platform has multiple drive options available; and many offer a variety of idler options to best work with your specific application. Conveyors can have cleats or flights added to them, and the variety of belt options from the top names in the industry ensure the perfect belt for your application. And because mk's aluminum frame conveyors are constructed using mk's t-slotted aluminum extrusion, it is seamless to add guarding, tables and workstations to the conveyor.
Customer Service
Feeling overwhelmed with the options from mk? Need to be able to dedicate your time to your business? Not a problem!
mk believes in supporting the customer from concept, through quote and order, to acceptance and maintenance. That means you don't need to become a material handling expert to realize the best solution for your application. mk's Sales Engineers and Sales Representatives will guide you through the process. They will listen to you to alleviate pain points in your production or assembly line, and be your partner in developing the right solution at the right price and lead-time.
Modular, Versatile and Flexible Design
mk conveyors are designed using pre-engineered modular elements. This is true not only of our belt conveyors, as discussed above, but for all aluminum frame mk conveyors including our VersaMove pallet-handling conveyor systems. This modular approach allows for diverse and flexible standard, customizations as well as the ability to easily change and reconfigure your mk conveyors and mk pallet-handling systems as your needs change. With millions of conveyor configurations possible from mk North America, the versatility of the mk conveyor offering is unmatched in the industry.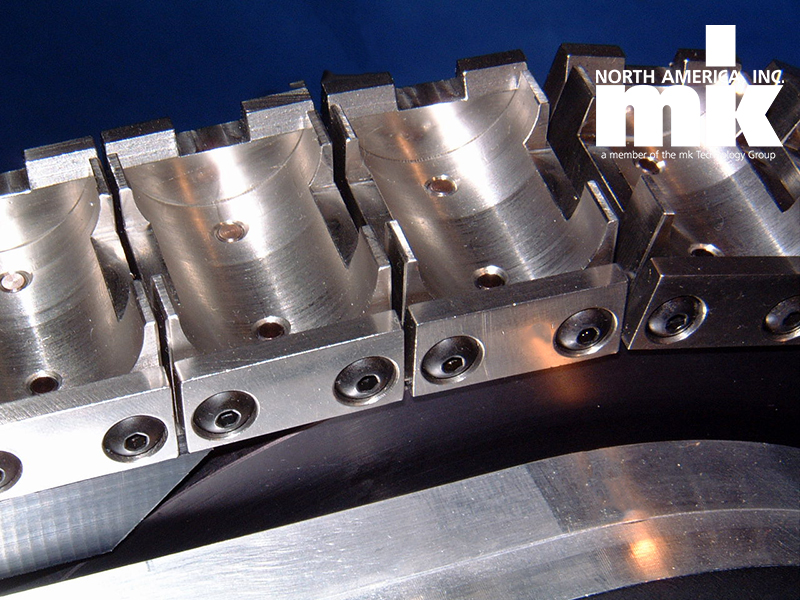 Engineered Solutions and Truly Custom Conveyors
For applications that require a little "something extra," mk offers a wide variety of Engineered Conveyor Solutions. These conveyor solutions include items such as back-lit conveyors, bi-flow tables, vacuum conveyors and conveyors designed to locate parts. For the customer looking for something completely out of the box, mk is the conveyor manufacturer for you as well. Since 1988 mk North America has been designing and manufacturing unique and one-of-a-kind conveyors.
Examples of these include:
Conveyors to aid in the research of the effects of Parkinson's Disease on walking gates
Vacuum conveyors for UV curing of box printing at 500 fpm and 300°F
Conveyors to vertically lift wrapped straws out of a tote and into containers
Metal mesh belt conveyors for accumulating beveled gears
Conveyor systems for passing bullet proof vests through x-ray machines to check for defects while on the battlefield
Conveyors for testing baby strollers for life-cycle
Conveyors for use in on-line Twitter contests for back-to-school giveaways
Conveyor solutions from mk North America can be customized to fit nearly any application. We are the conveyor experts; contact us today to learn how we can customize your next conveyor solution.
---