Introducing Our New Low Profile Wide Timing Belt Conveyor
Posted on
mk North America is pleased to introduce the ZRF-P 3000 - a wide, low profile, timing belt conveyor. This conveyor completes and compliments mk's timing belt conveyor offering.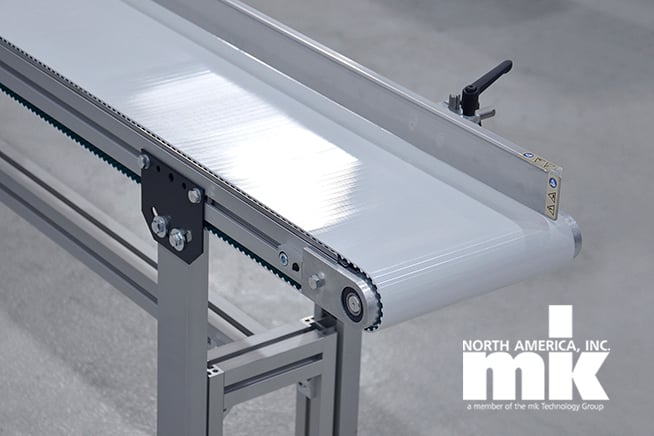 The ZRF-P 3000 is constructed using mk's 40-series aluminum extrusion and features a single t-slot per side of the frame. The timing belt conveyor frame is 40 mm tall, plus the thickness of the slider bed and belt. This low profile conveyor is able to transfer (end to end) parts 162 mm or longer.
Bi-Directional Wide Timing Belt Conveyor
Featuring a WT10 timing belt, the ZRF-P 3000 is available in belt widths up to 610 mm (24-inches). The timing belt also includes a reverse v-guide; which engages with a v-guide feature within the ultra-low friction composite plastic slider bed.
This unique guiding feature makes this timing belt conveyor truly reversible - capable of going in either direction and adept in switching directions quickly. The efficient direction change and precision belt control is additionally a product of the indexing motor package offered with this conveyor.
Precision Move Conveyors with Unique Belting Options
The precise nature of these timing belt conveyors does not mean sacrificing belting options. The timing belts offered with the ZRF-P 3000 can come with a variety of belt coatings - from high friction tops, to smooth tops for product accumulation. Additionally the belts can be supplied with cleats, paddles or attachments. These attachments can come ultrasonically welded to the belt or bolted on to the belt (an insert - with threads - is placed within the tooth on the underside of the belt). The attachments come in a wide assortment of pre-designed styles and custom attachments are also available.
Ready to Index
Are you ready to move forward with mk's latest indexing conveyor solution? Then fill out the form below and a member of our sales staff will get in touch with you. Or if you'd like to learn more about all of our timing belt conveyor options visit this page.
---