KFM-P 2040
Incline Plastic Modular Belt Conveyor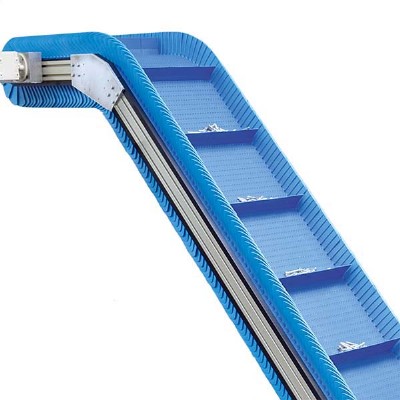 Incline to horizontal plastic modular belt conveyor
Cleats on the belt make carrying product up steep slopes possible
These conveyors can be configured in a variety of options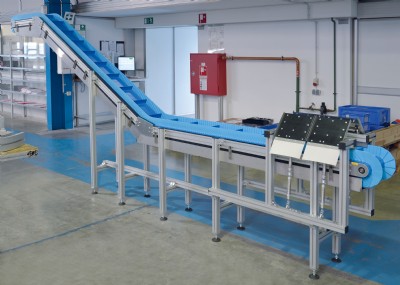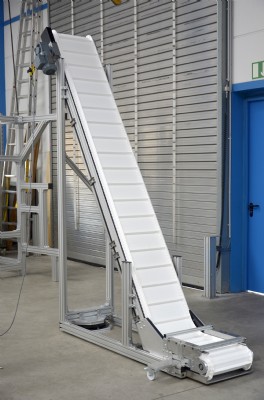 The KFM-P 2040 conveyor system is well suited for integration into existing machines that require elevation changes between processes.
The plastic modular belt chain, completely guided in PE-1000 wear strips, is used for applications such as transporting slugs or molded plastic parts, light punched parts, or food products.
The material of the modular belt chains offers a high level of wear-resistance and abrasion resistance. Due to different chain materials the conveyor system is suitable for food products, high temperatures, and it is chemically resistant. Accessories, such as side plates and lateral cleat profiles are also included in the product range. Accessories, such as hoppers and discharge chutes are easy to attach on the T-slots of the profile. Depending on the goods to be conveyed, please see our other incline conveyors with belt or flat top chain.
Conveyor Features:
Frame: 80 mm deep aluminum profile frame
Belt Width: 200 mm up to 1,000 mm
Length: Up to 4,000 mm
Load: Up to 300 lbs.
Speed: Up to 100

fpm

, Constant or Variable speed
Voltage: All standard US, Mexico and Canadian voltages
Belting: Plastic modular belt, flat top, flush grid, and textured; plus options for cleats and

sidewalls

Accessories: Compatible with all

mk

side rails and supports