Conveyor Side Rail Options
One of the most important elements in designing a material handling system is the guidance of the part. For that reason, mk offers you a wide selection of fixed and adjustable side rails. Designed to be easily adjustable, these rails enable quick and easy system changeovers for various sized products.
Conveyor Fixed Side Rails:
Fixed side rails come in removable and non-removable options. Both are avaliable in stainless or galvanized steel.
The non-removable side rails come in heights ranging from 10 to 50 mm. The removable side rails allow for custom height options stating at 25 mm.
Conveyor Adjustable Side Rails:
Adjustable side rails are ideal for applications where different size products might be carried, or the rails need to assist in guiding the product to one side of the belt, or they can be used in centering the product on the belt.
A wide variety of horizontal options for the rails are available, many of which feature a UHMW-PE wear surface for contact with the product.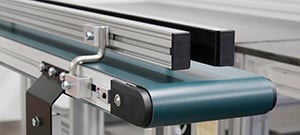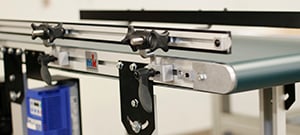 Custom Conveyor Rails
Custom side rails, lane dividers, and diverters available.
See our catalog for our complete offering.