Problem Defined
The Difficulties of Replacing Human Labor to Create a Fully Automatic Process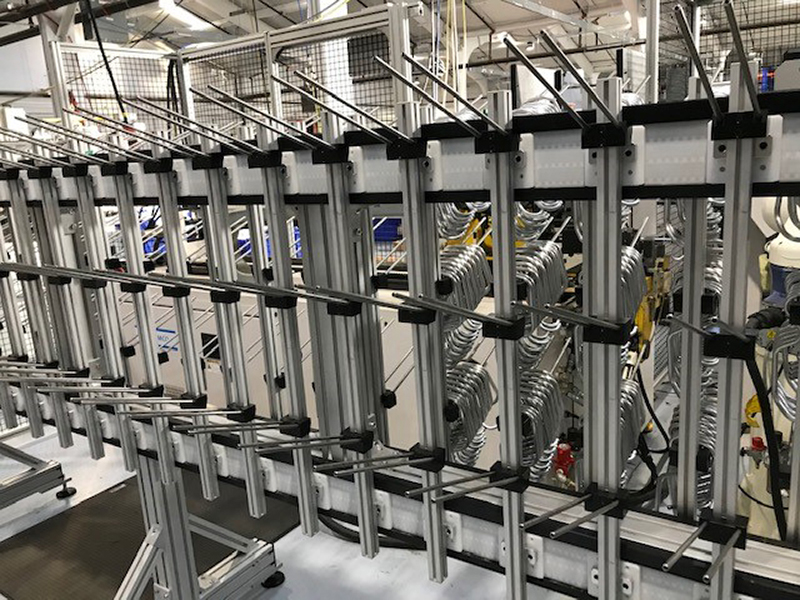 Recently, mk North America worked with G&J Steel and Tubing (G&J), a New Jersey based production metal tube fabrication company, to develop a custom conveyor system that would function as an automatic recirculating rack system for their parts. G&J's engineer envisioned this rack, which would replace an existing rack. The existing rack required a human operator to move the rack to an empty position whenever the current station was filled by the robot delivering the parts. The new storage rack conveyor system would not only free up the operator to perform other tasks, but would allow the robots to work through the night, increasing G&Js production capacity.
mk North America's Custom Solution
Using Existing Conveyor Platforms in New and Unique Ways
The solution developed included a dual strand attachment timing belt conveyor, mk's ZRF-P 2040, positioned on its side and operating in a carousel fashion. Custom pallets were then designed and attached to the belt. These pallets included spindles for the robot to set parts on to. And because a convertible timing belt was used, the pallets can be changed out in the future should the requirements of the system change. This adds an extra level of diversity to the entire system. The conveyor system is operated by a servo motor, which is controlled through the same system as the robot and bending equipment – ensuring that the conveyor is always moving as necessary to provide the storage space.
mk believes in partnering with our customers to develop the best possible solution for their unique application.
Customer Benefits
Unique one of a kind solution to solve a specific challenge
Ease of hand-off between customer and mk
Increased storage capacity
Freeing up of labor for additional tasks and duties
---