Problem Identified
The Struggles of Developing a Conveyor System for Delicate Products in a Restrained Environment
A pharmaceutical company needed a conveyor system that would bring the bottles, at a rate of 180 per minute, to the packaging station. Additionally, the conveyor system also needed to allow for a random sample to be discharged for safety and quality checks. The conveyor and the discharge needed to accommodate different size bottles. Adding to the list of requirements, the conveyor needed to be soundproofed, due to a quiet production environment; and all surfaces of the various components needed to be easily accessible for cleaning as well as resistant to a list of common cleaning agents.
mk North America's Custom Solution
Solving the Issue of Conveying Delicate Objects in a Confined Space, with a Randomized Selection Process
A low profile solution was required, as well as a conveyor that had a 90° bend. Due to the product transferring to the packaging station at the discharge the drive could not be located at the infeed in.
These additional design constraints lead mk to develop a custom plastic modular belt conveyor. By going with a custom design mk was able to get away from the 80 mm deep profile normally used on the KFM-P 2020; and was able to use a lower depth profile. The conveyor also featured a mid-drive assembly, freeing up the conveyor ends to mate up with other processes.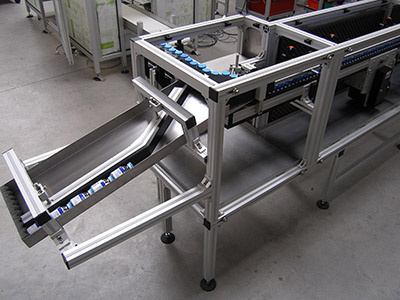 Adjustable side rails were used in order to accommodate all of the various bottle sizes. The discharge also includes interchangeable curves for accommodating the various bottle sizes and sampling. The frame and enclosure, including a hinged cover, were built using mk's 40 series profile. This allowed for easy integration of the soundproofing mats. The discharge chute was constructed out of stainless steel.
Lastly, in order to help keep the unit easy-to-clean and dust out of the t-slots all of the available t-slots were capped off with mk's closure strips.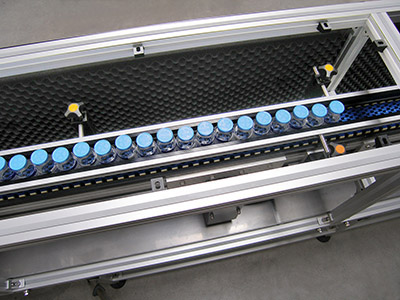 Customer Benefits
Customized solution based on the customer's specifications
A single solution to meet all of the customer's needs
Easy change over between bottle sizes
Soundproofed conveyor for use in quiet production area
An easy-to-clean conveyor system with quick access to the various surfaces
---