Problem Identified
mk Solution
A low profile solution was required, as well as a conveyor that had a 90° bend. Due to the product transferring to the packaging station at the discharge the drive could not be located at the infeed in.
These additional design constraints lead mk to develop a custom plastic modular belt conveyor. By going with a custom design mk was able to get away from the 80 mm deep profile normally used on the KFM-P 2020; and was able to use a lower depth profile. The conveyor also featured a mid-drive assembly, freeing up the conveyor ends to mate up with other processes.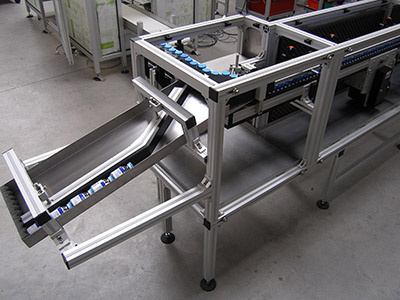 Lastly, in order to help keep the unit easy-to-clean and dust out of the t-slots all of the available t-slots were capped off with mk's closure strips.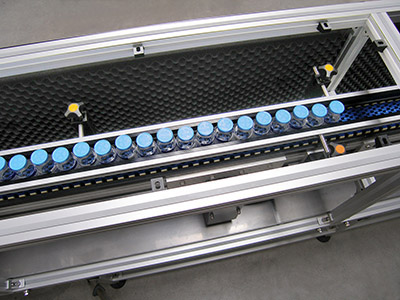 Customer Benefits
Customized solution based on the customer's specifications
A single solution to meet all of the customer's needs
Easy change over between bottle sizes
Soundproofed conveyor for use in quiet production area
An easy-to-clean conveyor system with quick access to the various surfaces
---