A Closer Look at Conveyor Accessory Options
Posted on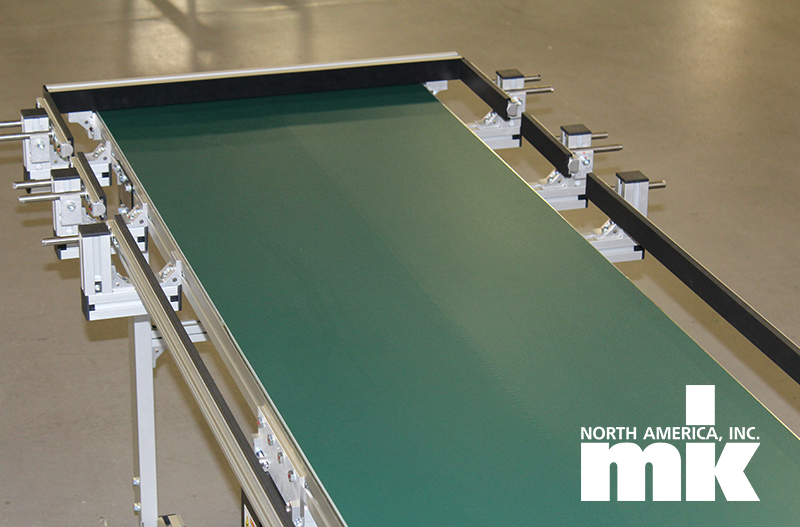 Conveyor systems play an important role in many of today's workplaces. From manufacturing to industrial settings, these systems help move materials and products safely and efficiently from one location to another to complete jobs and also bring the benefit of automation to plants.
Accessories for fully equipped conveyor systems - from stops, side rails, pallets and more, can be added to improve efficiency and safety.
Thanks to the modular design of the mk conveyor and the use of t-slots with drop in style nuts, accessories that further enhance the functionality or are required to complete a new job can also be added after the conveyor ships.
In this blog we'll overview conveyor accessory options available from mk North America and how they can bring benefit to your operations.
End Stop
In cases when you require a product to come to a stop on a conveyor system, you'll need to add a stopper that halts the movement without damaging the product. We offer end stops with a plastic strip so they are gentle on the product being stopped and can be used with both belt conveyor and roller conveyors. Factors including weight and speed must be considered when selecting the best stop solution. Stops can also be customized so that they fit around the product, commonly called a nest. These types of stops are ideal for positioning.

Pallets
Placing products directly on the belt conveyor isn't always an option. In cases where extremely hot products are being conveyed or for other reasons, such as very small parts, you'll need pallets to assist with transporting the items along the production line. To keep the items in place they are attached to the pallet and transported through stations as needed. Our pallets can be custom-manufactured and adapted to suit an array requirements and material needs. The mk VersaMove line is a pallet-handling conveyor with options to meet weight and speed requirements.
Side Rails
Side rails are a very important accessory for conveyors because they are used to guide materials and parts across the system. mk offers you a wide selection of fixed and adjustable side rails that can be easily adjusted and changed depending on the job and product size being run. Our engineers can also develop custom side rails to guide product around 90° corners and more.
Drip Pan
If the items moving across your conveyor system are lightly coated in oil or another thick substance, a drip pan is a great addition because it can help catch and remove excess liquid so it doesn't interfere with operation or movement. Our drip pans, which are primarily intended for belt and modular belt conveyors, can be adapted to fit an array of needs and configurations. Everything from the length, width and depth can be changed to fit your need and comes with a drain nozzle which can easily be connected to the drain lines. Drip pans can also be used as catch pans and are often employed when a conveyor is mounted in the air to catch any stray parts from landing on the floor.
In need of other accessories for your conveyor system not listed here? Contact mk North America. Our technical experts can help you with custom requests and deciding on the best options for your application needs.
---