Complete Pallet Handling from mk North America
Posted on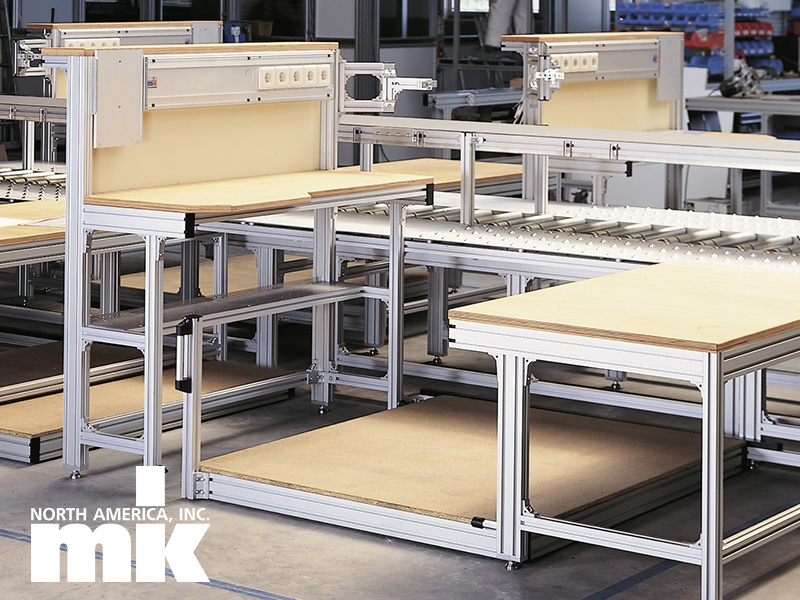 Improving manufacturing productivity is key in today's competitive market. There's never been a more important time for companies to focus on quality and productivity increases. Maximizing ROI requires using best-in-class technologies and solutions that are flexible and adapt to varied needs.
Partnering with mk North America for your project is the best choice.
Our VersaMove pallet-handling system is designed with the above mentioned benefits in mind - and more. With the choice between three different platform sizes and different conveying media, you're not restricted by product sizes or weight limitations. In addition, the systems can be configured to work in conjunction with workstation and safety guarding solutions from mk North America.
A Closer Look at VersaMove
VersaMove was created to help increase productivity and gain better quality output. Since the platforms are made of mk's extruded aluminum, they are the perfect option for creating a system for pallet handling and transferring because the platforms can be configured in a number of ways to meet the requirements of different industries.
VersaMove Standard is designed to handle up to 80 pounds per pallet and supports pallets from 240 x 240 mm to 400 x 400 mm. This set-up is great for consumer electronics, medical, computer hardware, communications, personal healthcare, and more.
VersaMove Plus is designed to handle up to 250 pounds per pallet and supports pallets from 400 x 400 mm to 1,040 x 1,040 mm. It's a great fit for automotive, household appliance, medical, electronics, order fulfillment, defense and consumer goods facilities.
VersaMove Ultra is designed to handle up to 800 pounds per pallet and supports pallets from 640 x 640 mm to 1,200 x 1,200 mm. This set-up can be used in automotive sub-assemblies, pressure testing, large appliances, motors and pumps and furniture industries.
Add Elements with Ease
As industries evolve and change, so too do the needs of workers at these job sites. In fact, today's assembly line looks much different than those of previous generations with humans working alongside automated systems and efficiency as a main goal.
In the modern factory, having the proper workstation to support worker needs is vital.
Safety guards are used to keep workers and their limbs safe from risk and are critical. Safety guards can be designed to guard around the perimeter of an area or conveyor line. Guard paneling comes in a wide variety of choices, including polycarbonate and wire mesh (in both black and yellow colors).
Creating a comprehensive workstation requires incorporating additional elements to create a system that works efficiently to meet each project's specific requirements. Tools and modules added to workstations like lighting, protect a worker's vision and help them to see what's in front of them better. Retractable tethers and tools can also be added as well as rollers and new work surfaces - there are so many options.
Together, a conveyor, workstation and guards, make achieving this possible. For a guaranteed fit, purchasing these additions from the same vendor makes sense.
mk North America uses pre-engineered elements for both the design and construction of our pallet-handling conveyors as well as our modules and tools which means they easily fit together. For machine builders, system integrators and manufacturing companies, this makes it possible to quickly respond and adapt to changing needs in the market.
Partnering with mk North America means having a complete pallet handling system. One that incorporates guards for safety and workstations with all the needed tools and customizations in place – all from a single source.
Get in touch today to learn more!
---