Conveyor Solutions: A Focus on Backlighting
Posted on
Increasing operational efficiency in today's workplace is the goal of companies across the globe. Thanks to automation and technological advancements, manufacturing and production facilities are now working smarter and faster than ever.
One way both human and robot operators are improving efficiency in the workplace is by backlighting conveyor systems.
How Backlit Conveyors Work
As the name infers, a light is usually installed behind a translucent conveyor belt and this creates a contrast between the belt and the product being conveyed. This makes it easier to see what's on the belt and is essential for vision inspection and quality control functions.
Use of an LED light panel is the most common way to illuminate a conveyor belt today. LED has been proven to emit consistent brightness as well as cut down on energy usage and provides direct lighting to a needed area because of its flat mounted design, versus a traditional bulb.
Today, new LED designs, like Luminous Film, are even making it possible to backlight low profile conveyors and come in a wide variety of color options for varied application uses.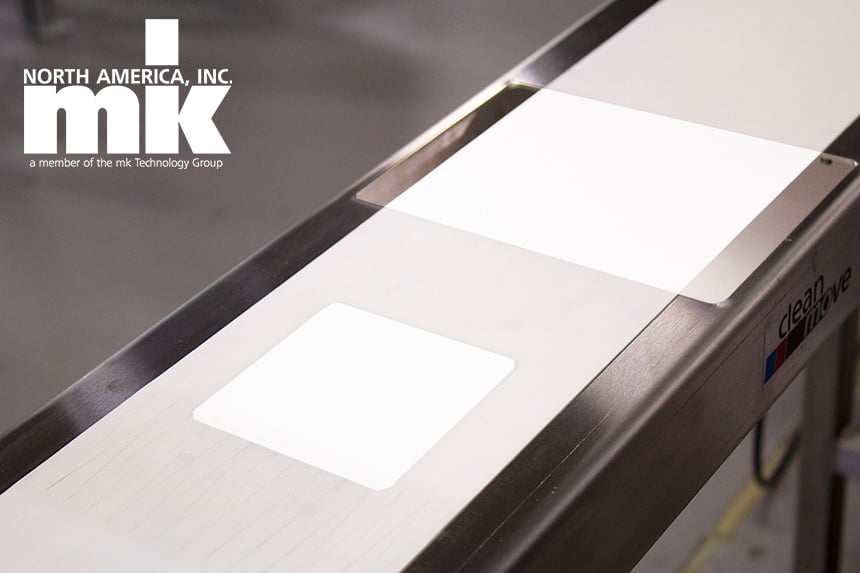 When to Use Backlit Conveyors
Conveyors that are backlit can be extremely useful in vision inspection systems – both manual and machine controlled- because they make it possible for humans and robots to see the item on the belt more clearly.
Illuminating an object from behind helps to separate and distinguish it from the background.

Backlit conveyor belts can be used for quality control, product safety, labeling, assembly – and so much more. The higher level of contrast makes inspection more accurate, speeds processing time and also increases throughput.
Depending on the application, there may be a dedicated area where the belt stops and a product is illuminated or it may continually convey illuminated and operate at high speeds with a camera continually viewing the product. Deciding which option is best for your needs is key.
Robotics
The increasing use of robotics in manufacturing and production facilities makes it important to also take robot vision into consideration when building conveyor systems. In those applications where a backlit conveyor is being used together with a computerized system, a clear, sharp contrast is needed to easily read and see images so that robots can easily process the information.
mk North America Backlit Conveyor Options
mk North America offers backlit conveyors that are ideal for a wide range of applications. They are built based on the GUF-P 2000 series belt conveyor so there are nearly limitless configurations including a wide variety of drive and idler, belt opacity and background color options to choose from.
Still unsure about backlit conveyors for your particular application? Contact mk North America. We'd be happy to review your needs and assist with proper selection.
---