Creative Product Transfer Using Conveyor Systems
Posted on
Transferring products on and off of conveyors, between conveyors, and between conveyors and various other pieces of equipment and processes is one of the timeless challenges of material handling.
Traditional thought centers around the concept of transferring products off the end of the conveyor and onto whatever the next process may be. However, it is possible to transfer off the side of conveyor.
(Click arrow in top right corner of the image to expand the viewing size in photo gallery.)
Depending on the conveyor type and the product being conveyed a number of different solutions or options are available.
Belt conveyors are one of the most pervasive types of conveyors. These conveyors can be broken down into bulk-handling conveyors and piece-handling conveyors. Bulk-handling conveyors are typically seen in agricultural, mining, sewage plants, and aggregates. Whereas, piece-handling conveyors are more often seen in warehouses and used as industrial automation solutions. Bulk-handling conveyors often feature deep frames and large pulleys. These conveyors tend to simply dump product off the end (sometimes onto another conveyor). Whereas piece-handling conveyors feature smaller frames and pulleys.
While these smaller pulleys (typically around 2 inches) make it easier to transfer pieces between conveyors and other machines, it is still necessary to ensure that the product will transfer. This can be done by calculating the minimum transfer length. The purpose of this blog post is not to get into the technical details of how to transfer parts, so instead of including formulas here are some examples: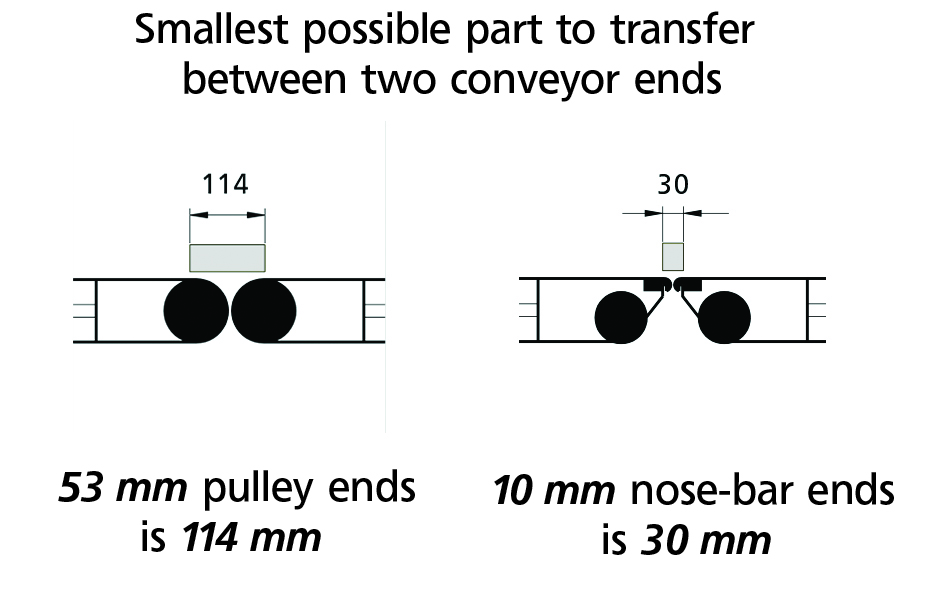 In some applications, it may be best to transfer product by dropping off the end of the conveyor and on to the next process. This type of transfer often does not result in parts being orientated in a certain fashion; however in some cases, parts orientation can be kept or changed with the use of auxiliary equipment or by modifying belt speeds or textures of the belts.
Other applications require end to end transfers. End to end transfers can also be used when looking to space-out or meter parts into the next process.
Some parts and/or equipment combinations may require the use of auxiliary equipment or system design change. Auxiliary equipment can be things like pins, plate, bump wheels, transfer rollers and even transfer conveyors. Working with a conveyor sales or application engineer can help make the process of designing transitions and material flow easier.
In certain processes or lines it may be necessary to transfer parts off the side of the conveyor. This can mean off the side and onto the next conveyor, off the side and onto another conveyor going at 90-degrees, off the side and onto a different piece of equipment. This type of transition is common in conveyors with larger pulleys or end features that are not conducive to end-to-end product transfers.
With all of these options and possibilities, it can seem like there are endless options for transferring parts on and off of conveyors. And that may be true; so in order to get the most out of your conveyor system, work with an experienced and knowledgeable conveyor company such as mk North America, Inc.
mk North America believes in providing "better products. better solutions." This means they will help you ensure that the correct conveyor platform or system is selected and designed to meet the unique challenges of your material handling application. And because mk North America stands behind their 10-year limited warranty you can be assured you are getting the best product for your product.
---