Employee Spotlight: Waldo Polanco - Assembler
Posted on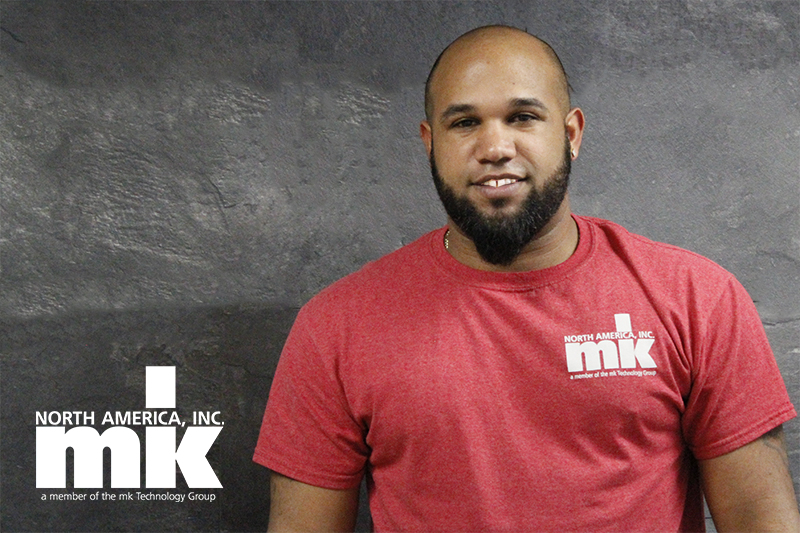 In April, I had the chance to sit down with Waldo Polanco. Waldo's current position at mk is Assembler. Waldo Polanco started his tenure at mk North America in November 2014 in the shipping department. While in this position he was exposed to many of the various other areas of mk's Production Department – from the Machine Shop to the Assembly area.
It was in Assembly that Waldo found his professional calling; being drawn to the more mechanical side of the business. When I asked him how he felt about working at mk he replied to me, "This is the first job that I have ever had that I want to get up and go to work at. The challenges change daily and that makes the day go by faster."
Waldo started in Assembly with assembling guards; and from there he began working on more complicated assemblies, before transitioning to conveyors, custom conveyors and complete pallet-handling systems.
Waldo told me about how it seems like he's using "grown-up Legos" on a daily basis and that he really looks forward to assembling the more challenging, unique and custom conveyor solutions that come through the building. Working on these projects gives Waldo a sense that his bosses have confidence in his skill and craftsman ship.
According to Peter Thomas, Assembly Supervisor, "Waldo shows great enthusiasm when faced with the challenges of engaging projects and creating his future at mk North America. Waldo has an adventurer's spirit for exploring new horizons and achieving a complete edge and an advantage over most in the field".
When I asked Waldo about his most memorable experience at mk; he told me about the time he went to assist a customer at their facility. The mk conveyor the customer received was their first ever conveyor and Waldo went to their facility to assist with some belt difficulties they were having. However, when he arrived at their location, the conveyor was still on the truck. Keep in mind, mk North America ships conveyors fully assembled. Waldo had very few tools with him, the customer did not own a forklift, and knew he had a decision to make. And with that he found a way to unload the conveyor, install it where they needed, and trained the customer on basic conveyor operation. He was there well past normal business hours, but feels the outcome was entirely worth it now. And now when he's at customer's facilities he "really makes sure" he's ready before he heads out. Better to have too many tools, than not to have the ones needed. Because you never know what the job is really going to entail and what resources the customer may have.
It is this spirit of helping that Waldo feels is one of the best things about working at mk North America. He believes everyone is his area of Production gets along well, and that most of the time everyone is in a good mood, and ready to help a coworker out. He also realizes that they all come from different backgrounds, and they make an effort to understand each other on that level. He also noted how, Andreas Haussmann, company President, makes everyone feel like they are part of the team and important. He enjoys how Andreas takes an interest in his work, what he is doing and what he sees.
As part of our 30th anniversary at mk North America, we're taking the time to get to know some of our employees better. Some of the individuals you will meet in these blog posts have been with mk for a number of years, while others are just starting out. But regardless of how long they have been with the company or what their role is, they are all a vital part of the organization, lending to mk fulfilling its mission and its promise to provide not only a better product, but also a better solution.
---