Low Temperature Belt Conveyor Systems from mk North America
Posted on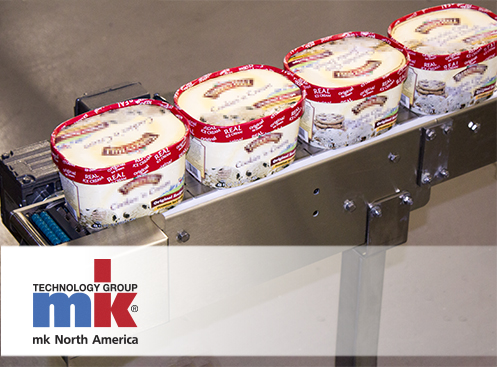 Low temperatures and freezing environments are responsible for some of the greatest engineering challenges in the belt conveyor and material handling industries. Applications like frozen food processing and distribution, cryogenics, and others all require efficient belt conveyor systems able to withstand constant operation in extreme cold. This is a difficult prospect for any machine, and conveyors are no exception.
mk North America is a leading designer and manufacturer of specialty belt conveyor systems, including those for low temperature, frigid, and freezing environments. No matter what your low temperature application requires, mk can provide a solution to meet your needs. Keep reading to learn more.
Special Considerations for Low Temperature Belt Conveyors
While every industrial conveyor application presents its own challenges, those involving extreme low temperatures usually have a great deal in common. Some special considerations to keep in mind when dealing with low temperature conveyors include the following:
Motor Function: Most AC motors like those common in modern belt conveyor systems aren't designed to operate in extreme cold. Motors in low temperatures may require external space heaters to work at peak efficiency. Alternatively, specially-designed motors may be required.
Lubricant: Like any other liquid, low temperature causes industrial lubricants to thicken and become more viscous. Specialty lubricants or external heating may be required to keep conveyors in low temperature environments moving smoothly.
Condensation: Moisture condensation is a major issue in many low temperature and freezer environments. This can have a negative impact on electrical components, especially photoelectric sensors. Electric components should be utilized with condensation in mind. Metals prone to rust, such as non-stainless steels, should also be avoided for this reason.
Belts & Pulleys: Cold temperatures make for brittle belts that are more likely to snap or wear over time. This includes v-belts, timing belts, as well as standard synthetic conveyor belting. Belts should be used which are properly rated for low temperatures.
Bearings: Extreme cold can have an adverse effect on a conveyor's bearings. When designing a low temperature conveyor, low temperatures should be effectively communicated to the manufacturer to ensure adequate bearing systems are integrated into the frame.
CleanMove Conveyors for Low Temperature Applications
If you're looking for a low temperature belt conveyor, mk's CleanMove systems are a versatile option. Made with the food and pharmaceutical industries in mind, CleanMove conveyors are made with durable stainless steel frames that are capable of withstanding the most demanding of low temperature environments.
CleanMove conveyors from mk are heavy-duty systems designed to DA, 3-A, NSF, and BISSC standards, with a variety of custom options and accessories perfect for low temperature and other specialty environments. Configurations include inclined, curved, and cleated belt designs.
If you're interested in learning more about how mk North America's CleanMove and other custom conveyor solutions can help with your low temperature applications, get in touch today by calling (860) 769.5500 or by using this convenient online form.
---