CleanMove stainless steel belt conveyors provide state-of-the-art cleanability, performance, reliability and are designed to meet food and pharmaceutical industry standards. With two different conveyor system platforms and so many recommended applications, CleanMove makes it easy to meet industry and specific government compliance standards.
Sanitary Washdown Stainless Steel Conveyors for Standard & Custom Applications
CleanMove Standard is an excellent solution for conveying in a low moisture
area where wipe down with mild detergents is required. CleanMove Standard
features an all bolted stainless steel construction and is ideally suited for
standard conveying packaged products.
The CleanMove Plus is ideal for conveying in a wet area where product spillage
may occur and light wash down with mild detergents may be frequent.
CleanMove Plus features a combination of welded and bolted construction as
well as washdown rated drives and stainless steel bearings. Supports and
bearings are spaced off the frame to allow for easy cleaning behind them.
Food grade contact surfaces are standard.
---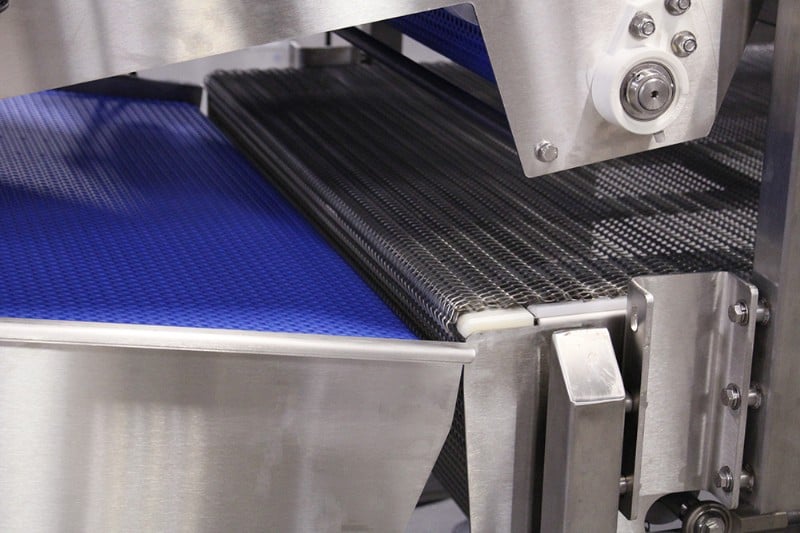 Transfer Conveyors
Right nose bars are an option for many types of belting, including wire mesh and plastic modular.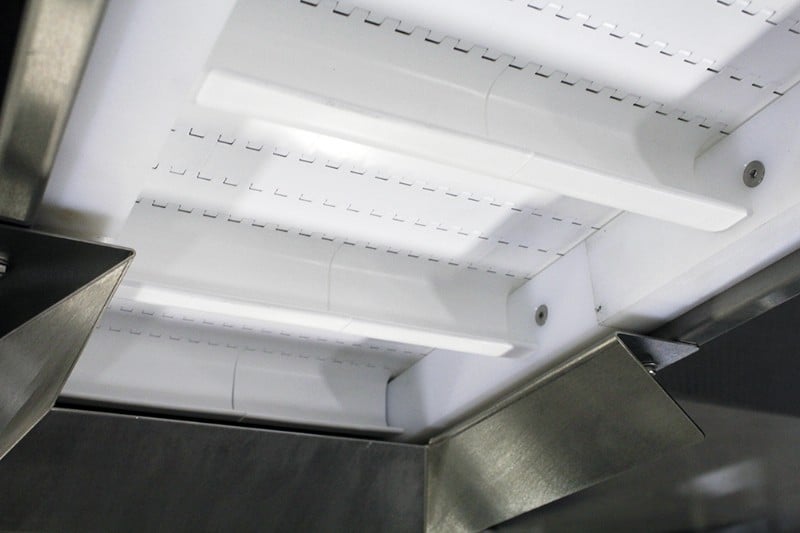 CleanMove Scope Cleat Conveyor
Scope cleats are ideal for moving food product up an incline or vertically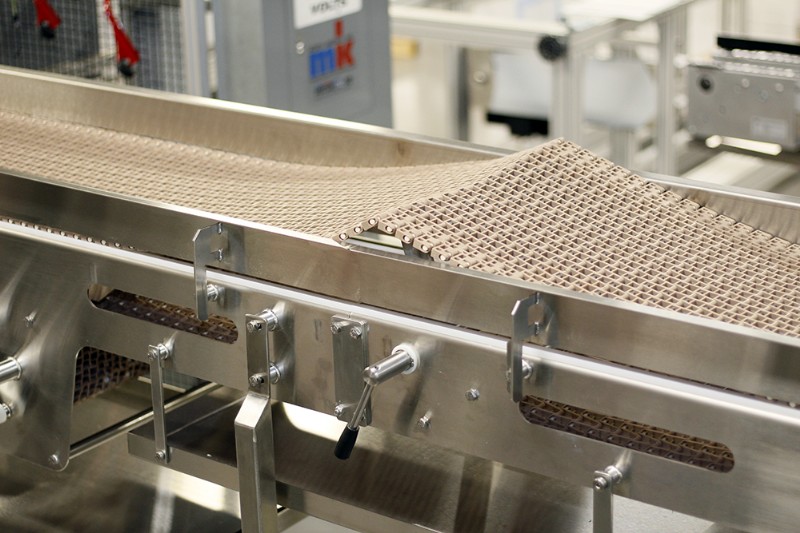 Conveyor with Belt Lifter
Belt lifters and frame cut-outs make cleaning a snap with CleanMove conveyors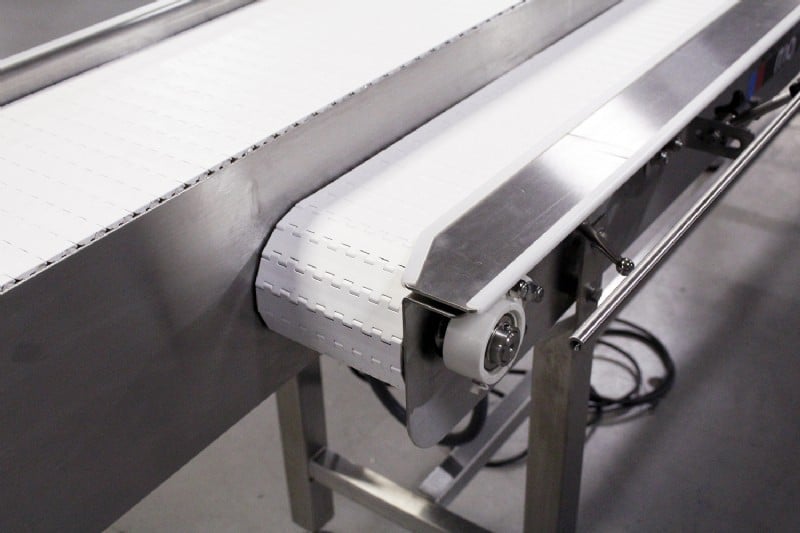 Side by Side Conveyors
The unique nature of food handling conveyors allows for units to be positioned very close to each other.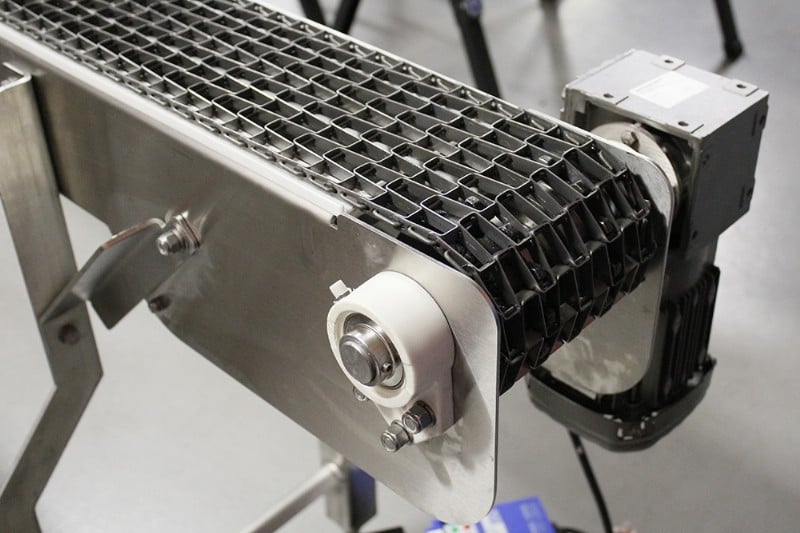 Wire Belt Conveyor
Wire belts are commonly used for conveying hot products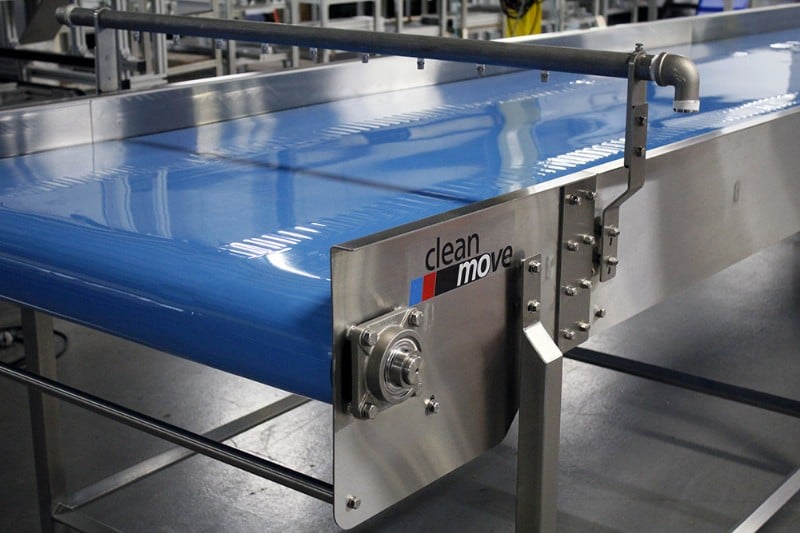 Clean-In-Place System
Clean-In-Place systems are used to provide continuous cleaning to the conveyor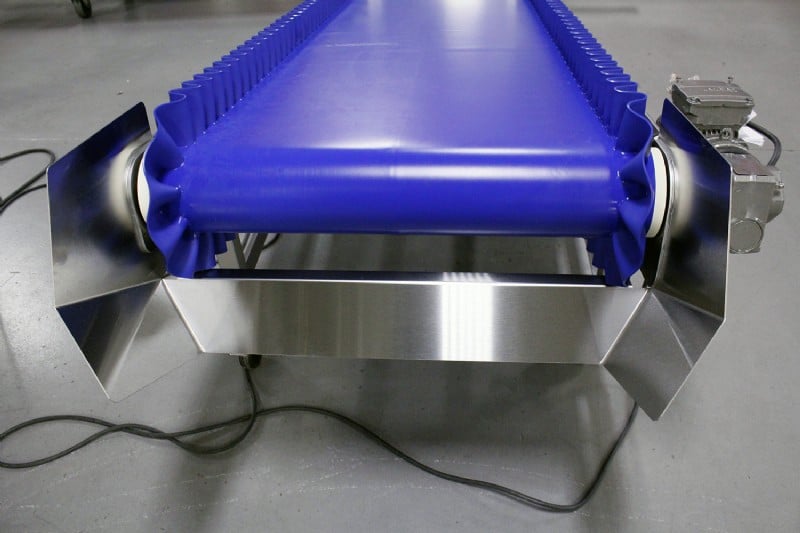 CleanMove Ultra Belt Covneyor
A food grade conveyor featuring a belt with corrugated side rails, and a discharge chute.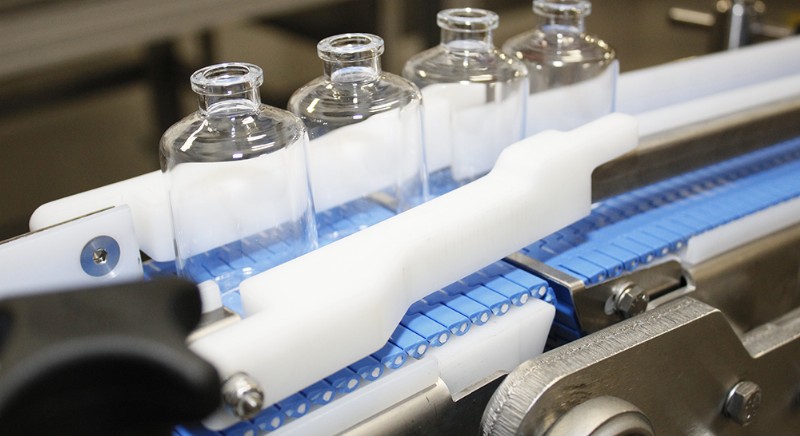 CleanMove Tight Nose Bar Transfer, Micro Pitch Belt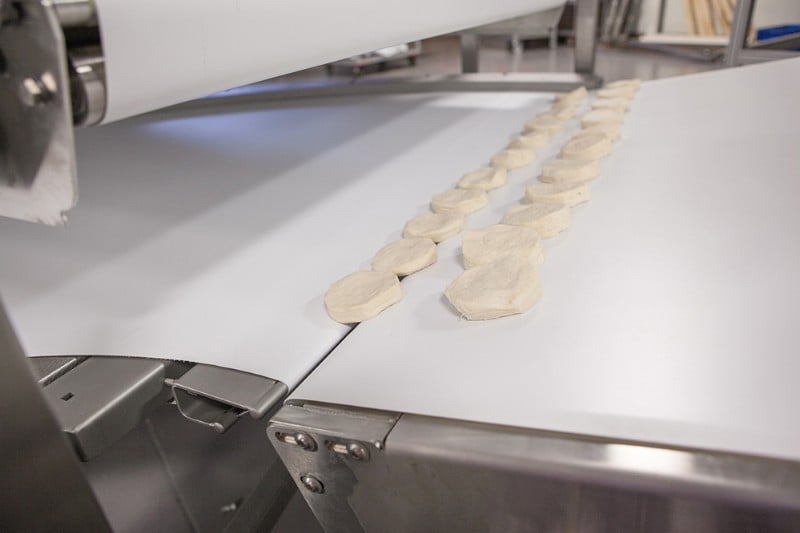 Curve Conveyors with Biscuit Dough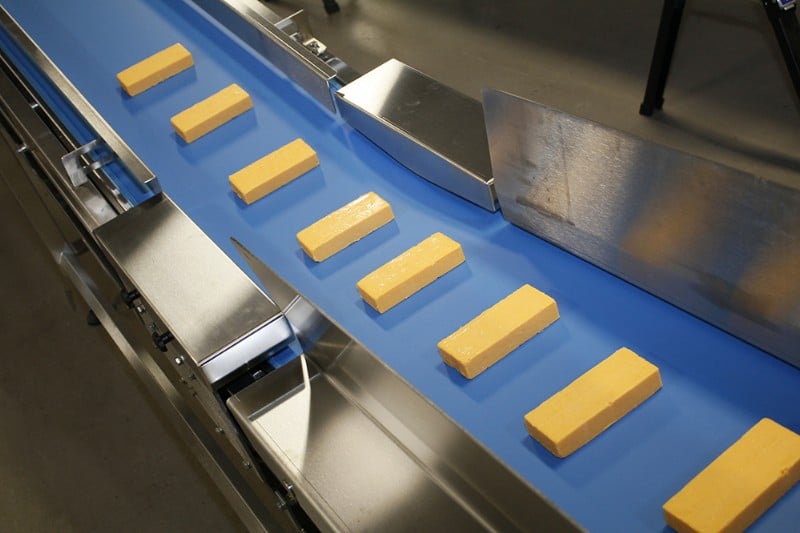 CleanMove Ultra Cheese Handling Conveyor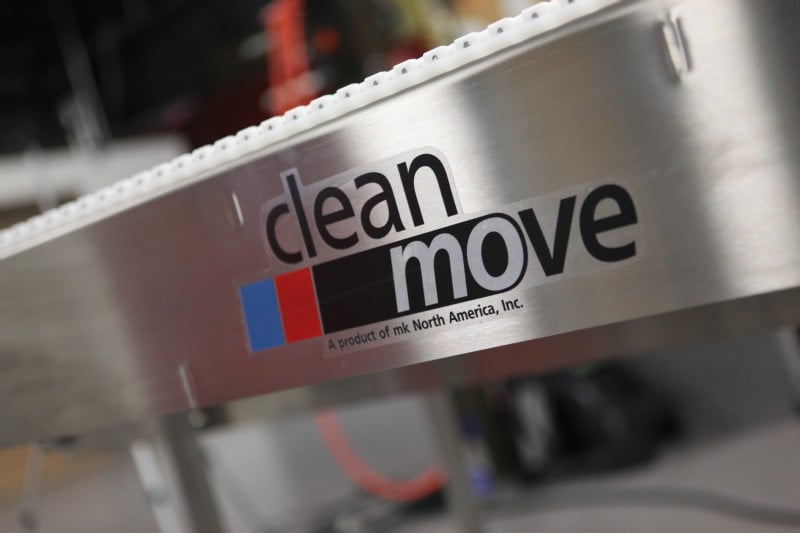 Proudly made in the USA
All CleanMove conveyors are proudly made in the USA.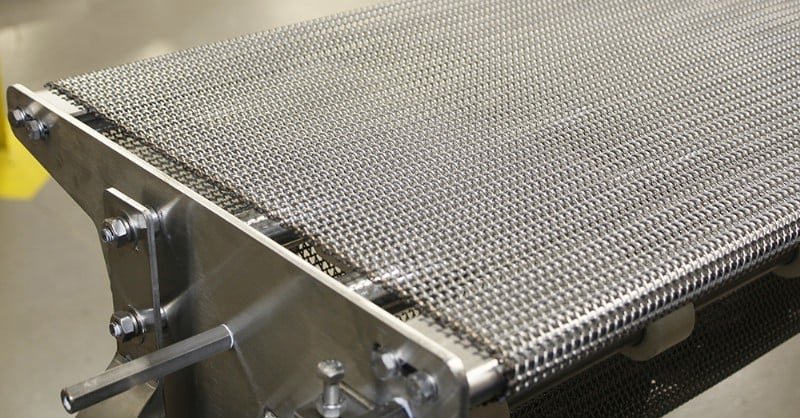 Custom Wire Mesh Belt Conveyor, Stainless Steel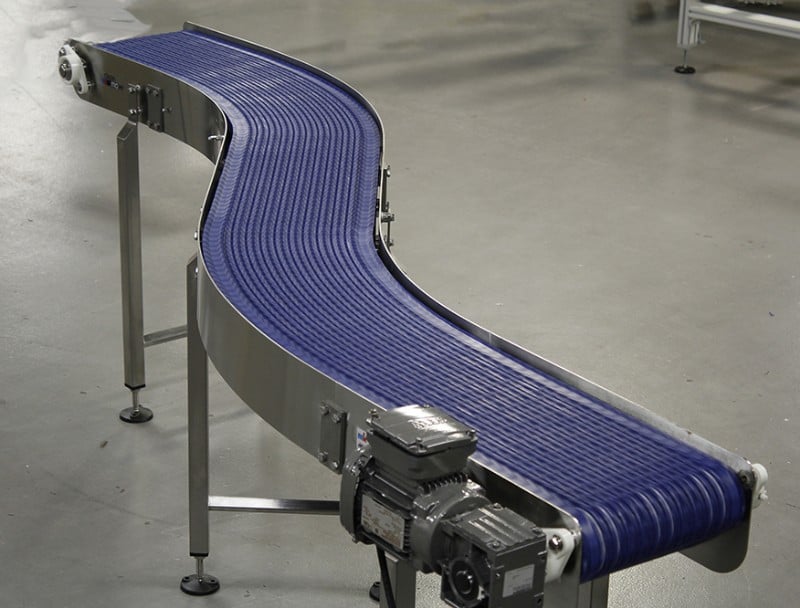 S-Shape Plastic Modular Belt Conveyor, Stainless Steel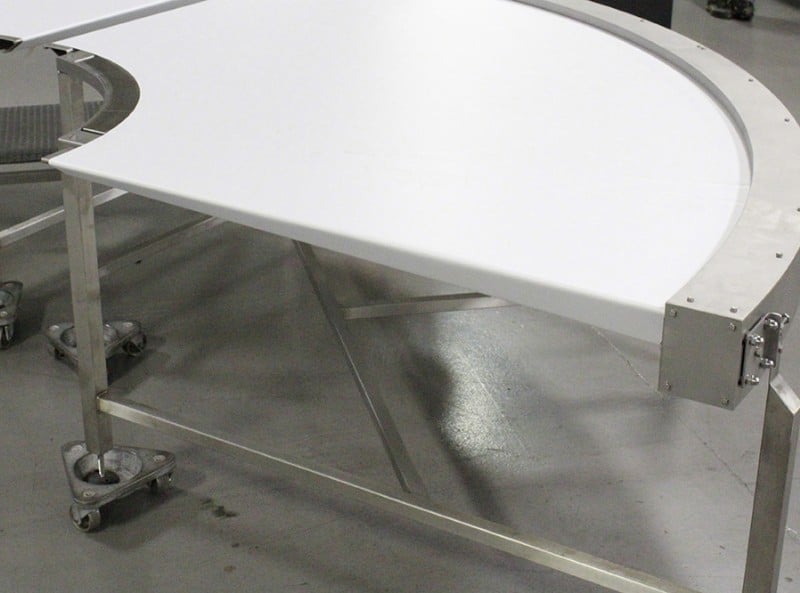 Curve Belt Conveyor, Stainless Steel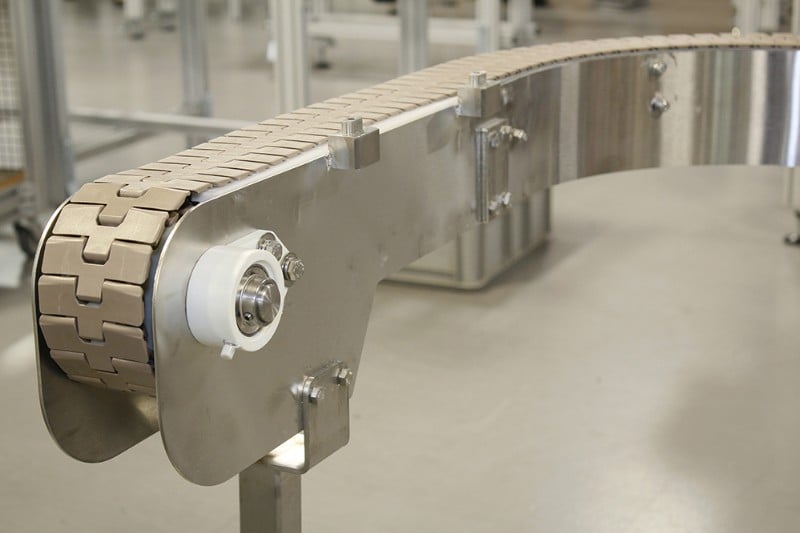 Table Top Chain Stainless Steel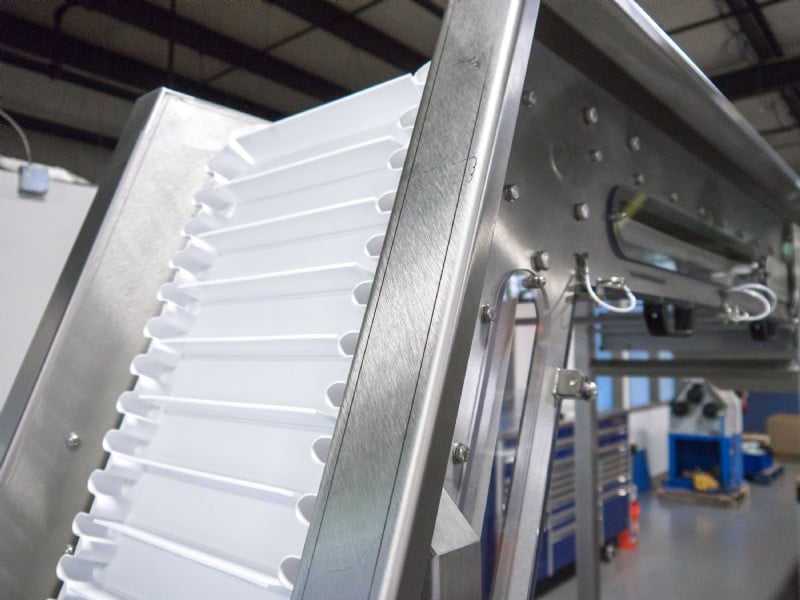 Incline Horizontal Conveyor
CleanMove incline horizontal conveyor with custom clear view clean out areas.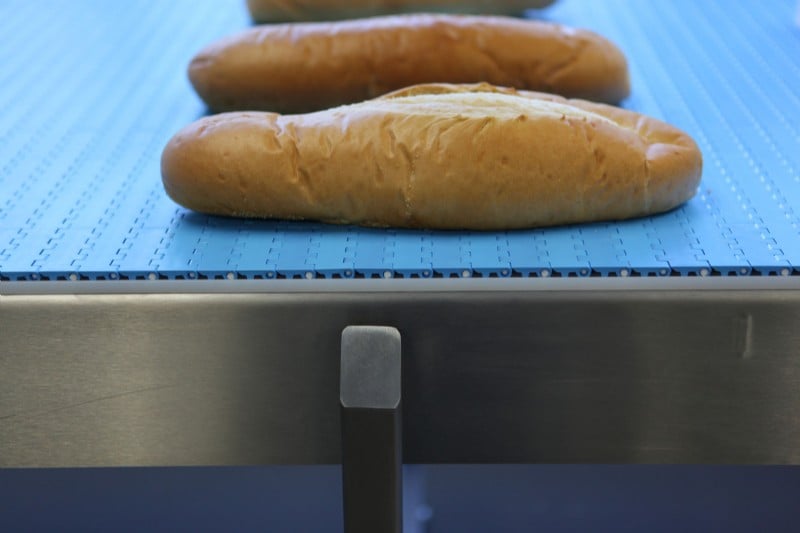 Stainless Steel Bakery Conveyor
mk CleanMove conveyors have many sanitary features including limiting horizontal surfaces.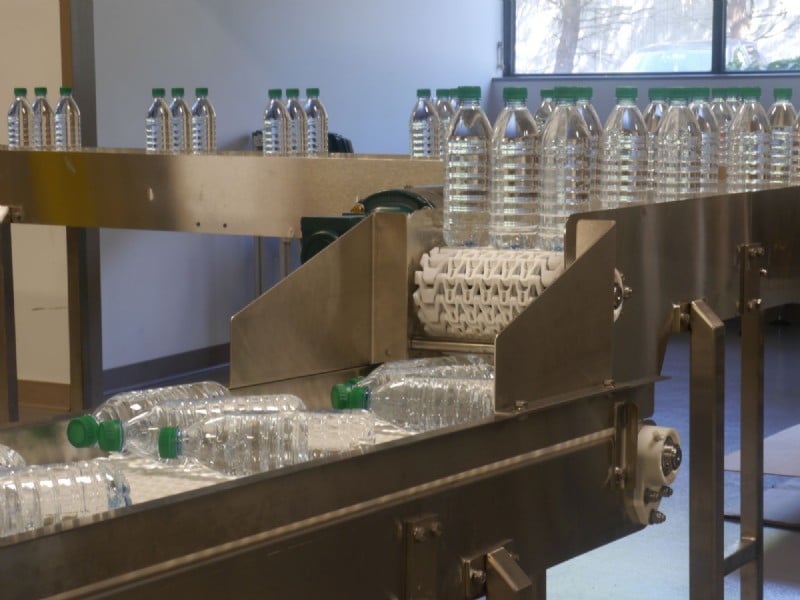 Various Products
CleanMove conveyors can be used in a variety of industries, such as bottling.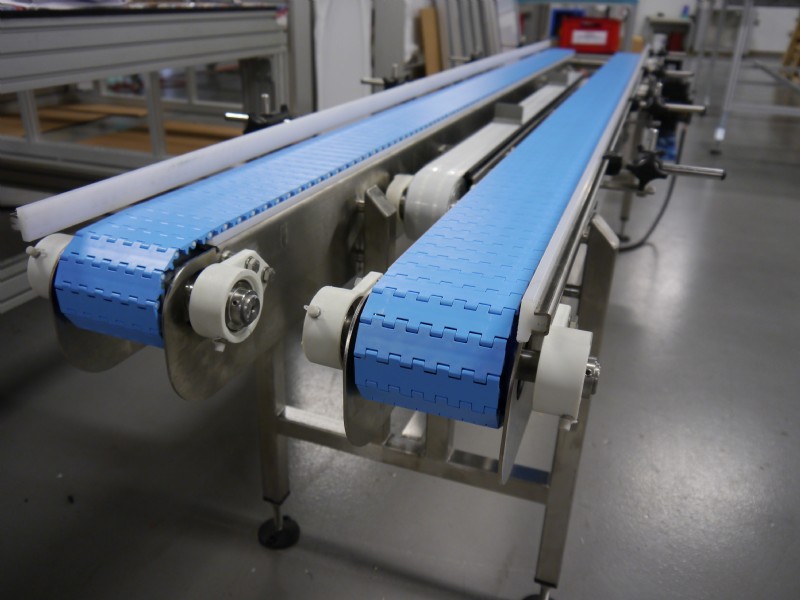 CleanMove Custom Conveyor
Custom conveyor configurations are available for the sanitary washdown stainless steel CleanMove conveyors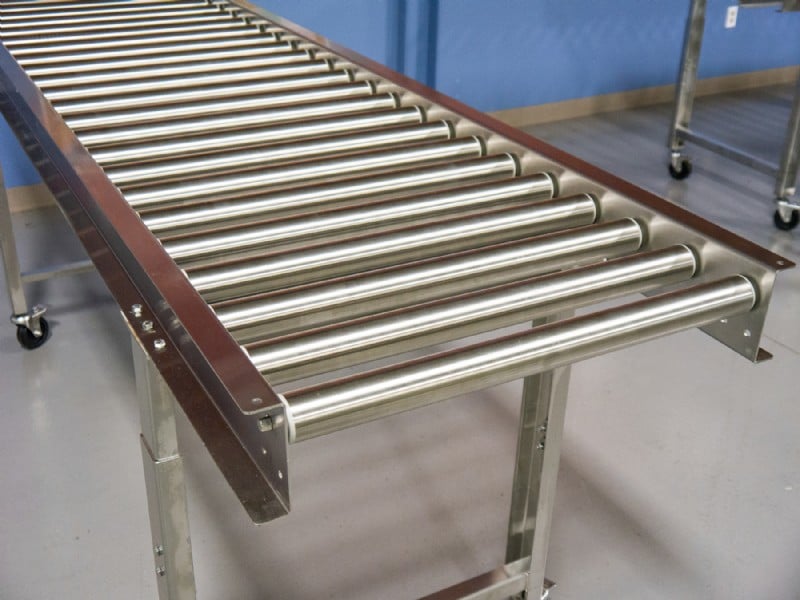 CleanMove Roller Conveyor
Stainless steel frame and rollers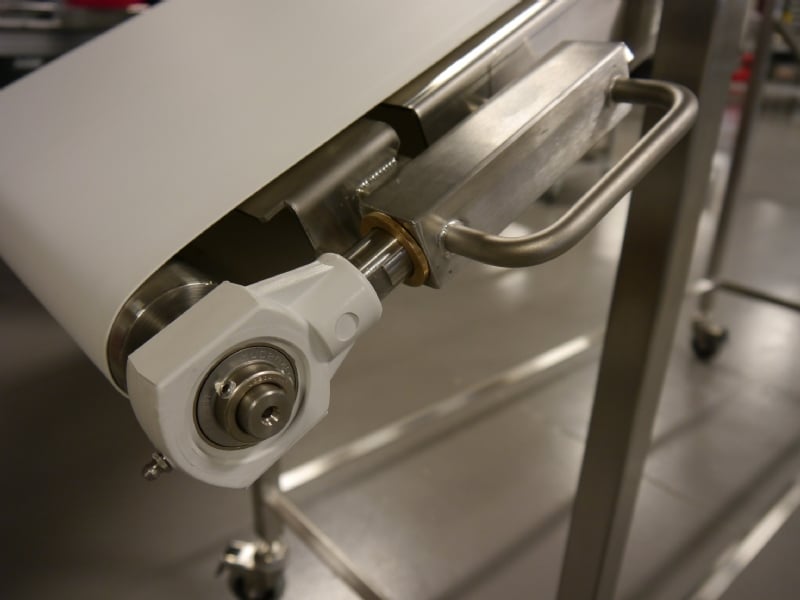 CleanMove Plus "Tip-Up Tail"
CleanMove tip-up tail in the standard operating position.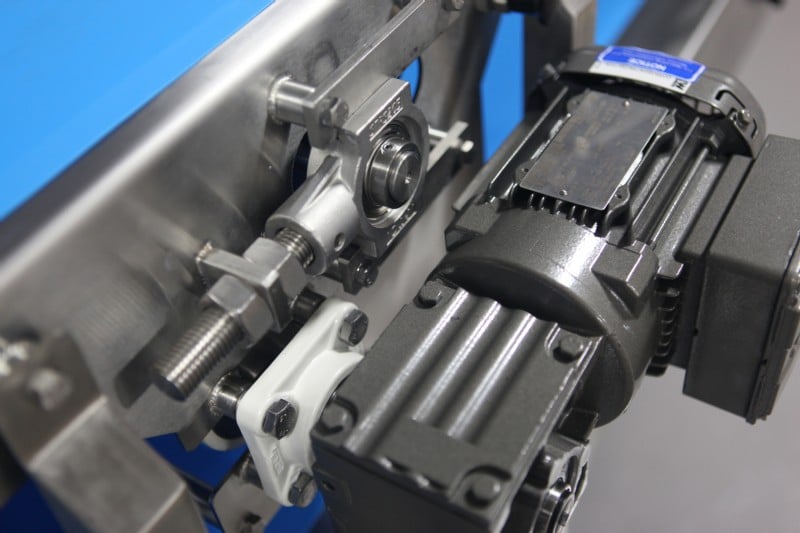 Direct Drive Mid Mount
A CleanMove Plus custom conveyor with a mid drive motor mount.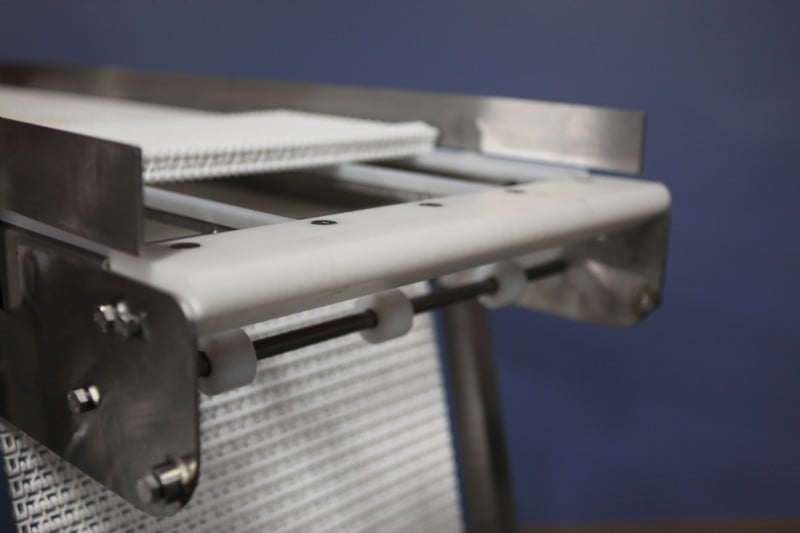 Fixed Nose Bar
An inside view of a fixed nose bar on a stainless steel CleanMove plastic modular belt conveyor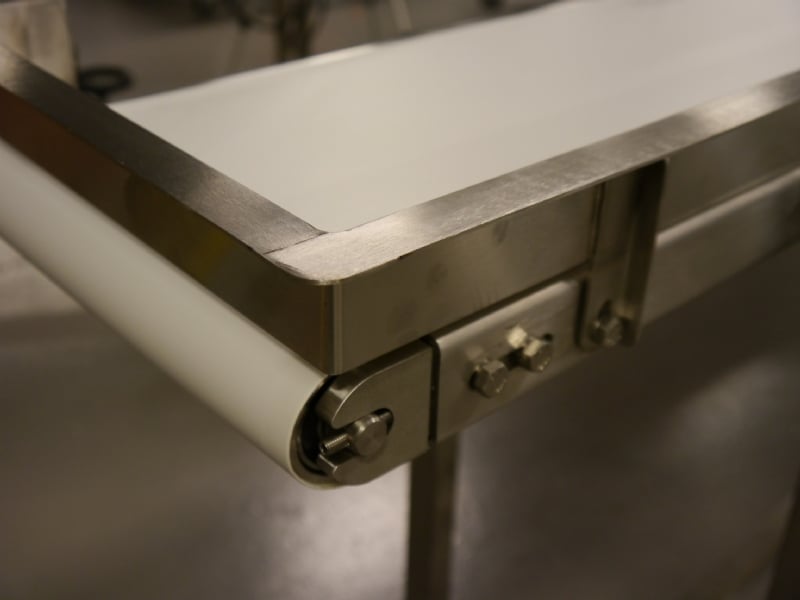 CleanMove Standard End Stop
This is an example of an end stop on the CleanMove Standard stainless steel conveyor.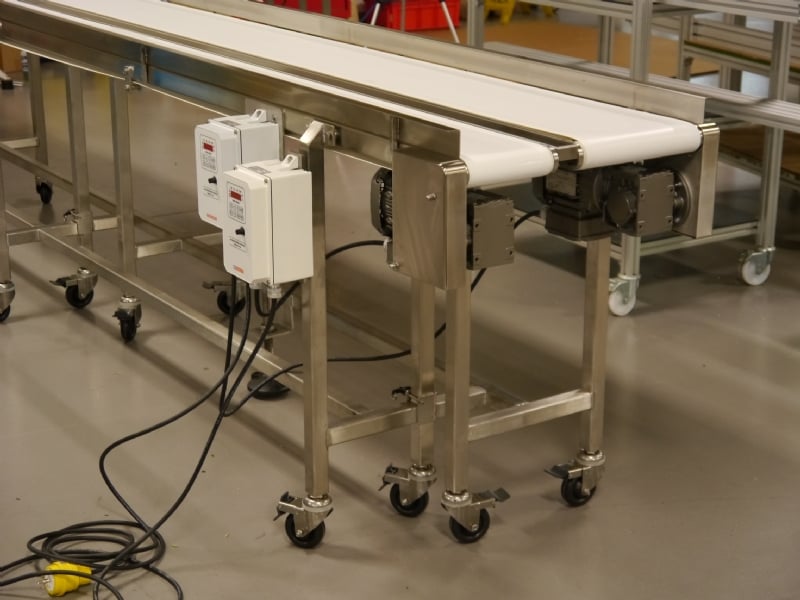 CleanMove Standard Stainless Steel Conveyors
Here two stainless steel CleanMove Standard conveyors are working side by side, with a common side rail system.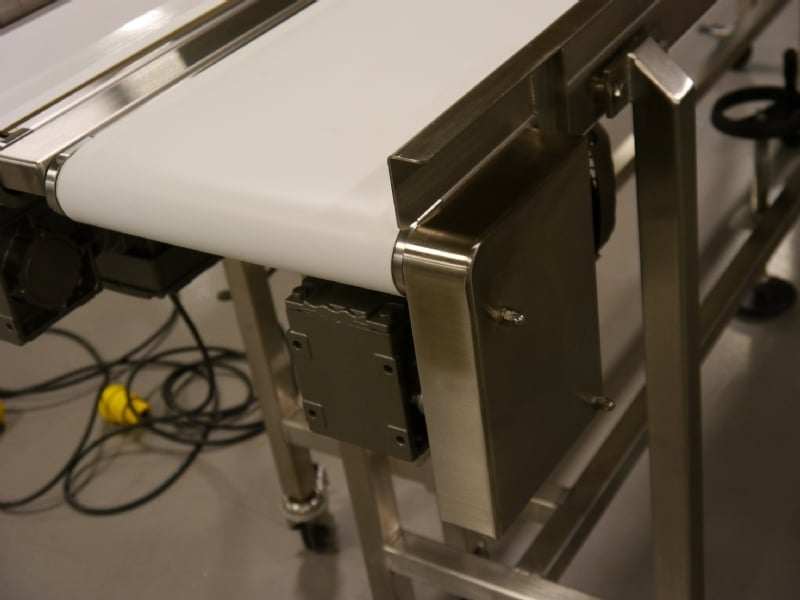 CleanMove Standard End Drive
CleanMove Standard belt conveyors feature bottom mount drive.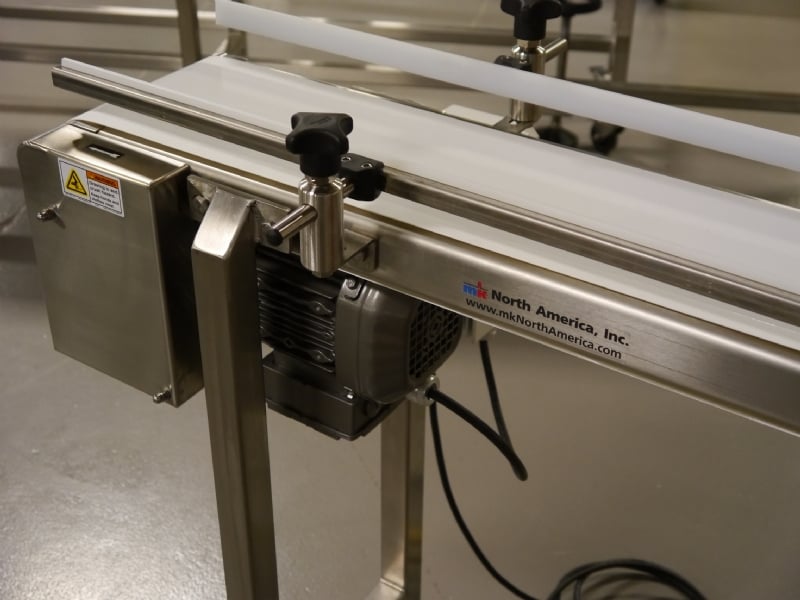 CleanMove Stainless Steel Conveyor
This is an example of a CleanMove stainless steel conveyor with an end drive and adjustable side rails.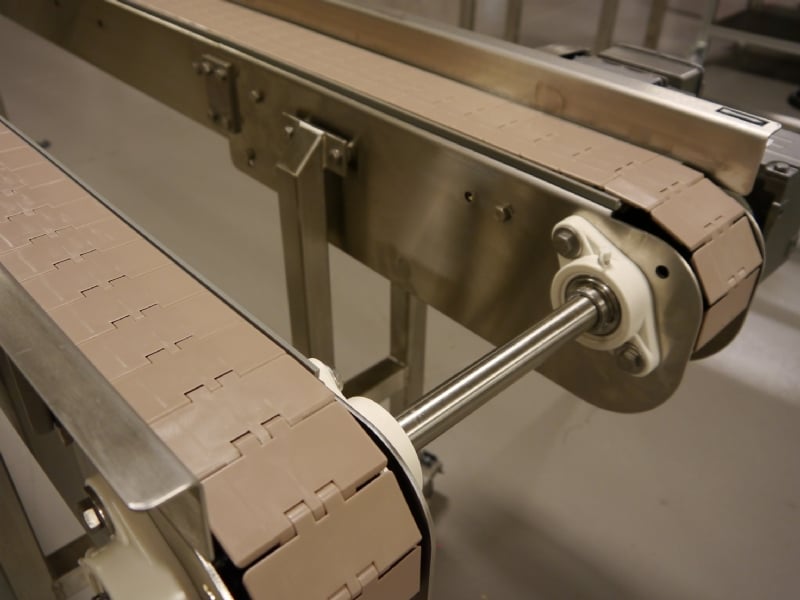 CleanMove Standard Flat Top Chain Conveyor
This image shows details of the drive assembly between the lanes on this dual-lane set-up.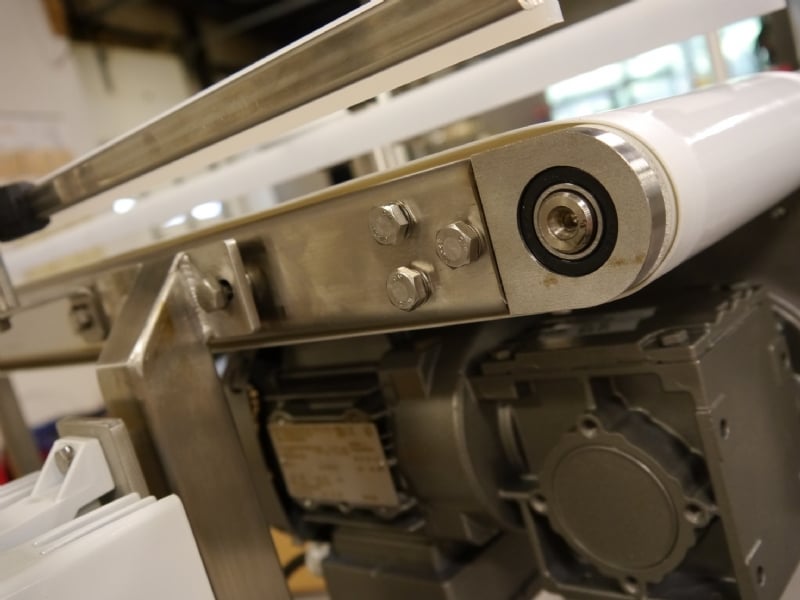 CleanMove Conveyor Flat Belt Conveyor
This is an example of a CleanMove Standard conveyor with white UHMW-PE side rails.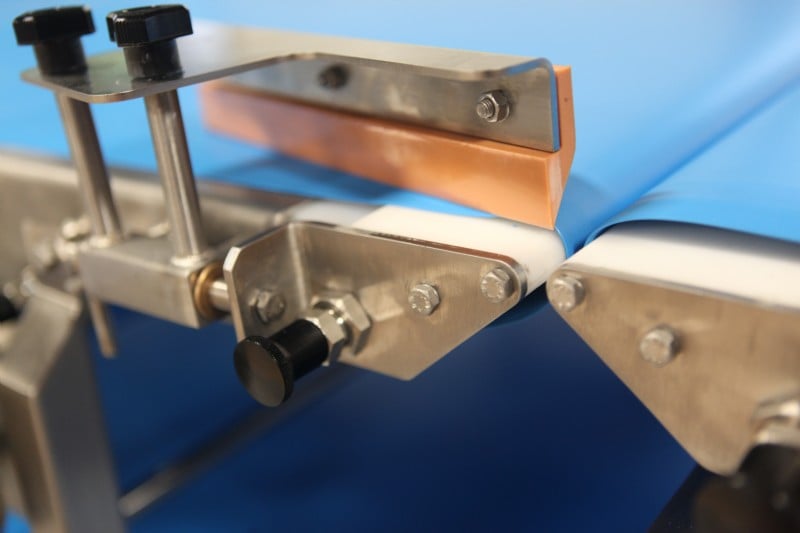 Conveyor with Belt Scraper and Small Product Transfer
A topside belt scraper used on a CleanMove conveyor with tight nose bar transfer.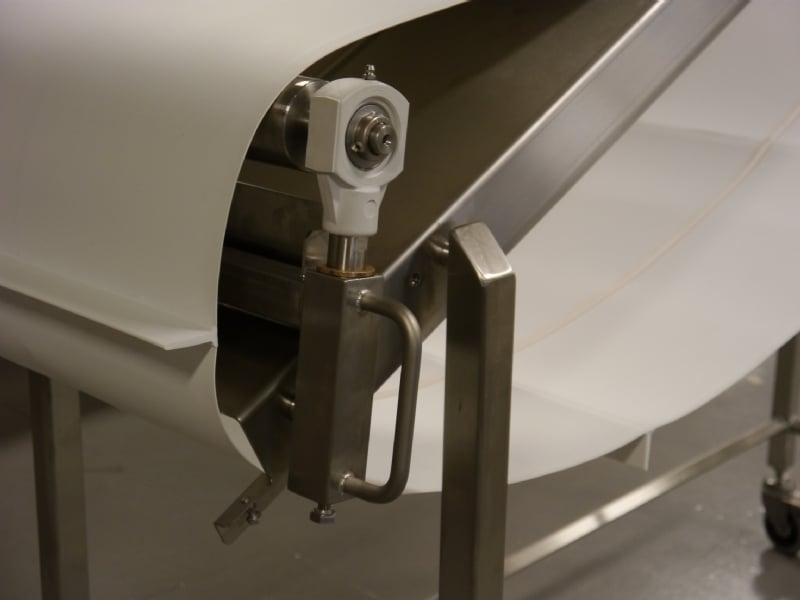 CCB-400 "Tip Up Tail", tail in the up position
CleanMove tip-up tail in the "up" position. This allows for east cleaning under the belt.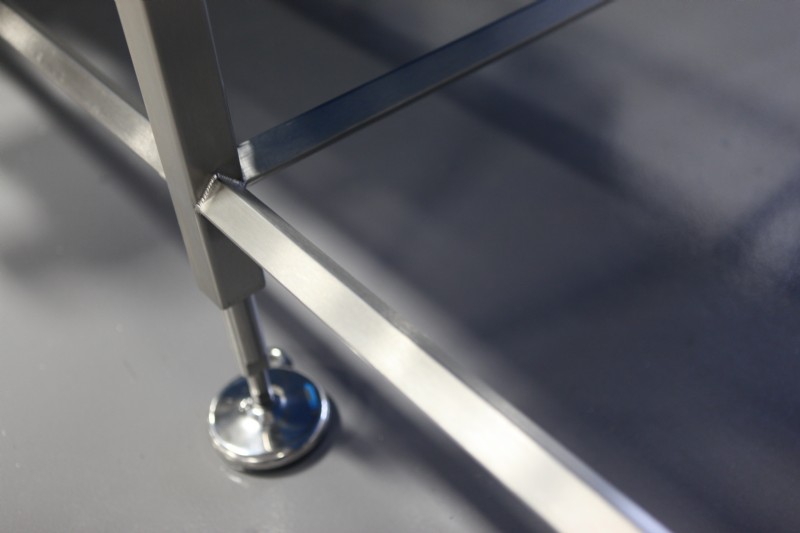 CleanMove Ultra Support Stand
CleanMove Ultra support stands feature no horizontal surfaces and 3-A leveling pads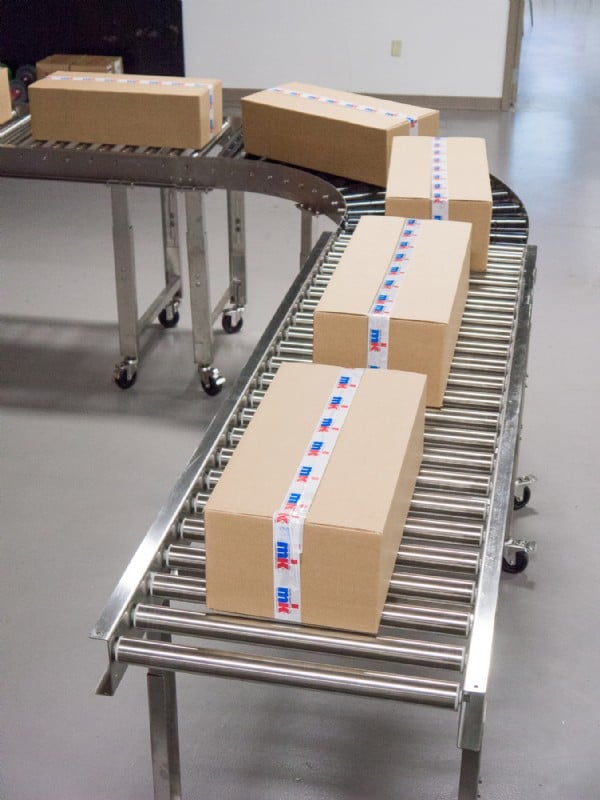 Stainless Steel Roller Conveyor with Curve
Curves are available for roller conveyor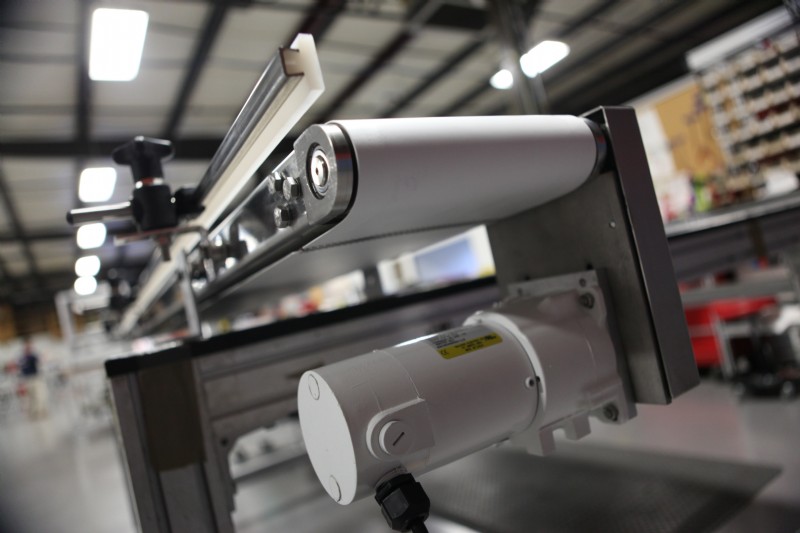 Washdown DC Motor
CleanMove stainless steel conveyors feature washdown rated motors, including this DC voltage model.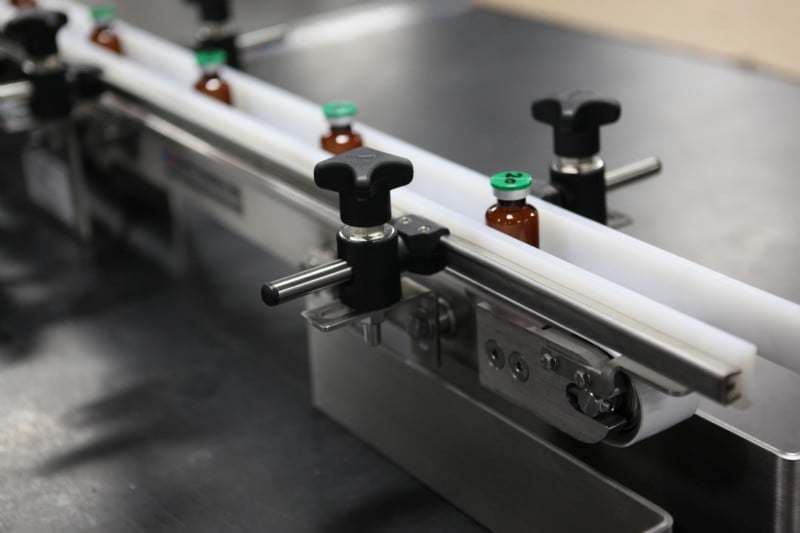 CFB-200 Conveyor with Side Rails
Adjustable side rails are ideal when transporting products of different sizes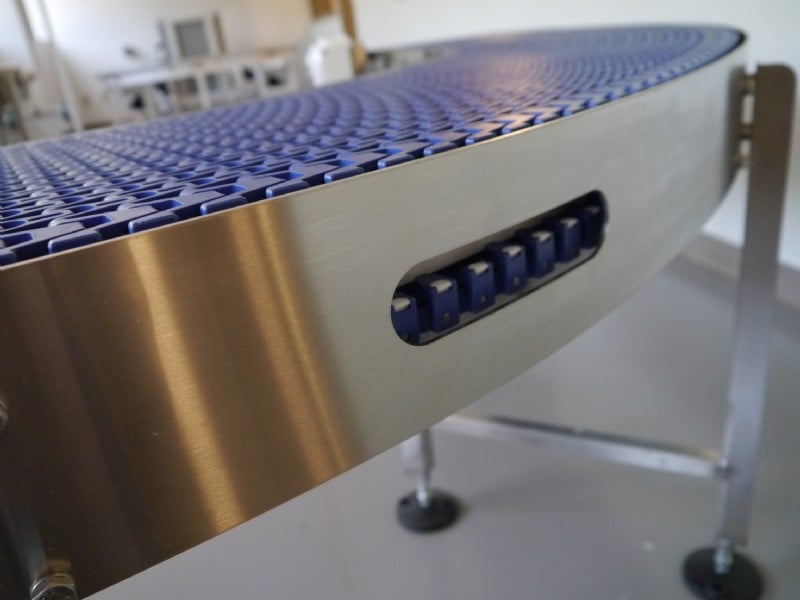 CleanMove Plus Curved Flat Top Chain
Frame access areas, increase the cleanability of CleanMove stainless steel conveyors.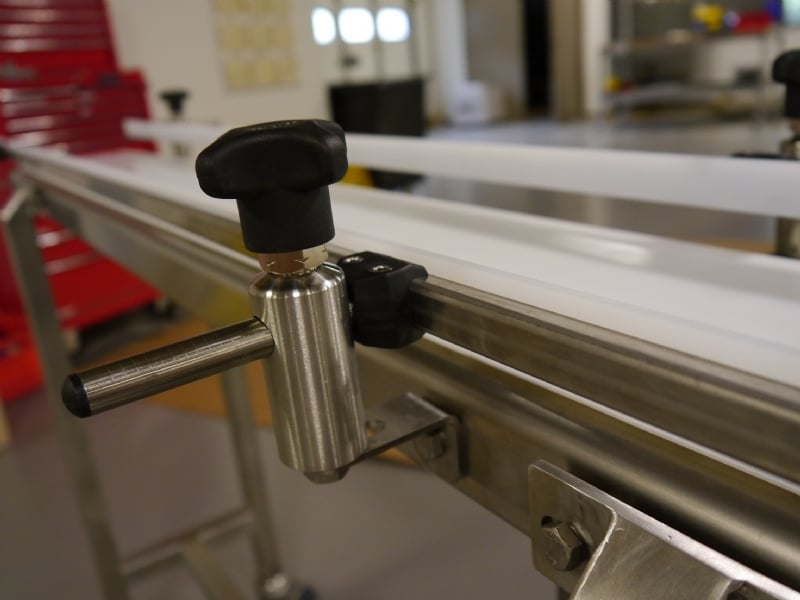 CleanMove Adjustable Side Rails
This is an exmaple of an adjustable side rail bracket for the CleanMove stainless steel conveyor platform.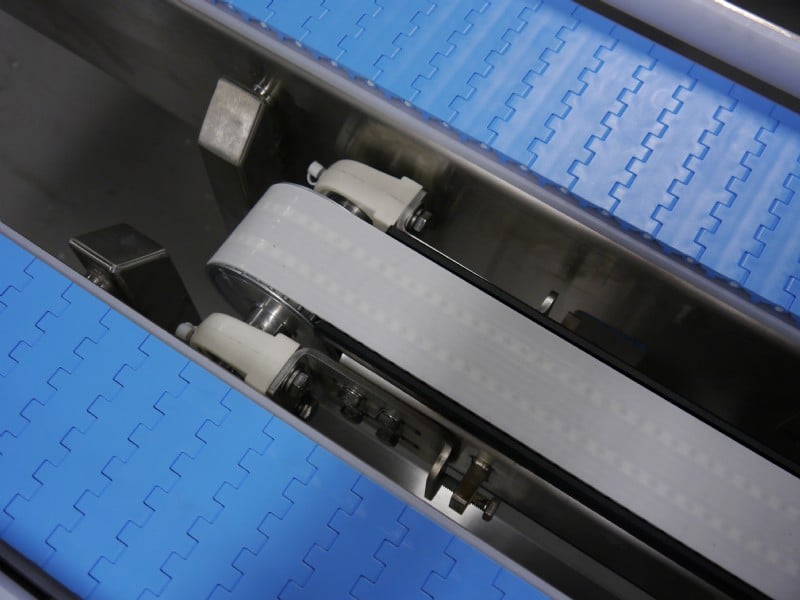 Custom Combination Conveyor
CleanMove conveyors featuring both timing belt (center) and plastic modular belts in a single system.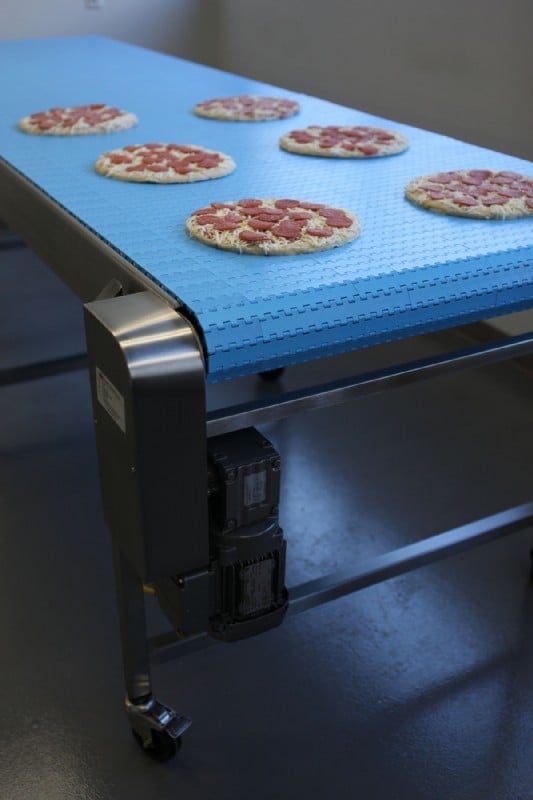 CMP-400
CleanMove Plus plastic modular belt conveyors are ideal for conveying many food-stuffs, including these frozen pizzas.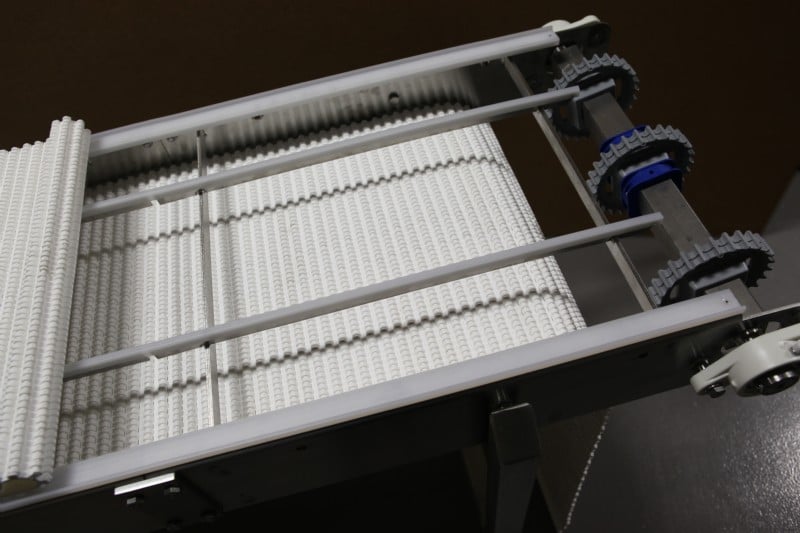 Plastic Modular Belt Conveyor
the belt is easily removable on the plastic modular belt stainless steel conveyors.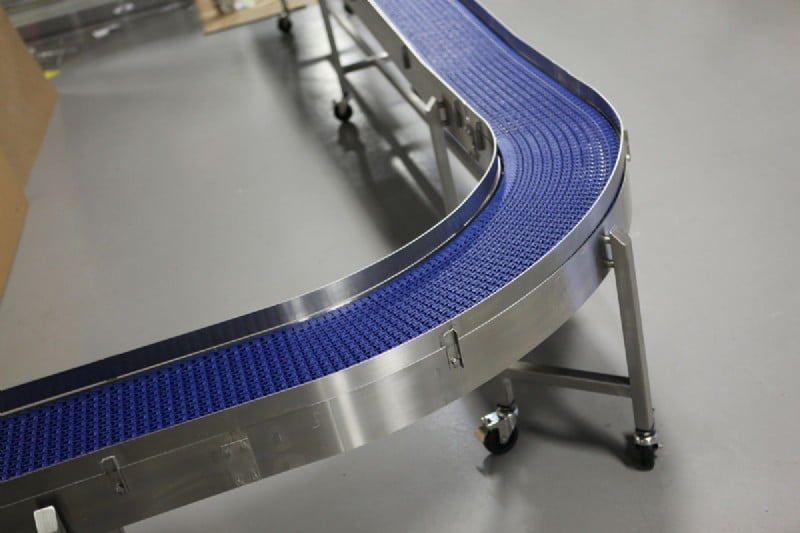 Curve to Incline Stainless Steel Conveyor
Custom conveyors, such as this radius to incline; plastic modular belt conveyor as feasible for all CleanMove platforms.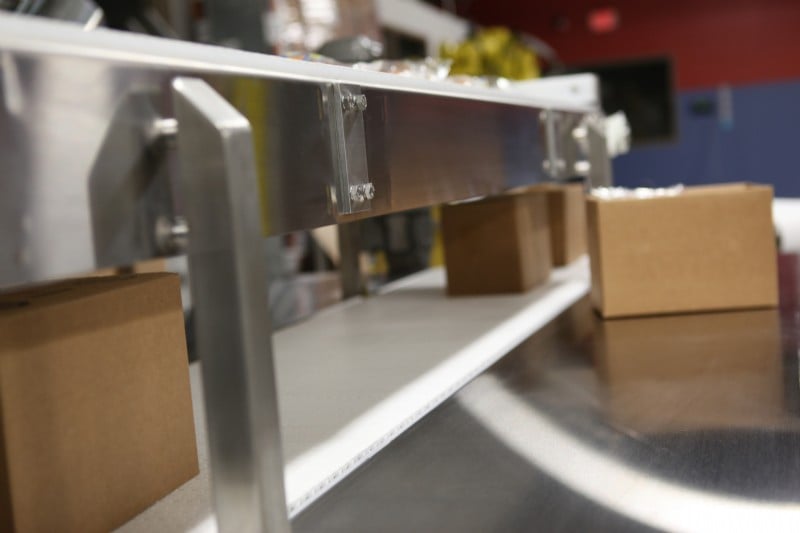 Custom CleanMove Conveyors
Flat belt stainless steel conveyors mounted in a stacked fashion with stainless steel pack-off tables on the lower level.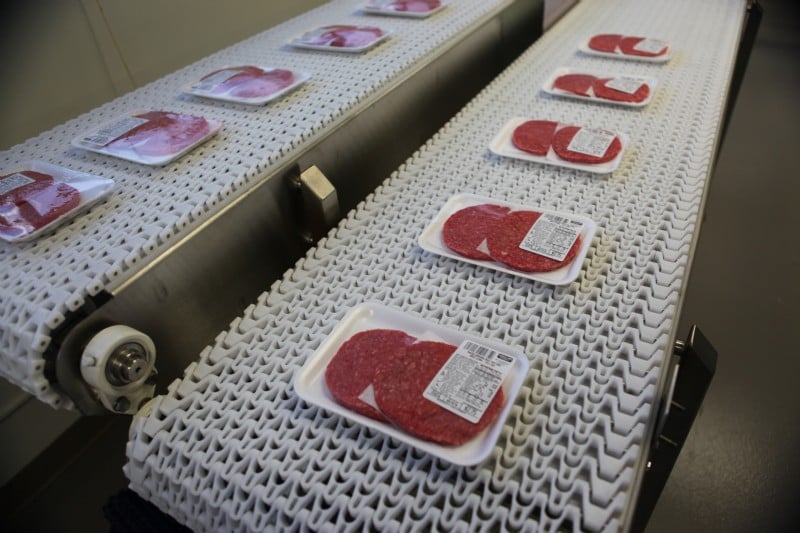 Packaged Meat on CleanMove Plus
Packages of hamburger patties conveyed on a CMP-400.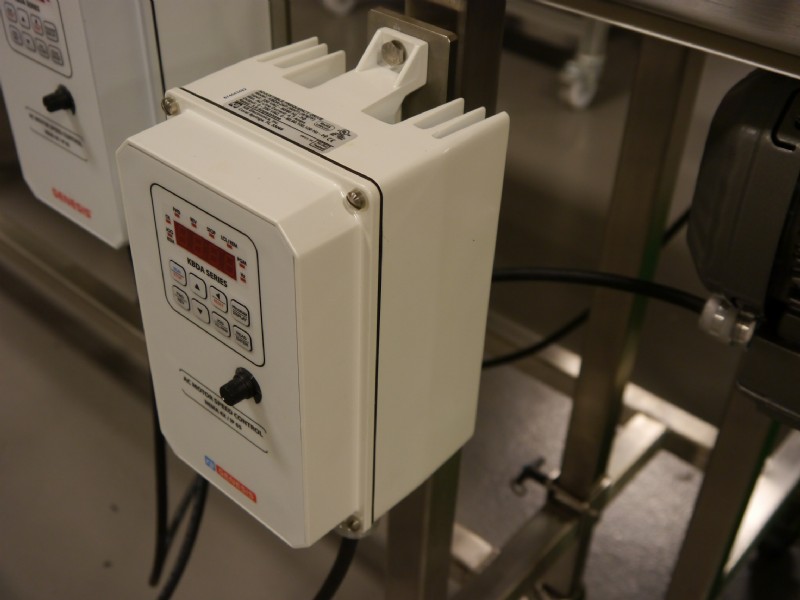 CleanMove Controllers
The CleanMove line features a variety of washdown rated controllers.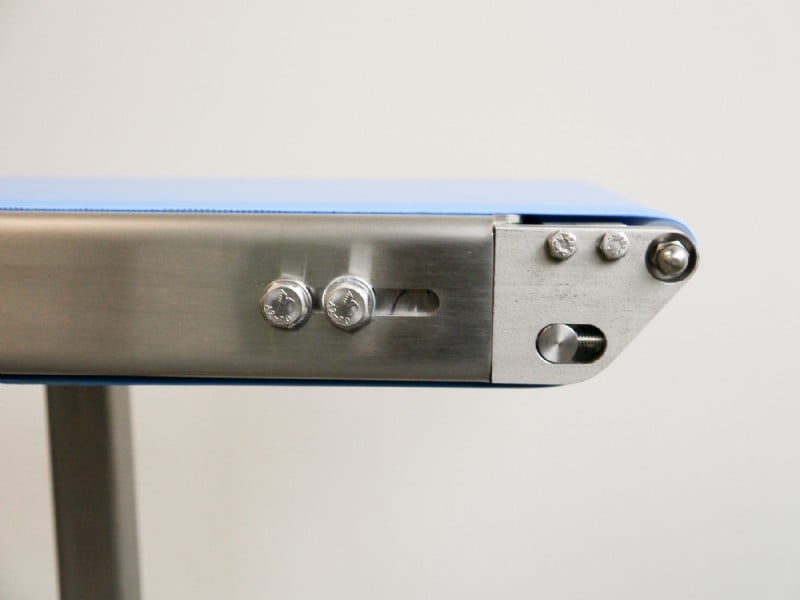 CFB-200 with Optional Tight Nose
Optional rolling nose idler on a flat belt conveyor, for small product transfer.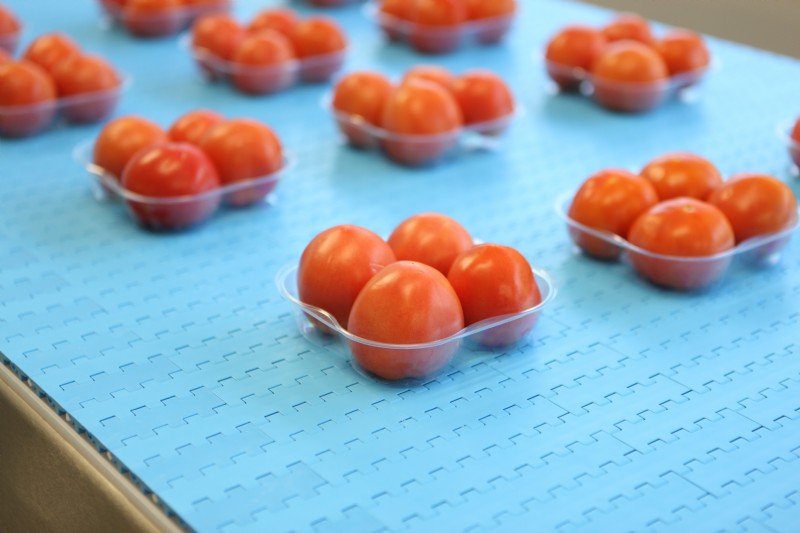 Trays of tomatoes on CMP-200
Trays of tomatoes are conveyed on the stainless steel conveyor with a plastic modular belt.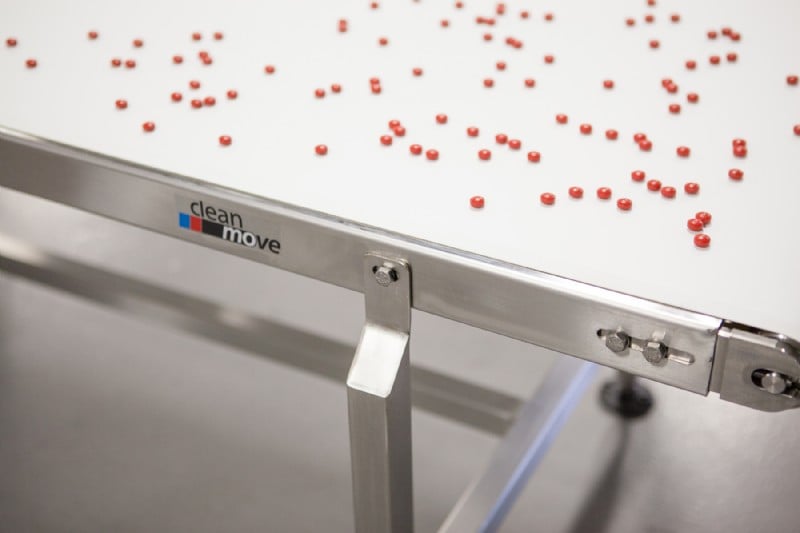 CleanMove Conveyor for Phramaceutical
CleanMove Standard flat belt conveyors are often used in the pharmaceutical industry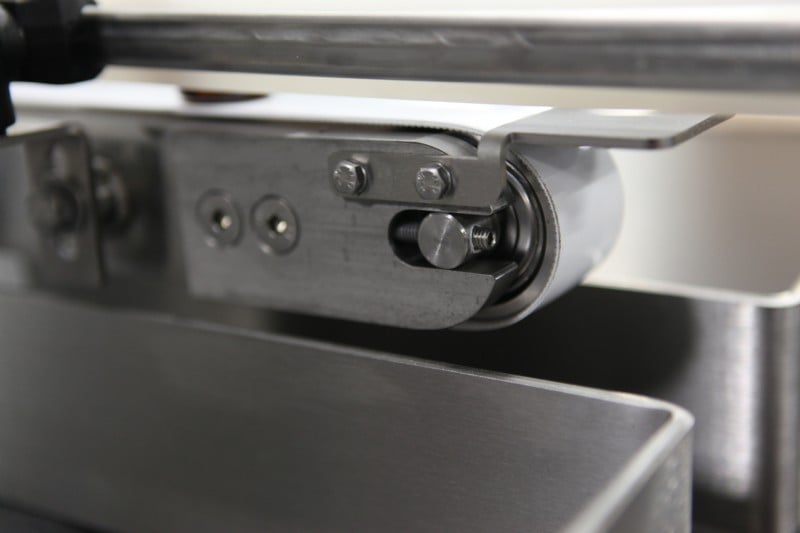 Custom Modificatons
mk can easily provide various custom modifications, such as this dead plate.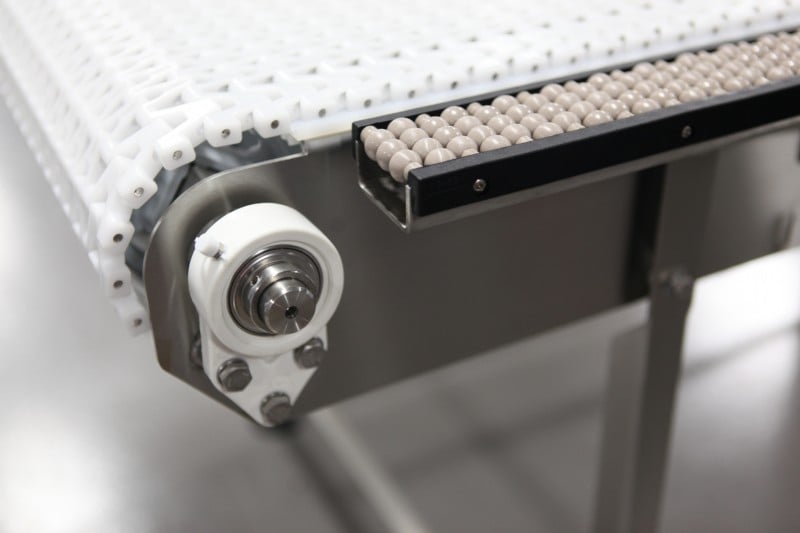 CCM-400
CleanMove Plus, CCM-400, plastic modular belt conveyor, with custom beaded rail support.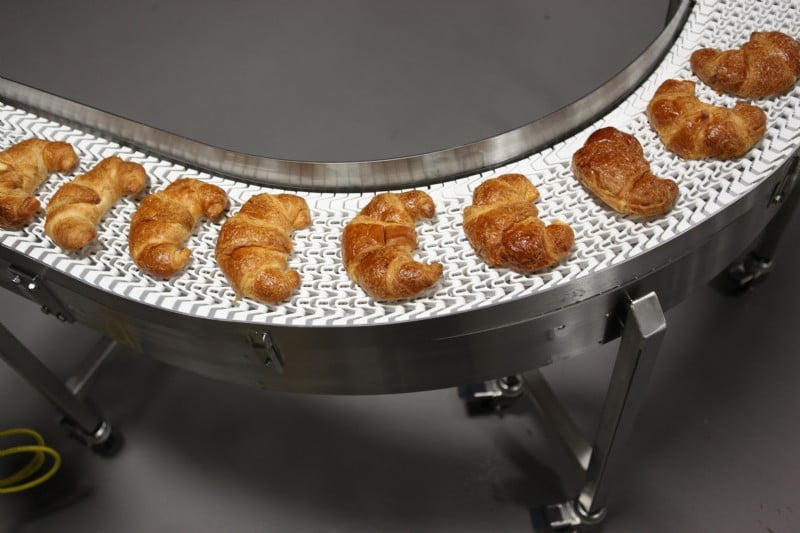 CleanMove Plus Curved Conveyor
Croissants travel on a curved plastic modular belt conveyor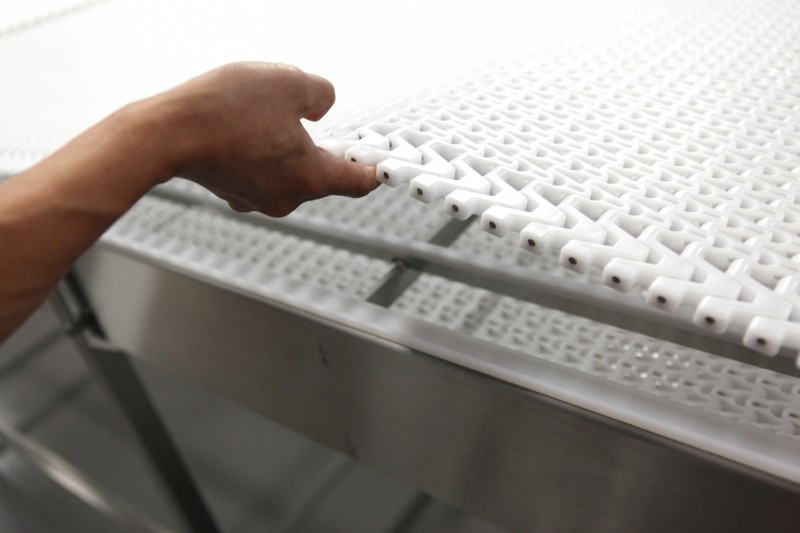 Plastic Modular Belt Conveyor
Plastic modular belts can be easily removed from the conveyor to increase cleanability.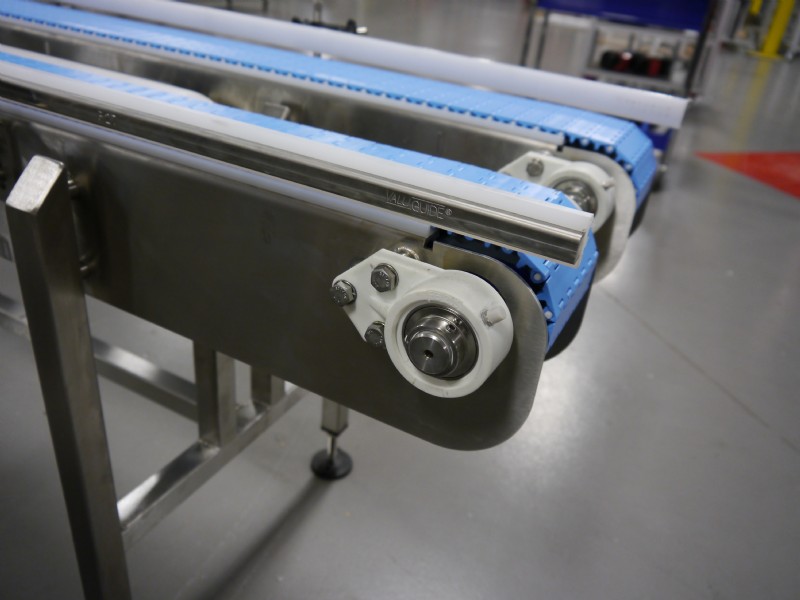 CleanMove Plus Conveyor
CleanMove Plus stainless steel conveyors from mk have many sanitary features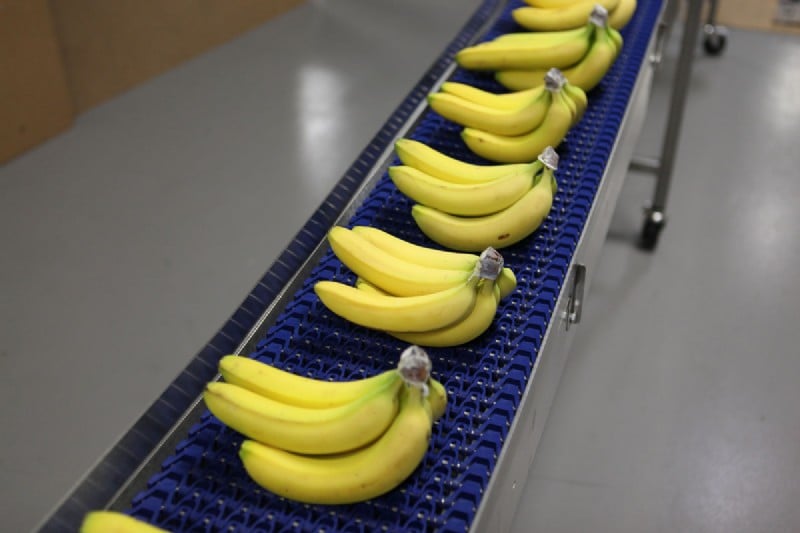 CMP-400
This CleanMove Plus plastic modular belt conveyor features fixed side rails, ideal for containing produce such as these bananas.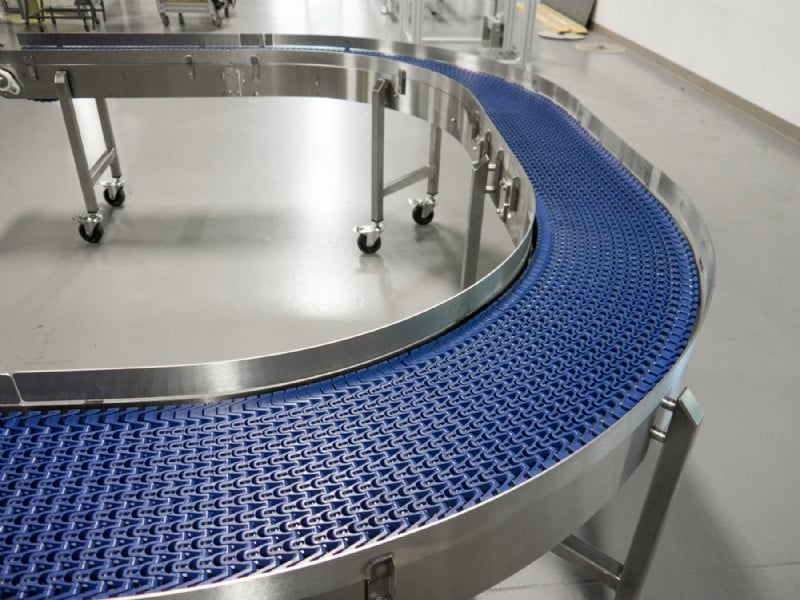 CRM-400
CleanMove Curved Plastic Modular Belt Conveyor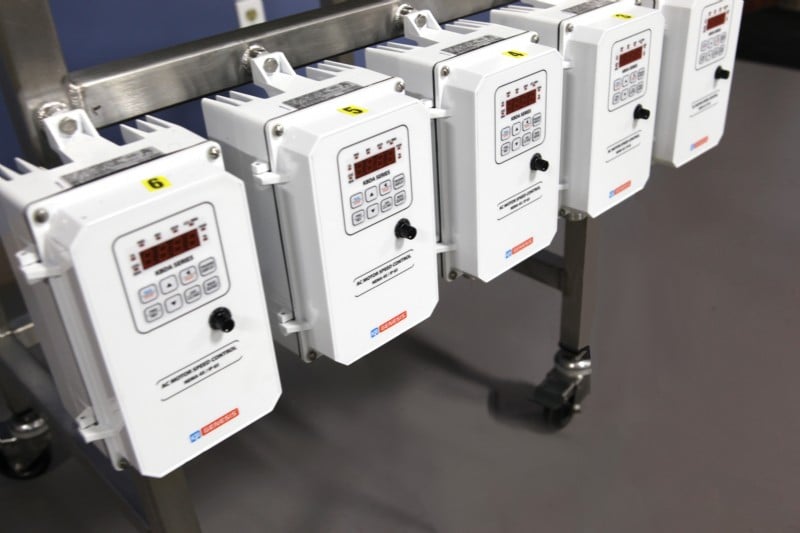 Washdown Controllers
A bank of washdown controllers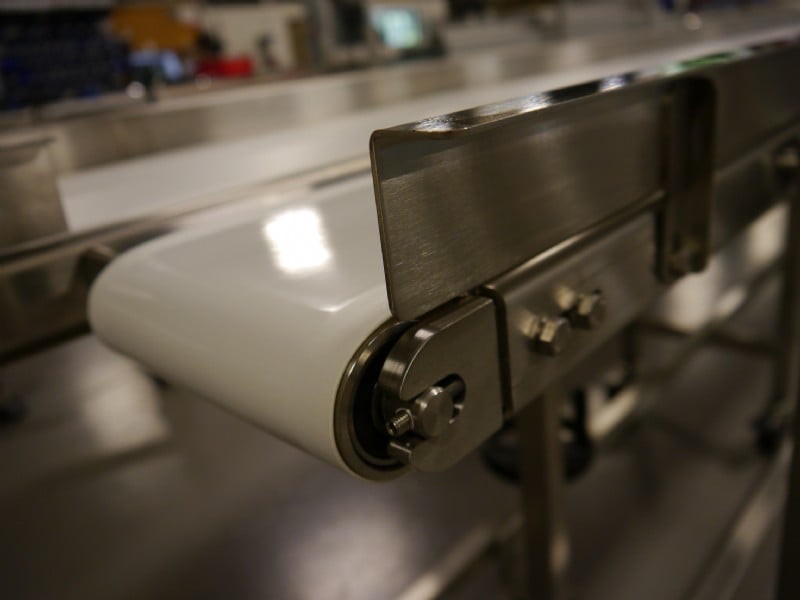 Flat Belt Conveyor
This CleanMove standard, CFB-200; includes fixed, removable side rails.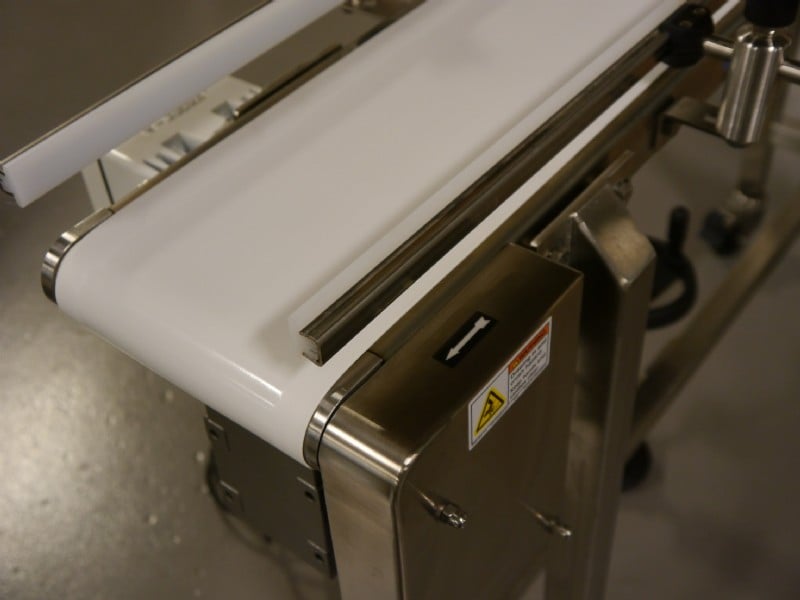 Sanitary Adjustable Side Rails
CleanMove conveyors come with many options including sanitary adjustable side rails.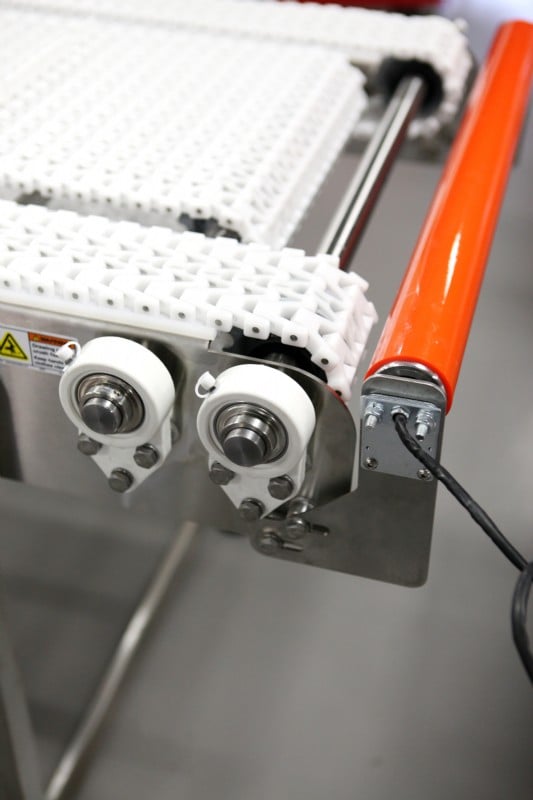 Custom Stainless Steel Conveyor
A custom stainless steel food grade conveyor featuring plastic modular belting and a powered driven roller.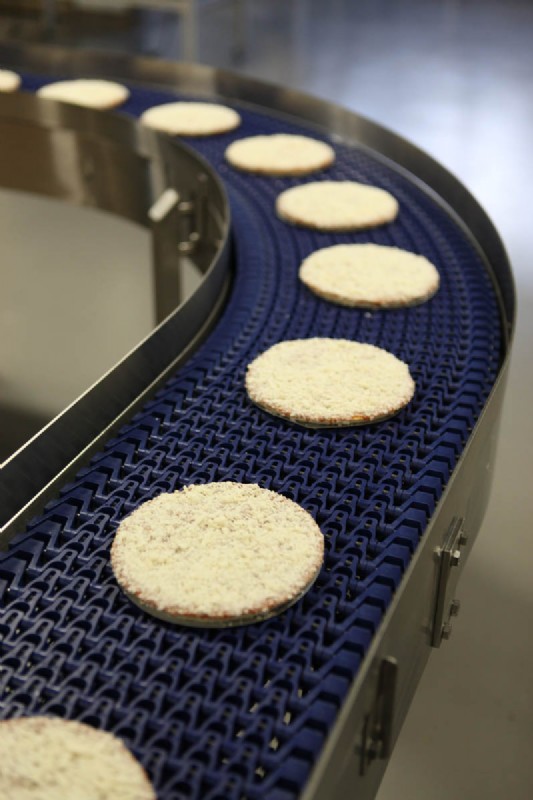 Curved Belt Conveyor, CRM-400
CleanMove conveyors offer a variety of conveyors to travel around corner.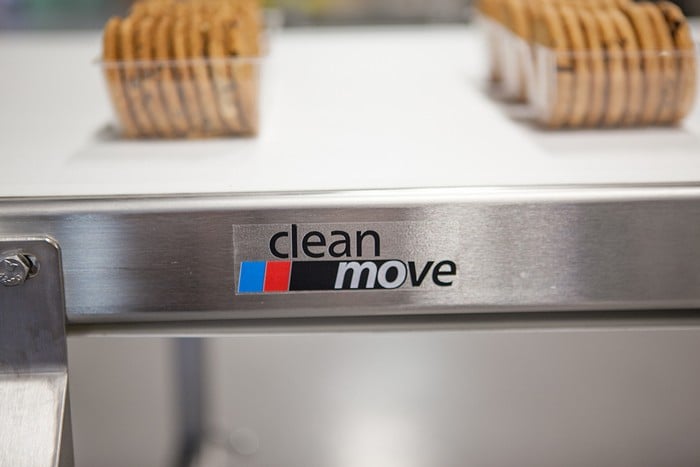 VersaMove Standard
VersaMove Standard CFB-200 conveyor carrying cookies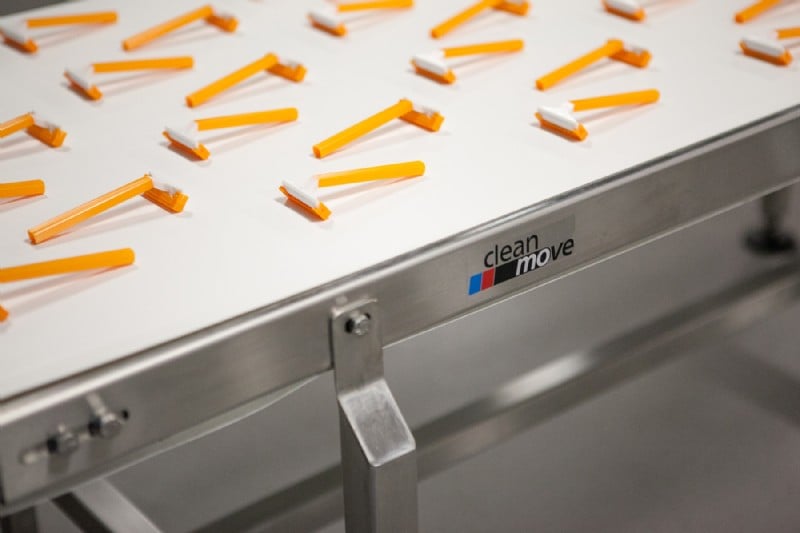 CleanMove Standard
CleanMove Standard conveyors are ideal for carrying personal care products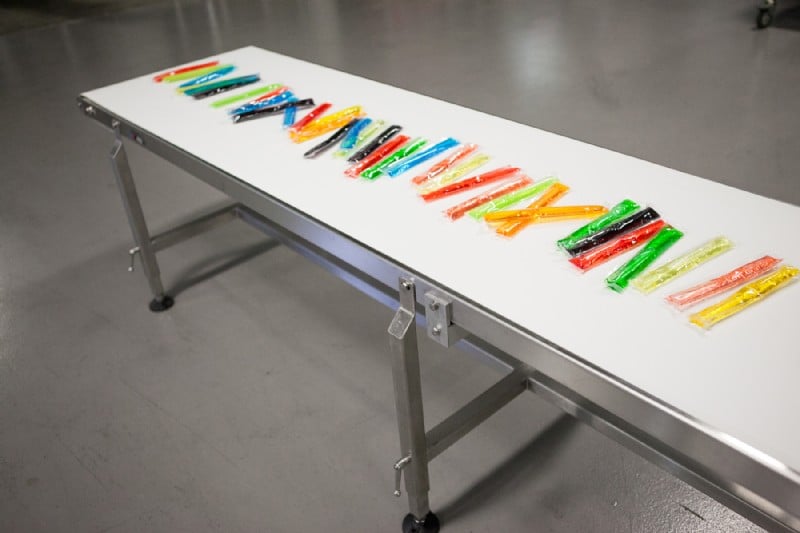 CleanMove Flat Belt Conveyor
CleanMove Standard flat belt conveyors are ideal for moving a variety of packaged food goods.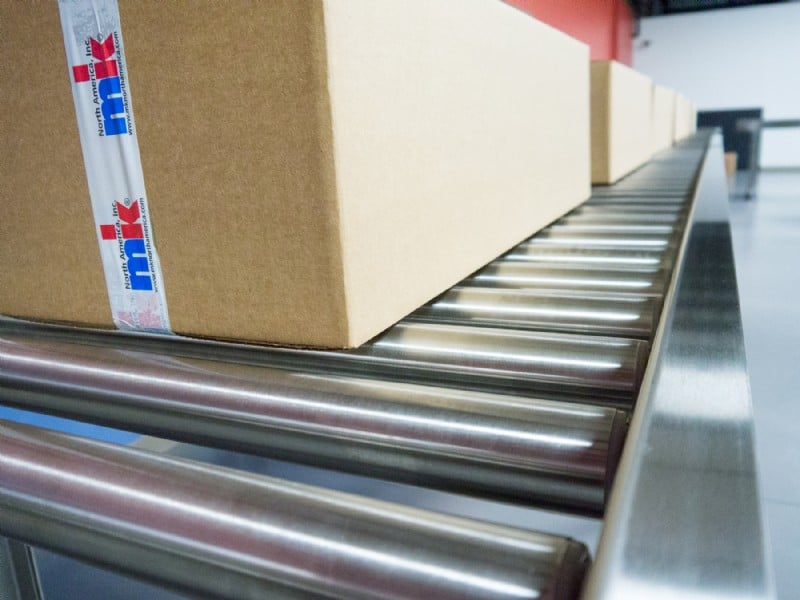 Stainless Steel Roller Conveyor
Stainless steel gravity roller conveyor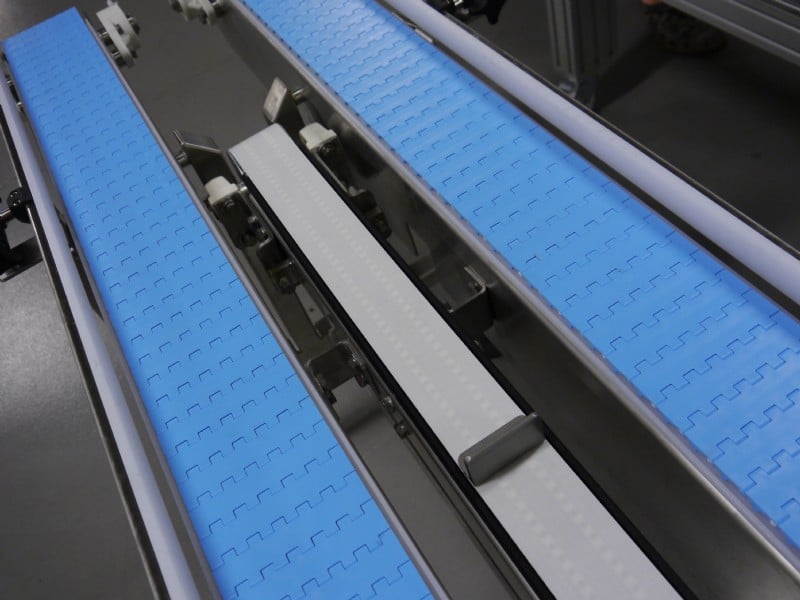 Custom Stainless Steel Conveyor
In this custom set-up an attachment timing belt conveyor is mounted between two CMB-400 conveyors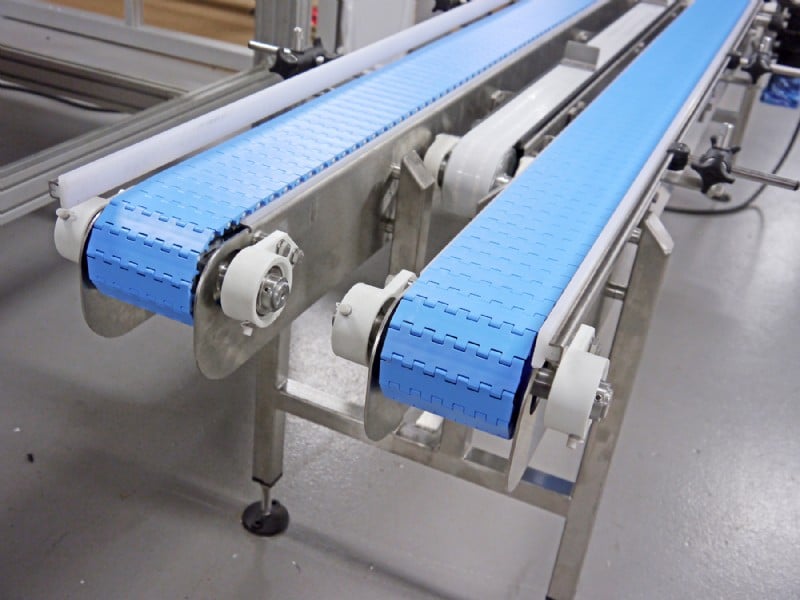 Custom Configurations
mk offers a wide variety of standard and custom configured conveyors constructed out of stainless steel.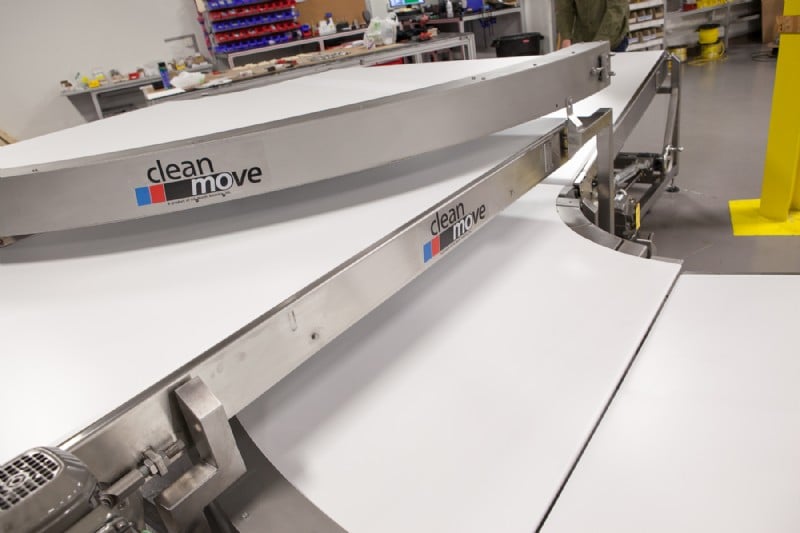 Curve Belt Conveyors
In additional to straight running stainless steel conveyors, mk also offers curve belt units.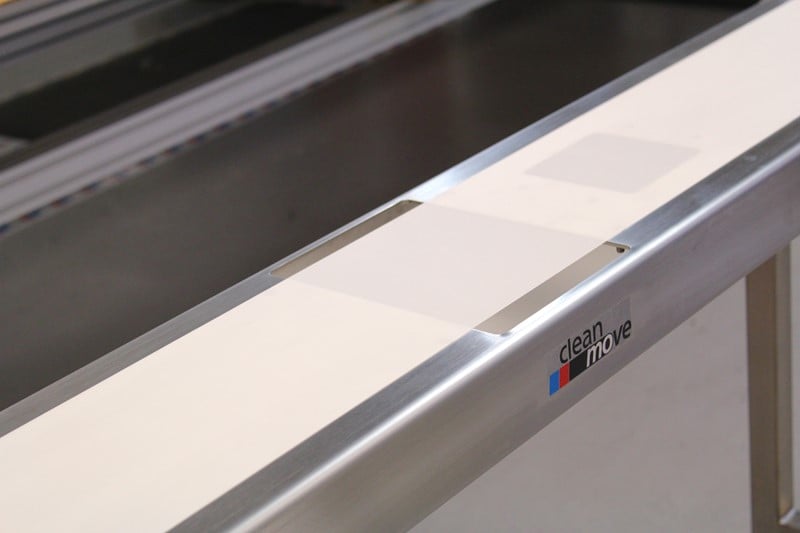 Custom Stainless Steel Conveyor
This stainless steel conveyor from mk was constructed with two viewing areas, allowing the customer shine a light up through the belt.
mk CleanMove Advantages:
Sanitary stainless steel construction
Designed to FDA, 3-A, NSF, and BISSC Regulations
Easy to clean and maintain
Heavy duty construction
High quality components and materials
Large variety of options and accessories
Custom engineered solutions
Customization:
Transfers
Drive types
Support stands
Side rails
Automation controls
---
Need help deciding which stainless steel solution is best for you?
Contact us online or call (860) 769-5500. Our experienced sales staff will be happy to assist you.