mk North America's Sanitary Conveyors Aid In Food Safety Compliance
Posted on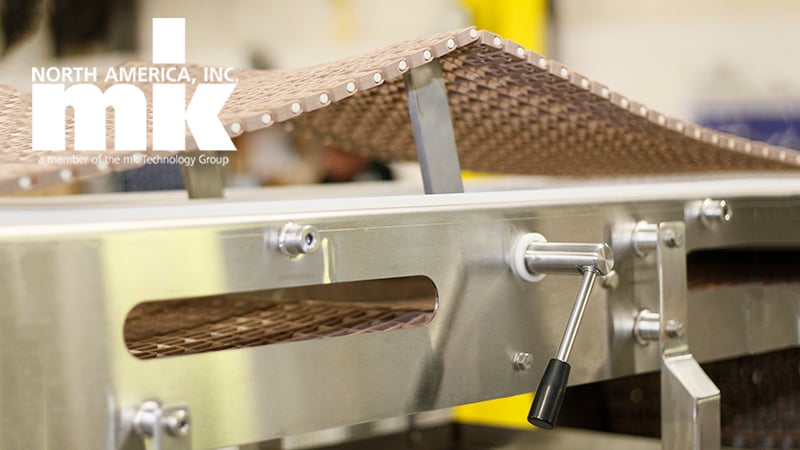 Few initiatives have been as critical to food safety awareness as the Food Safety Modernization Act (FSMA). Signed into law by President Obama in 2011, the FSMA is a system of rules and regulations aimed at preventing contamination and recalls throughout the food industry.
Since its inception, national food recalls have dropped significantly. According to Pro Food World, a comparison of FSMA data with FDA recall data reveals that national food recalls have reached a five-year-low.
As impressive as this is, it's important for food plants to keep this admirable safety momentum alive.
If you're a food plant manager, you may be wondering: If we're already in compliance, how can we improve our prevention methods even more?
By ensuring that you're utilizing machines--like sanitary conveyors--that are designed to augment your existing food safety.
How Sanitary Conveyors Can Help Food Manufacturers Remain Compliant
What Are Sanitary Conveyors?
First, let's define what sanitary conveyors are. Sanitary conveyor systems are designed for cleanability. This means that it's easy to clean all of their components--crevices and all.
True sanitary conveyors can be characterized by their frame design. To provide optimal cleanability, sanitary conveyors are not only constructed out of stainless steel, but are also designed in such a way as to limit horizontal surfaces. Limiting horizontal surfaces provides less surfaces for debris to collect and allows water and other cleaning agents to run-off better.
Additionally, sanitary conveyors are outfitted with "belt lifters," which are devices designed to lift the belt off the conveyor frame; naturally, this makes it easy to access to the interior of the frame for cleaning.
Furthermore, frame cut-outs allow similar access; and in many cases are used in conjunction with belt-lifters. Catch pans are also utilized: fitted between the underside of the conveyor and the floor, they can be used for catching and reclaiming various ingredients while keeping the floor cleaner and operators safer.
Understanding Where Conveyors Fit Into the FSMA
The FSMA is divided into five key areas:
Preventative Controls

Inspection and Compliance

Imported Food Safety

Response

Enhanced Partnerships
Sanitary conveyors can be integral to the preventive controls stage. According to the FDA, "Food facilities are required to implement a written preventive controls plan. This involves: (1) evaluating the hazards that could affect food safety, (2) specifying what preventive steps, or controls, will be put in place to significantly minimize or prevent the hazards, (3) specifying how the facility will monitor these controls to ensure they are working, (4) maintaining routine records of the monitoring, and (5) specifying what actions the facility will take to correct problems that arise."
Since many food products are prone to contamination, it just makes sense to utilize sanitary conveyors. By installing sanitary conveyors in your facility, you will be able to say, with confidence that this was done to prevent hazards that could affect food safety; moreover, the natural preventative properties of a classic sanitary conveyor frame will help to satisfy requirement number two.
Now that you know why sanitary conveyors are so important, you'll need to decide which conveyor manufacturer to work with. While there may be quite a few to choose from, no other company's sanitary conveyor line is quite as efficient as mk North America's CleanMove conveyors.
The Benefits of Our CleanMove Sanitary Conveyors
Designed to meet FDA guidelines
BISSC certified
Easy to clean and maintain
Heavy duty construction
High quality components and materials
Large variety of options and accessories
Full application and engineering support
Custom designs
When you work with mk North America, you'll get the support needed to ensure that your conveyors meet and exceed your compliance efforts. If you're interested in creating a successful sanitation plan for your plant, then contact us today!
---