New Compact Curve for VersaMove
Posted on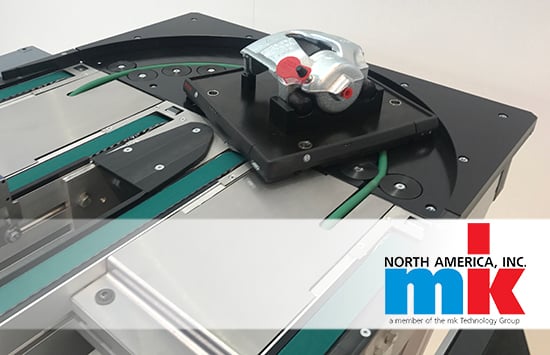 mk North America is pleased to announce the latest addition to the VersaMove pallet-handling conveyor system line – a compact curve module.
This module does away with Lift and Transfer units on parallel and rectangular conveyor configurations – saving space and cost – all while maintaining the leading edge of the pallet. Available in 90° and 180° versions, this module is designed to work with pallets 240, 320 or 400 mm wide. This module can include its own drive or it can be driven off the mainline conveyors, resulting in further cost savings and reduced controls required for operation.
Released at the Motek 2017 trade show in Stuttgart, Germany by the mk Technology Group, this module offers the following benefits and advantages:
Well suited for use in tight spaces and parallel conveyor configurations
90° and 180° turns are available
Features a compact and space-saving design
Maintains leading edge eliminating the need for additional Lift and Rotate modules
Can include its own drive or be driven off another conveyor in the line
This module works best with the VersaMove Standard platform. VersaMove Standard is just one of the three platforms of pallet conveyors available from mk North America, and is specifically designed for pallet loads less than 80 lbs. per pallet and pallets up to 640 x 640 mm. VersaMove Plus is for pallets 400 x 400 mm up to 1,040 x 1,040 and handling loads of 250 lbs. per pallet. VersaMove Ultra is the largest conveyor pallet platform offered with loads up to 800 lbs. per pallet, and is not compatible with this newest module.
mk North America offers not only pallet conveyors, but also a wide range of aluminum frame conveyors for various industrial and assembly applications, as well as stainless steel conveyors for use in the food and pharmaceutical industries. mk North America also specializes in custom conveyor solutions.
---