Over Under Belt Conveyor Systems from mk North America
Posted on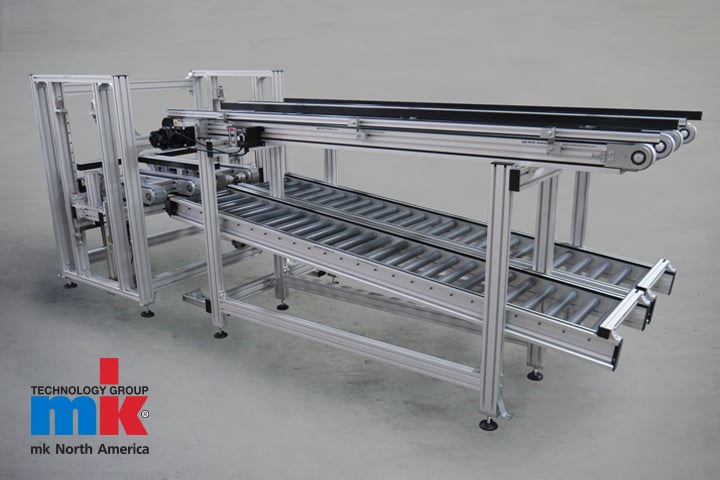 If you need an industrial material handling system for an area with limited floor space, you're aware of how crucial finding the right configuration is. This is especially true when return action is needed for products or tooling plates. Carousel or rectangular conveyors may offer the right functionality, but without the necessary economy of space.
If this situation sounds familiar, over under conveyors from mk North America may be just what you're looking for.
What Are Over Under Conveyors?
Created with easily-customizable modular design out of mk's own aluminum extrusions, these conveyor systems consist of two or more conveyor lines stacked on top of one another; products move to and from each level with the assistance of an elevator, pneumatic transfer unit, or rollers.
Several of mk's aluminum-frame belt conveyors are configurable as over under systems, with numerous belting options available according to your specific needs.
GUF-P 2000 Flat Belt Conveyors
One of our most popular and versatile conveyors, the GUF-P 2000 flat belt conveyor is a low-profile system easily compatible with over under configuration, as well as multiple belt, drive, stand, and rail options. Smooth, tacky, textured, food-grade, and other belting options are also available to make the GUF-P 2000 useful in manufacturing, packaging, processing, and other applications.
Higher Load Capacities? Try Our Modular Plastic Belt Conveyors
For situations in which higher load capacities are required, the MBF-P 2040 modular plastic belt conveyor can also be installed as an over under system. The MBF-P 2040 positively-driven belt is made from interlocking hard plastic segments rather than a continuous flat belt. This results in easier belt repair (in the event of damage a single segment can be replaced in lieu of the entire belt), in addition to providing durability sufficient for applications involving heavy metals, high temperatures, or caustic chemicals.
In operations where special conveying is required, mk's ZRF-P 2040 conveyor system features cleated and fixtured belting options. The ZRF-P is ideally suited for over under configurations designed to accommodate indexing, positioning, or loading of products in tight spaces.
For many configurations, a gravity roller conveyor can be used as an economical alternative to a positively-driven returns underneath.
To learn more about over under belt conveyors from mk North America get in touch by calling (860) 769-5500 or by using this online form. You can also read more about over under configurations for mk's VersaMove pallet conveyor systems here.
---