So That's What That Means
Posted on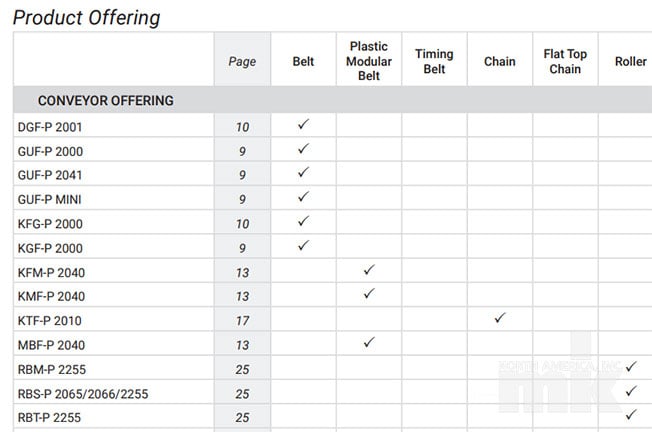 You're in the market for a dual-lane chain conveyor. And you contact mk North America, who quotes you a KTF-P 2010. Or saw you need a belt conveyor. A member of mk sales team reviews your application with you – looking at width and load in particular – in the end you are quoted a GUF-P 2041. In both scenarios you were quoted the best conveyor for your application. But you're left wondering what exactly does "KTF-P 2010" or "GUF-P 2041" actually stand for? Continue reading to learn exactly that.
mk North America is a member of the mk Technology Group; whose origins trace back to German in the mid-1960s. So, as you might be guessing at this point "KTF" and "GUF" are acronyms for the conveyor types in German.
Ready for a quick crash course?
| | | |
| --- | --- | --- |
| DGF | Doppel-Gurt Foerderer | Dual-Belt Conveyor |
| GUF | Gurt Foerderer | Belt Conveyor |
| KFG | Knickfoerderer Gurt | Bent "Gooseneck" Belt Conveyor |
| KFM | Knickförder Modular | Bent "Gooseneck" Plastic Modular Belt Conveyor |
| KGF | Kurvengurt Foerderer | Curve Belt Conveyor |
| KMF | Kurvengängiges Modulband Foerderer | Curved Modular Belt Conveyor |
| KTF | Kettengurt Foerderer | Chain Conveyor |
| MBF | Modulband Foerderer | Modular Belt Conveyor |
| RBM | Rollenbahn Motor | Motorized Roller Conveyor |
| RBS | Rollerbahn Schwerkraft | Idler (Gravity) Roller Conveyor |
| RBT | Rollenbahn Tangentialkette | Driven Roller Conveyor |
| SBF | Scharnierband Foerderer | Hinged Belt (Table Top Chain) Conveyor |
| SPU | Staufaehiges Pallettenumlaufystem | Continuous Motion Pallet Conveyor |
| SRF | Staurollen Foerderer | Accumulating Roller Conveyor |
| TKU | Taktfähiges Kettenumlaufsystem | Timing (Attachment) Chain Conveyor |
| ZRF | Zahnriemen Förderer | Timing Belt Conveyor |
What's in a Number?
Now what about those numbers that follow the letters? To be fair – those numbers mean a lot more to the average customer than the letters do. The numbers indicate which profile series the conveyor is built out of.
A ZRF-P 2040 for instance is built using our 2040 profile, which is part of our 40 series family. This means that the t-slot extrusions in the 40 series are going to be compatible with the frame of the conveyor.
A GUF-P 2000 is built using our profile mk 2000 – which means this is the most compatible of mk's t-slot aluminum extrusions in the series 50. But one can certainly build onto the conveyor with the series 40 profile, for more light weight designs – there is a lot of upward compatibility with the 40 system.
So, what about the "P"?
The "P" simply stands for "Profile" or "Profil" in German. You may have noticed this letter has been left out of most of our newest conveyor names. And that was nothing more or less than a decision to simply things.
What About VersaFlex?
If you are familiar our line for flexible table top chain conveyors, VersaFlex, then you are well aware these conveyors don't follow the conventional naming style as outlined above. That is part because mk has a legacy conveyor that uses a very similar chain (SBF-P 2000) and while these conveyors are related they are not the same. The VersaFlex system is designed to complete with other flat top chain conveyors in the marketplace, so it needed a name that fit that space. (The SBF-P 2000 is a very heavy-duty conveyor and typically features steel chains and wide width.) The designations A06, A08, A10, A17 and A29 refer to this conveyor as being a direct product handling unit with the number referring to the conveyor width, as follows:
A06 – 63 mm chain
A08 – 83 mm chain
A10 – 107 mm chain
A17 – 175 mm chain
A29 – 295 mm chain
And the VersaFlex P08 – it's a Pallet (P) handling conveyor system based around the 83 mm chain.
Ordering Conveyors
Regardless of what conveyor platform may best fit your needs mk North America will work with you to select the best possible conveyor for your unique application. WE certainly don't expect our customers to call us knowing they want a GUF-P 2000, and fi they do great. We don't even expect the customer to know if they need a plastic modular belt or a flat belt – our experts have the covered for you.
So when you're ready to get started on your next conveyor application think of mk and all the ways that mk provides not only a better product, but also a better solution – no matter what type of conveyor you need.
Ready to get started now? Simply fill out the form below and a member of our team will be in touch.
---