The Recirculating Conveyors You Really Want
Posted on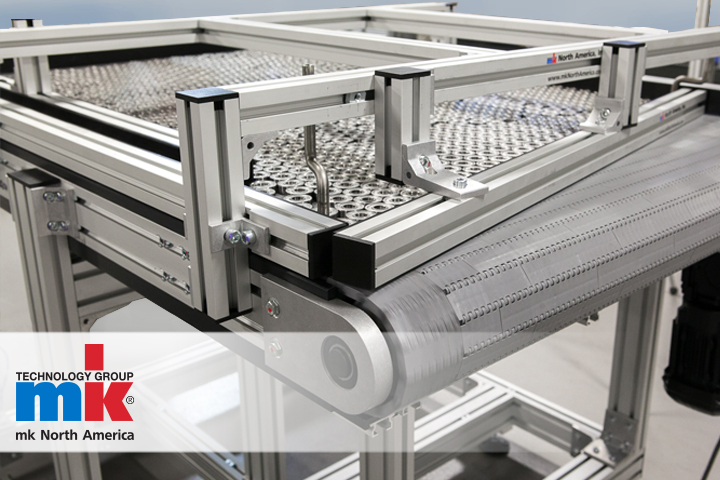 In today's modern manufacturing environment the need often arises to store product. This can be done for a variety of reasons. Product can be stored in a various ways, including first-in-first-out (FIFO), last-in-first-out (LIFO); as well as randomized.
mk North America offers a variety of storage conveyor options; these units are typically referred to as recirculating conveyors, bi-flow conveyors or accumulation tables.
Versatile Recirculating Conveyor Options
These conveyors are one of the many Engineered Solutions offered from mk and are based on standard mk conveyor designs. Depending on the product being conveyed, a number of different conveyor platforms can be used. The two most popular platforms include flat top chain (VersaFlex and SBF-P 2000) and plastic modular belt (MBF-P 2040).
Everything Will Be Customized to Meet Your Needs
mk application engineers will work with you to develop the best solution for your particular product and process. The size, shape, weight and material of the product to be accumulated will be taken into account, as well as the quantity of pieces being accumulated, and how the product needs to be metered out in the end. The floor space available for the solution, as well as the future conveyor's position in the line, will also be taken into consideration.
These conveyors are configured with at least two conveyor belts traveling in opposing directions; but can be built with upwards of eight belts. Belts can be of various widths and lengths or as dictated by system requirements. These conveyors are powered using two 3-Phase inverter duty motors, allowing for variable belt speeds.
Solutions based on mk's VersaFlex and SBF lines of flat top chain conveyors are rugged, durable, and designed to operate in the most demanding environments. When supplied with steel chain they are ideal for handling parts with aggressive surfaces.
Recirculating tables based on mk's MBF-P plastic modular belt line, are highly diverse and configurable for a variety of product sizes and materials. Belting is available in a number of different materials and well as surface features. This allows mk to select the belt type that is optimal for each specific product.
All recirculating conveyors from mk come complete with all of the necessary side rails, dividers and end-turns needed to properly recirculate the parts. Additional options and features available with these conveyors include escapement devices to singulate product out; as well as small transfer ends and product nests. Infeed and outfeed chutes can be accommodated as well as special options like side discharge (versus the standard end discharge).
And because the conveyors are from mk; they are fully built, run, and tested prior to shipping. Customers are encouraged to send along product samples during the design and build phase. This allows for mk to test the conveyor, and de-bug (if necessary); prior to shipping. This ensures a smooth installation and minimal labor on the end-user's behalf when integrating the system.
With over 30 years of diverse industry experience, mk has developed solutions for products ranging from small glass medicine bottles (with a 15mm base) to planetary gear sub-assemblies. No matter the size, material or loading, mk has the solution for you.
Contact mk North America today to discuss your particular application.
---