Top 5 Reasons to Choose t-slot Extruded Aluminum
Posted on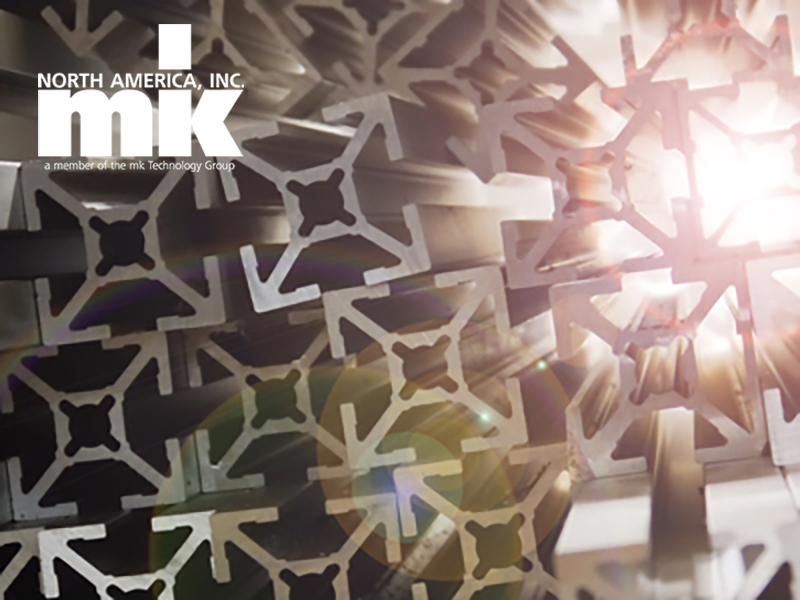 Building superior equipment requires quality parts that fit together well and work reliably. At mk North America we're committed to designing modular solutions that can be customized to fit even the most unique requirements.
Our aluminum framing / t-slot aluminum extrusions make it possible to construct just about anything our customers can imagine. That's the advantage to working with a reliable and material that's designed for flexibility such as extruded aluminum.
What are aluminum extrusions
Extrusion is a process used to, "push or pull material through a cast or die of a specific cross-sectional pattern to create a uniform profile."
Since aluminum is a strong, recyclable and when anodized can keep rust at bay, it's perfect for use when building structures, equipment, frames or anything else that is required to be sturdy and reliable.
With t-slot profiles, there is a "t" shaped track of negative space that allows pieces to interlock and secure in place without the need to weld or attach joints using other methods. Once in place, fasteners, nuts, locks and other items are then used to keep the pieces together to form your modular build.
Top 5 Benefits
Here are the top 5 reasons to choose t-slot extruded aluminum from mk for your project.
1. Flexible Design
The great thing about t slot extruded aluminum is that it's modular so you can easily add to a profile, remove what's no longer needed or even re-position workstation set-ups easily. That reduces the need to buy new set-ups when changes take place and saves investment dollars for other areas of the business. This flexibility is a leading reason so many manufacturers are choosing it as a build option over welded steel. The ability to quickly react to changing business needs is critical in today's demanding, fast paced market.
2. Cost / Labor Savings
Since the frames can easily be added to or changed and components are reusable, cost savings can be realized. From material costs to time saved compared to building steel welded solutions, the savings in costs and efficiency provided to employees at these stations is great.
3. Strong, Reliable Structure
Extruded aluminum is a very strong material and in manufacturing industry applications is capable of handling high load applications. Think: machine bases and frames, conveyors, cutting tables, pick and place units.
4. F
ast, Precise Assembly
Precision is important and with the combination of t slots and extruded aluminum, a secure fit is attainable. Not to mention the fact that even employees can easily assemble structures onsite since there are no complicated pieces or configurations.
5. Lightweight, Appealing
A machine that works well should also look good in the workplace. Aluminum is shiny, appealing to the eye and will look good while providing a strong, reliable solution for your guarding and other project needs.
T-Slot Aluminum Extrusions from mk North America
mk North America offers over 200 different profile shapes and more than 2,700 connectors and system components made from t-slot extruded aluminum.
The following 4 offerings are designed to meet different application requirements from light duty to the strongest on the market.
Profile Series 25
A small Profile Series for applications requiring lighter-duty frames and fixtures. 6 mm wide T-slots using M5 hardware.
Profile Series 40
The most flexible and versatile framing system available offering a selection of profiles, connectors and system components. 10mm wide T-slots using M8 hardware.
Profile Series 50
Best for heavy-duty machine framing. Includes the features and flexibility that aluminum framing systems offer without compromising strength. 10mm wide T-slots using M8 hardware.
Profile Series 60
For the most demanding framing applications. 14mm wide T-slots using M12 hardware.
Interested in learning more? Get in touch with us using the form below and one of our experts will be in contact with you soon.
---