Top Cleaning Features for Food Handling Applications
Posted on
Cleanliness is one of the most important topics of discussion when it comes to food. Where it's grown or raised, how it's processed and packaged, and the methods used to make its way onto our plates are all important aspects most take seriously.
If you run a food processing or packaging facility, it's critical to not only abide by sanitation requirements for compliance, but also to meet increasing consumer and industry standards for safe, cleaner operations. A great place to start is at the equipment level. You need solutions that can easily be disinfected and sanitized and that are designed with cleanability in mind so food is never compromised.
Conveyors should never accumulate waste, dirt, grease or other matter such as water or cleaning agents. The risk is high for contamination, mold and other bacteria growth.
To keep equipment sufficiently washed, it should be cleaned with proper chemicals or non-toxic detergents and then sanitized to ensure microorganisms are killed. Different applications and products being conveyed will have varying requirements. It's important to follow all regulations at industry, state and federal levels.
Here are some of the cleaning features to look for when purchasing a food handling application.
Clean in Place Systems
Clean in Place (also known as "CIP") systems offer ultimate efficiency in a busy production facility because they eliminate the need for manual tear downs and washes and instead automatically self-clean at a set time to decrease contamination risks, maintain production speeds and even improve the longevity of equipment with less chances for build-up.
Depending on the type of food being conveyed and cleaning requirements, a solution can be placed outside of the machine to remove debris on the exterior, or inside the frame to clean inside of the belt. Both options may also be selected if necessary.
Keeping Conveyor Belts Clean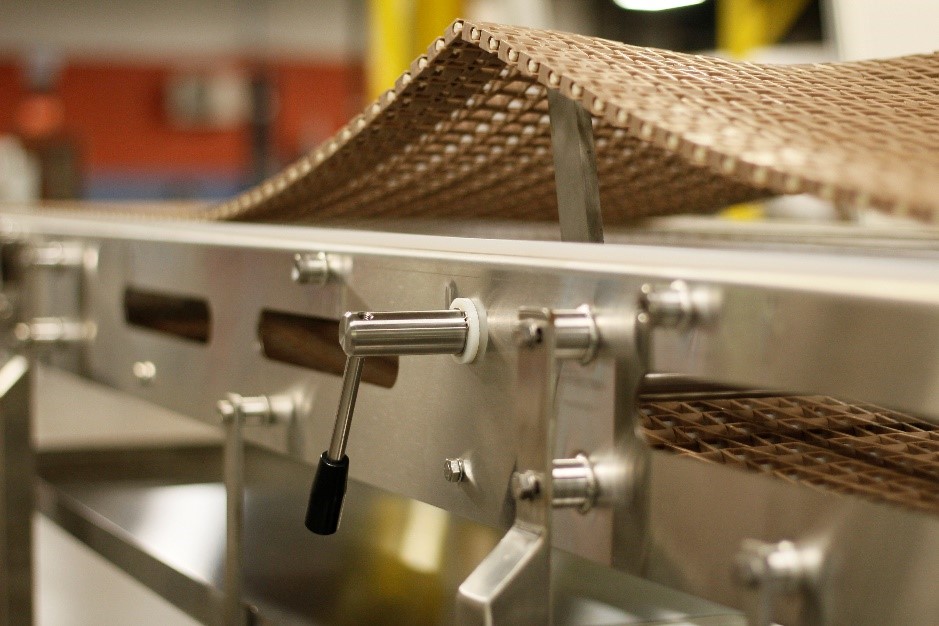 Oftentimes, debris on a conveyor belt will get trapped underneath it where it can be hard to see and reach. Using belt lifters, it's possible to lift the belt for cleaning without having to remove it entirely. This keeps it safe from damage while ensuring clean-up is done right and that the line is back up and running faster. In the image above, notice the oval cut outs on the side of the frame which allow for spraying cleaner directly into the inside of the frame.
A conveyor with a tip-up tail is another alternative to a belt lifter and essentially acts the same.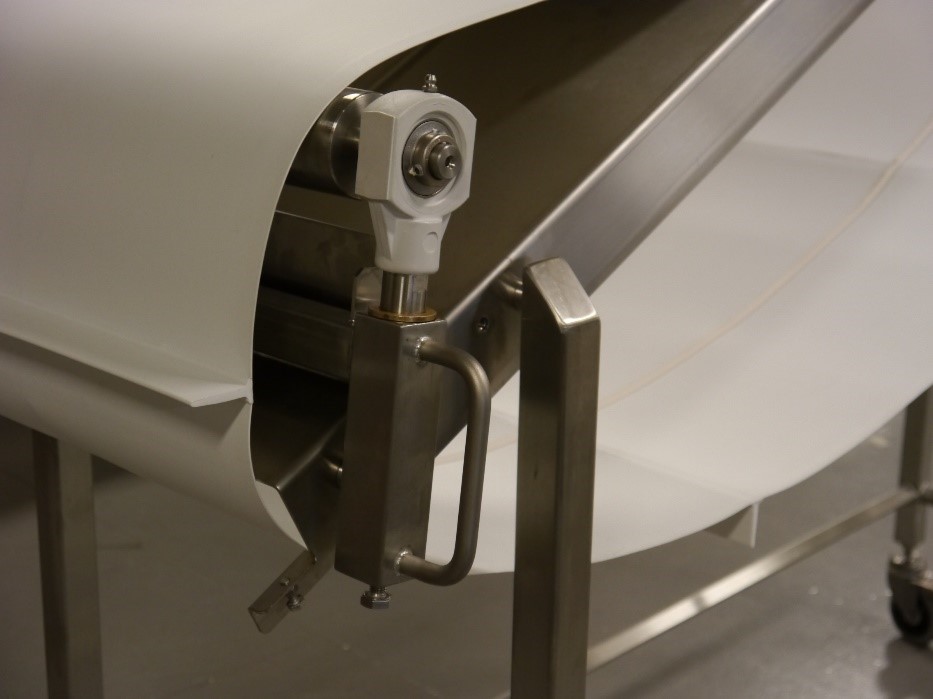 The belt lifters are often used on plastic modular belt units, whereas the tip-up tails are used on traditional belted units.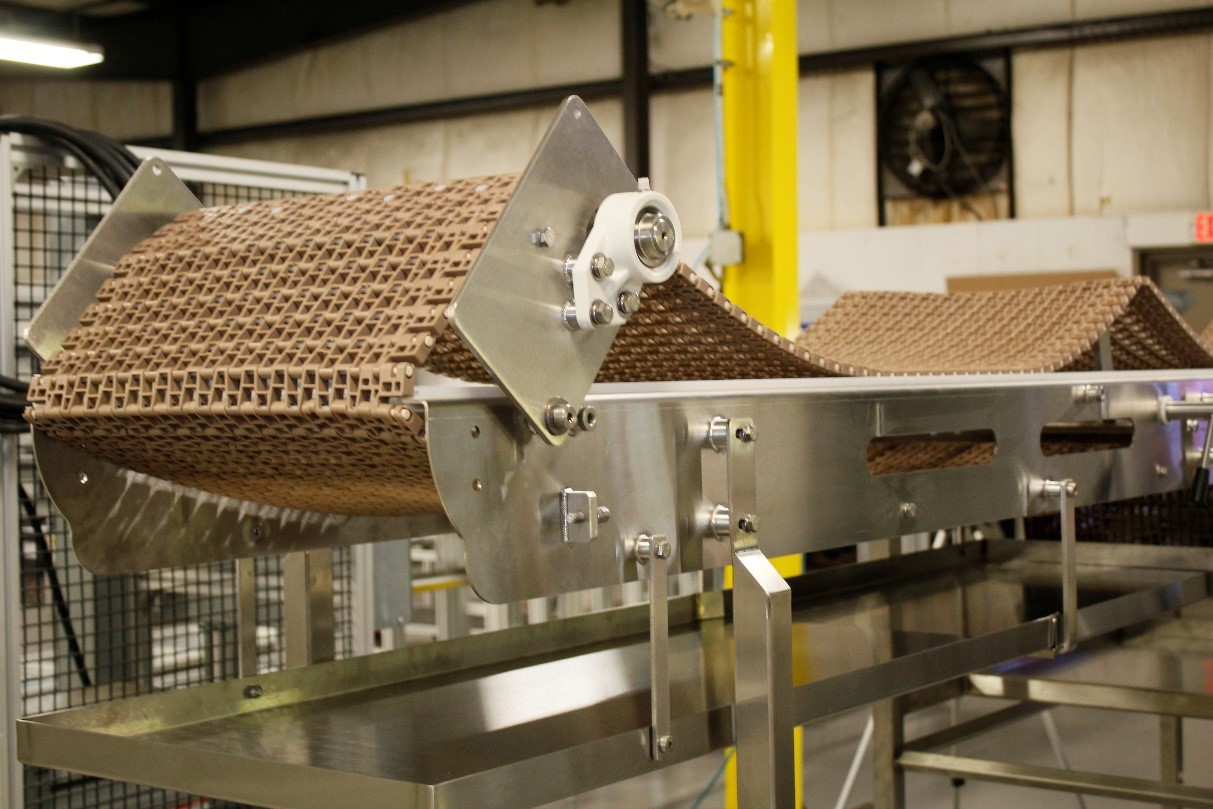 There are also belt scrappers that can be used for cleaning off anything that gets stuck to the conveyor while it's running. They also help keep the floor and surrounding areas clean and keep product running the way you expect it to.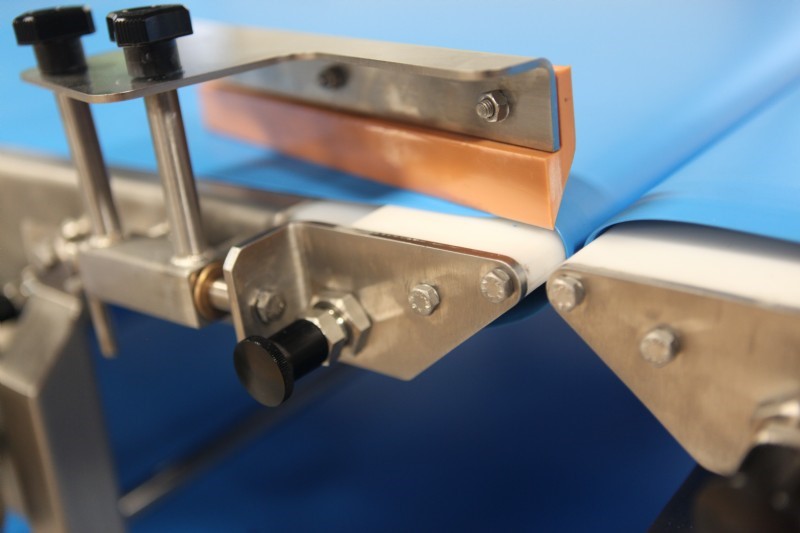 Scrappers can also be used to help reduce waste and recapture product for reuse or remove errant particles before they have a chance to get under the belt.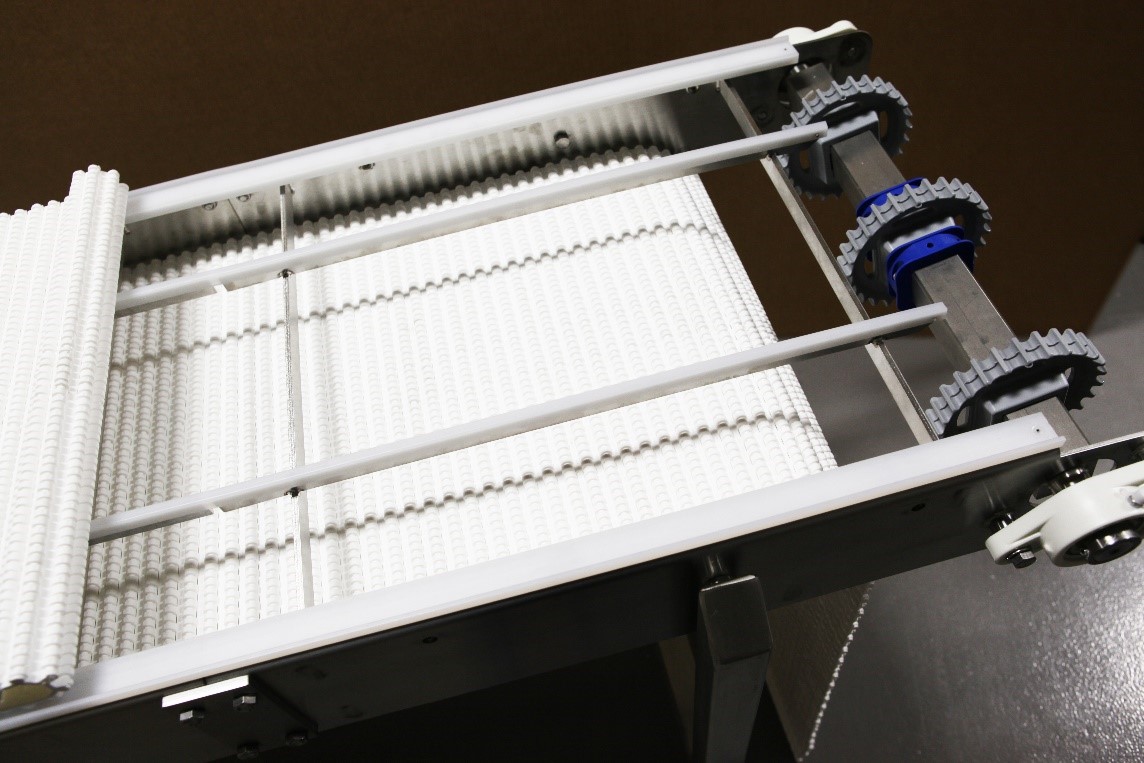 Internal Wear Strips
There's more to cleaning in the food production facility than just under the belt. Getting to the conveyors frame so that every crevice is properly cleaned is important. This is why the design of the internal structure, in particular the wear strips, is so important. The wear strips support the belt and when they can be removed, it's much easier to get the conveyor cleaned and access those heard to reach areas.
When working with plastic modular belt conveyors for example, having wear strips that can be removed by hand, you can pull them out and blast and clean them out faster. This reduces time spent cleaning and keeps operations cleaner.
Work with mk
Working with mk North America offers the flexibility and customizations today's food plants require. Customize a conveyor to have whatever unique options for food cleaning you need and to get it to the cleanability level you need. Choose from all these different options and put them all into one conveyor or just use some of them if that's all you need.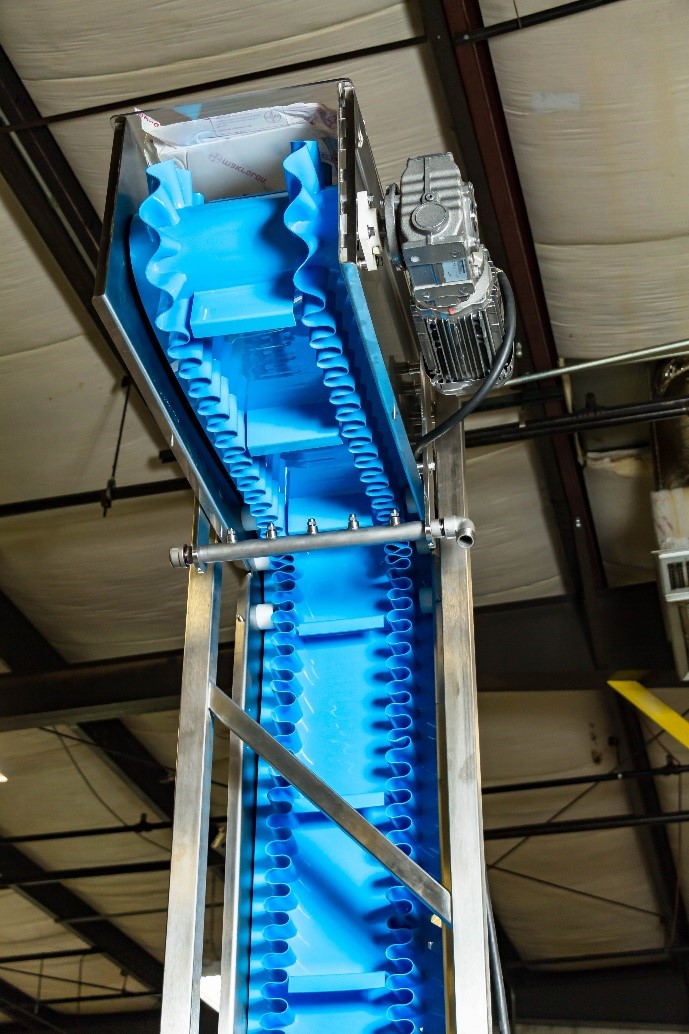 The CleanMove Ultra (CMP600) is a sanitary stainless steel conveyor designed for the most stringent requirements. From caustic cleaning solutions and high pressure wash-down needs, to an open frame design- easily get to the internal components that need cleaning and more.
Interested in a conveyor solution for your operations? Contact us using the form below to get started!
---