What Are Timing Belt Conveyors?
Posted on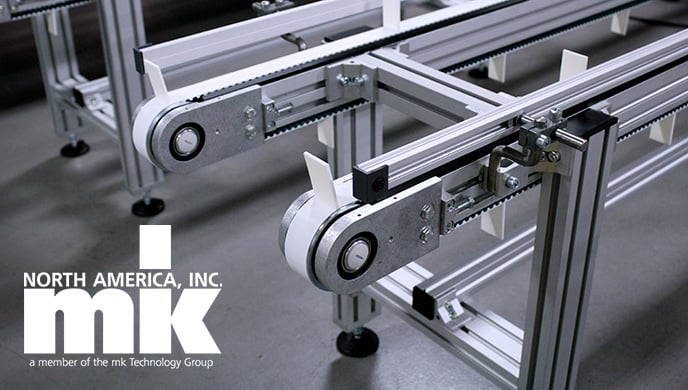 Timing belt conveyors are used to precisely transport product and can help provide positive accurate product location, they are used for light and dainty parts as well as heavy and bulky parts.
Physically speaking timing belt conveyors consist of at least one timing (toothed) pulley and at least one idler pulley (often another toothed pulled) with the timing belt looping around them.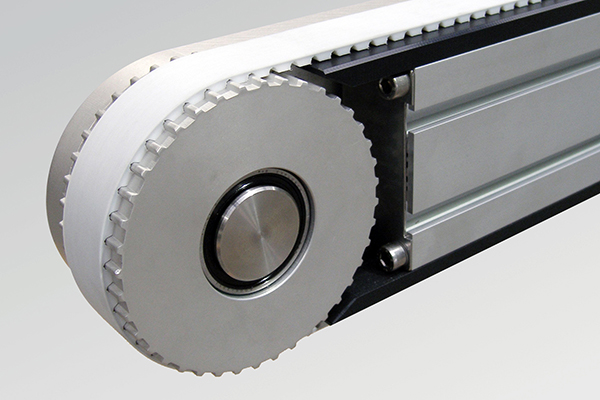 The teeth on the timing belt match those on the pulleys. There is a support structure, the conveyor frame, to support the belt and hold the pulleys in place. As well as some sort of device, typically an electrical motor, to power the conveyor. These conveyors have many typical conveyor accessories such as belt tensioning and tracking devices, conveyor side rails, mounting supports and motor controls.
What makes timing belt conveyors different from other types of conveyors is how well they can precisely convey and position products, especially when coupled with specific belt types, positioning sensors, locating devices and control systems.
A Deeper Look into Timing Belts for Conveyor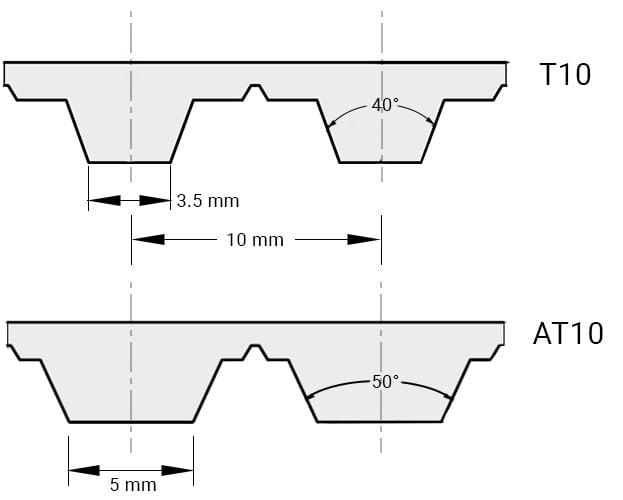 Timing belts come in a variety of series and pitches. The pitch refers to the spacing of the teeth, from center of tooth to center of tooth. The series refers to the style or the profile of the tooth and provides additional means of classifying the belt. Timing belt teeth can be rounded or trapezoidal, and the shape of either of these can also differ from series to series. See the example below showing a T10 timing belt, versus an AT10 timing belt – both of which have a 10 mm pitch.
The belt strength in timing belts is achieved via tension members located within the belt's mid-section. These tension members can be aramid or steel. Timing belts that require FDA approval may have stainless steel tension members.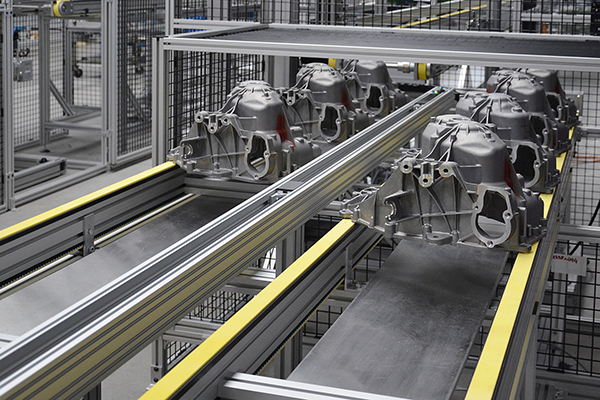 Timing belts can come with special coatings on the tooth side of the belt to increase belt life and decrease friction. Timing belts can also have a variety of top surfaces – everything from a nylon skim coating (for accumulating product) to foam in a variety of densities to highly conductive materials as well.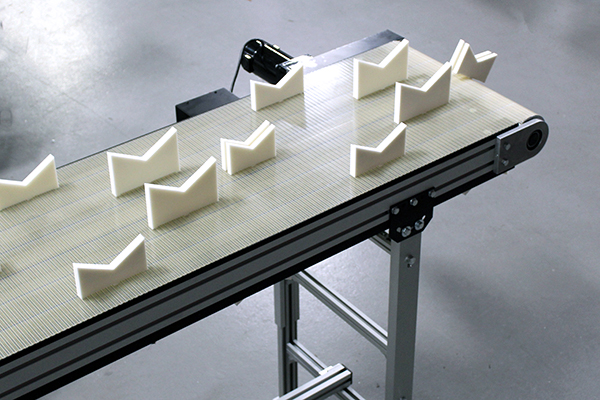 Adding to a timing belt's versatility are cleats and attachments. A wide variety of timing belt manufacturer's offer standard pre-designed cleats that can be ultrasonically welded to the belt. Additionally, some manufacturer's offer custom cleats and attachments to be designed and welded to the belt.
However, welding cleats to a belt can greatly impact the design of the conveyor as the thickness of the cleat will impact the diameter of the pulley. The thicker the cleat at the vase, the larger the pulley is required to be. This can be avoided when using convertible timing belts. This type of timing belt has a pocket in the tooth of the belt where a threaded insert is placed. This allows the attachment to be threaded into this insert. This type of belt has many advantages such as:
Ability to replace just the attachment, versus the whole belt, if an attachment is damaged.
Ability to change the attachment shape as product demand changes.
Ability, to some degree, to change the spacing of the attachments on the belt.
Precision Indexing Conveyor Systems
Different belt types will provide a different level of precision. Furthermore, the motor choice will have a big impact on the precision of the conveyor system. In many instances it may be preferable to use a stepper or servo motor over a standard industrial motor. Controls can be added to the conveyor package and work with the chosen motor to create a specific motion pattern; this is ideal for indexing and stepping applications. In applications which require the highest degree of product location and accuracy it may be best to place the product between cleats or within fixtures on the belt, albeit these accessories do introduce new possible tolerances to consider. Product or the cleat can be visually located with a photo eye, and for additional accuracy the product can be positively located via a locating or centering device. These devices are often pneumatic, but electric modules are gaining popularity.
The overall tolerance, accuracy and repeatability of the system will depend on many factors, some of which are beyond the control of the conveyor manufacturer. So, in applications where these factors are highly critical it is best to start the conveyor ordering process by having a full design review with the conveyor manufacturer, such as mk North America.
Timing Belt Conveyors from mk North America
mk North America offers four different styles of timing belt conveyors. Two of these conveyors, ZRF-P 2045 and ZRF-P 2010 are primarily used in the VersaMove pallet-handling industry. The ZRF-P 2010 features a 32 mm wide timing belt (ZRF-P 2045 a 25 mm wide belt). For both conveyors the belt returns within the conveyor frame. This allows the conveyor to be placed directly on a work surface. The ZRF-P 2010 can also convey many wide, bulky and irregular shape products off a pallet.
The ZRF-P 2040 is a wider timing belt conveyor, primarily used in applications which require belt attachments. As previous mentioned these attachments can be welded onto the belt or bolted on the belt. This conveyor features an AT10 pitch, which makes it compatible with BrecoFlex's ATN10 convertible timing belt. This conveyor also works with belts called "false tooth", which is another means of adding an insert to the belt's underside.
The ZRF-P 3000 is the widest timing belt offered by mk North America and in the conveyor industry. With belt widths up to 24-inches. The timing belt on this conveyor can be furnished in a variety pf top surfaces (previously mentioned) as well as cleats, and combination of both on a single belt.
All timing belt conveyors from mk can be offered in a single lane belt or with two or more belts driven off one motor. mk North America also offers custom timing belt conveyor to meet specific belt pitch requirements.
To learn more about mk's timing belt conveyors or to get started on your next timing belt conveyor project simply fill out the form below and one of staff members will get right back to you. No time to wait? Then call us at (860) 769-5500 today.
---