3D Guarding Configurator: mk QuickDesigner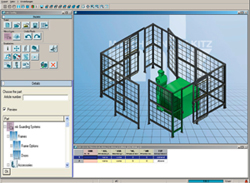 Our new mk QuickDesigner software reduces engineering and order processing times by up to 80%.
mk QuickDesigner is a state-of-the-art and standalone pricing, planning and design tool for the easy and fast creation of perimeter guards made with mk Aluminum Framing Systems.
An easy-to-use 3D interface allows the quick design of a custom guard either by automatic equipping of 2D floorplans with 3D panels or by allowing the user to build and configure one panel at a time.
Download the mk QuickDesigner Software
Software Includes:
"mk Parts" - mk 2D/3D CAD catalog
"mk Config" - mk Guarding configurator
Order CD »
System Requirements:
Windows VISTA/XP/2000/NT; CPU Min. 800 MHz, RAM Min. 128 MB, Graphic Card Min. 64 MB; Open GL; Hardware 3D recommended. Acrobat Reader.
Features and Benefits
Drastic reduction of engineering and design time
Easier, faster and more accurate order processing through the automatic generation of cost estimates, parts lists, cut lists, bill of materials list and weight estimates
Reduced material costs by use of standardized components
Standard and economy framing options
Large variety of paneling, window and door options
No CAD software required
Easy to use interface with 3D graphics
Automatic creation and dimensioning of 2D and 3D drawings
IGES, STEP and JPEG export formats
Import .dxf layouts
PDF user guide