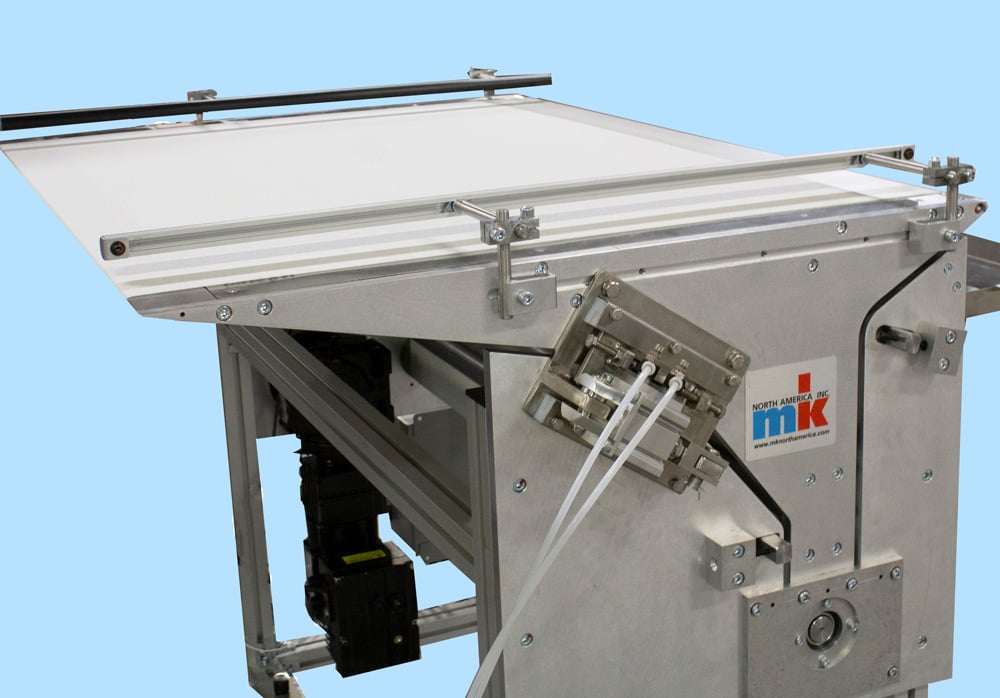 Problem Defined
Conveying a Product that Requires Extreme Specifications to Fit into Production
Recently, a customer approached mk North America, Inc. with a unique conveying application which required transporting carriers containing catalytic converters. The carriers were slightly over 3-inches in diameter, but all told would weigh in at 225 lbs. The carriers were being fed onto the mk conveyor from an existing recirculating wire mesh conveyor, (currently in place), with a rather large diameter pulley. This required the conveyor to be designed with an infeed knife edge of less than 5/64". Combined with various other factors that negatively affect belt tracking, (conveyor wider than length, and extreme slow speed), mk's applications engineers knew they had a job cut out for them.
mk North America's Custom Solution
Using Technology Not Usually Found in Conveying Systems in Order to Fit the Perfect Specifications of Our Customer
Enter an automatic pneumatic belt tracking device. Using a sensor to track the belt edge, the pneumatic device actively tracks the belt while the conveyor is in operation. A custom belt conveyor was designed to incorporate the belt tracker based around mk's GUF-P 2000 and 2041 series center drive belt conveyors.
As an added bonus, conveyors with automatic belt tensioners require less routine maintenance because the belt is constantly being tracked. The downside is that air is required to operate the conveyor. But the benefits surely outweigh running extra utilities to the conveyor.
Customer Benefits
Seamless transportation of product between large diameter pulleys
Ability to convey heavy parts at a very slow speed
Hassle free belt tensioning and tracking
---