A Guide to Conveyor Belt Selection
Posted on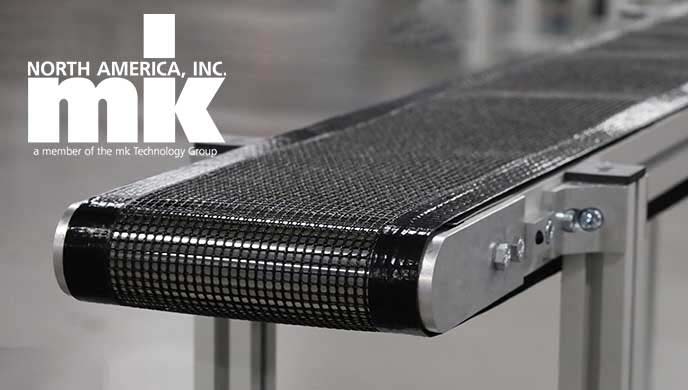 Belt conveyors are probably one of these most common conveyors in production facilities. Belt conveyors can be found everywhere from commercial bakeries to retail warehouses and on automotive assembly lines. Belt conveyors can be used to convey product from point to point, or they can customized to create a specific material handling solution. At the core of this conveyor – whether standard or custom – is the belt. In this article we'll explore this vital conveyor component and guide you through some considerations in the selection process.
Conveyor Belt Materials
General use conveyor belts come in a variety of materials, such as polyester, polyurethane, nitrile, and PVC. The materials used – some belts will be made out of two or more materials – and the number of plies or thickness of the belt will depend on the application and conveyor design. Typically speaking the smaller the pulley, the thinner the belt. Although a thinner belt should not be viewed as inferior.
Conveyor belts can further be broken down by their "electrical capabilities" – most conveyor belts are classified as anti-static or not, with a few belts classified as highly-conductive.
Looking beyond the basic construction of the belt one can start to look at the outside physical characteristics; and how the belt can be altered, as necessary, to achieve the desired material handling outcome.
Conveyor Belt Surface
The surface of the belt can really impact the conveyors performance. Some examples of this:
A rough surface belt cannot be used in accumulation applications.
Rough surface belts may be acceptable to convey certain products up an incline, whereas other product types and more steep inclines may require a cleated belt (such as the image to the right).
Sticky products, such as confectionery items, require a belt surface that will aide in product release.
Applications that require product be placed in designated areas may require a cleated belt or a painted or printed surface belt to mark out locations.
Chemicals, including machine oils, require belts that are resistant to them.
Certain products may require more minimal contact, in these cases nub top or structured belts may be the best choice.
In some instances, the conveyor belt surface isn't the only characteristic to keep in mind when selecting the belt type for the application. Sometimes conveyor belts need to be physically altered in order to achieve the desired outcome, this includes the addition of cleats and painting or printing as mentioned above, but it can also include some of the altering as outlined below.
Click Here to Read | Related Blog: mk's Guide to Belt Conveyor Types
Conveyor Belt Alterations
There are several applications which require a standard conveyor belt to be altered. Some examples of this include:
In washdown, sanitary conveyor applications, sealing the edge of the belt is required. This not only enhances the overall sanitation of the conveyor, but also helps protect the belt from premature failure due to liquids.
In vacuum conveyor applications the belt needs to be perforated for the conveyed product to be suctioned to the conveyor's surface.
As mentioned above, belts can have painted or printed surfaces. This is a special process which produces a belt with two distinct colors on it (such as the image to the right). This can be done to mark the edges of the belt for safety purposes or to identify product placement locations; along with any other number of custom requests.
While all of these customizations are wonderful and they all achieve a specific purpose; sometimes the belt itself just needs to be application specific, such as the highly conductive belts discussed earlier.
Specific Conveyor Belts for Specific Conveyor Types
There are a number of specific applications that require specific belt types. Some of these applications include:
Sanitary conveyors for food handling, not only require belts that have sealed edges, but belts that are also FDA approved. In some instances the belt must also be USDA approved.
In applications where the conveyor must travel through x-ray or metal detectors, belts for those specific industries must be used.
For back-lit conveyors the belt needs to be transparent enough to allow the light from within the conveyor to shine through. The belt also needs to be free of visual obstructions, such as ant-static threads.
Trough style, gooseneck and z-frame conveyors also require belts with special physical characteristics that ensure the belt has the proper stability and flexibility to handle these configurations.
Click Here to Read | Engineered Solution: Specialty Conveyor Belts
mk North America as a Belt Conveyor Supplier
As a conveyor manufacturer, mk North America is well versed in many different types of conveyors; especially belt conveyors which is the most popular style conveyor mk offers. mk works with a variety of conveyor belting manufacturers to ensure that not only the conveyor, but the belt is designed, to meet the needs of each specific application.
Download Best Practices for Conveyor Belt Tracking White Paper
To learn more about mk's belt conveyors or to get started on your next project simply fill out the form below or call mk at (860) 769-5500.
---