mk North America's Guide to Belt Conveyor Types
Posted on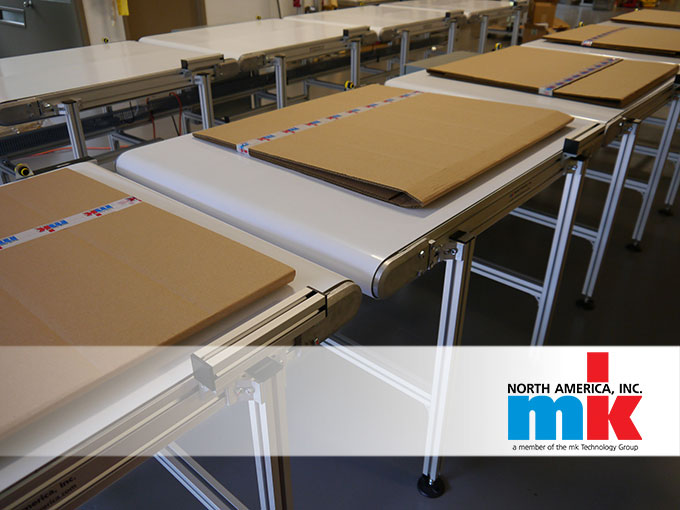 Belt conveyor systems are some of the most universally used and recognized machines in any industrial setting. Belt conveyors are used for transporting good and materials, for automating assembly and processing, for shipping and packing, and much more.
There are a number of reasons why belt conveyors are so ubiquitous, but among the most important is their versatility. Different conveyor belting options, configurations, and other specifications can be combined and customized to accommodate a variety of needs and applications.
Interested in learning more about different belt conveyor types? Take a look at our guide below to get more information about belting types, configurations, uses, and more.
Flat Belt Conveyors
Flat belt conveyors are some of the most prevalent and versatile belt conveyor systems in common use. Flat belt conveyors use a series of powered pulleys to move a continuous flat belt of natural or synthetic fabrics such as polyester, nylon, or other materials. Product placed on top of the belt is then carried along from one end of the system to the other.
Modular Belt Conveyors
Rather than a single, continuous loop, these systems use belting made of individual, interlocked segments. These segments are usually made of hard plastic.
Since segments can be replaced individually, modular belt conveyors can be easier to repair than flat belt models. Hard plastic belting can also be easier to wash, and more resilient to sharp, abrasive, or otherwise problematic materials.
Cleated Belt Conveyors
Cleated belt conveyors integrate vertical cleats or barriers along the width of the belt.
This can keep loose materials secure during inclines and declines along the length of the conveyor, to stage product for workers, to provide predictable spacing, and more.
Other Specialty Conveyor Belt Types
There is a variety of other specialty belting types designed to accommodate different applications. Examples can include the following:
Wire mesh for extreme temperatures or aggressive parts
Fiberglass belting for extreme temperatures and aggressive parts
Roller top belts and chains for aggressive for extremely delicate parts
Metal nub top belting for specialty machining and parts handling
Special conveyor configurations could include the following:
Narrow-width conveyors for small parts
Back-lit belts for visual inspection and quality control
Vacuum belts for holding flat product to the belt's surface, useful with small parts, elevation changes, and high speeds
Curved Belt Conveyors
Curved belt conveyors can utilize many of belting options described above, but use a curved frame to carry materials around corners or make optimal use of available floor space.
Curves can be slight or as much as 180°. For true curved conveyors (those without any straight runs), a flat belting option is needed; curved conveyors with modular plastic belting require straight runs before and after each curve.
Incline or Decline Belt Conveyors
When product needs to be carried up or down, incline belt conveyors are often the best solution. Depending on the product being conveyed as well as the angle of conveyance, incline belt conveyors will commonly utilize cleated or textured belts to help keep product from falling off the line due to gravity.
Sanitary and Washdown Conveyors
For applications like food processing and pharmaceutical manufacturing, harsh washing and sterilization treatments are often required for safety and compliance reasons. Sanitary or washdown conveyors are designed to withstand these severe washdown processes over time.
Sanitary belt conveyors from mk North America also feature FDA-approved belting, and some can even boast antimicrobial properties.
Other Belt Conveyor Types from mk North America
These are just some of the most common belt conveyor types. Depending on your application's details and unique specifications, a different or customized solution may be required.
To learn more about what belt conveyor type is right for you, contact mk North America today. A leading designer and manufacturer of conveyor systems, mk provides custom and standard conveyor systems for industries like manufacturing, machine building, metal working, packaging, printing, and many more.
Get in touch today by calling (860) 769-5500 or by using the form below.
---