Back-Lit Conveyors: Highly Customizable
Posted on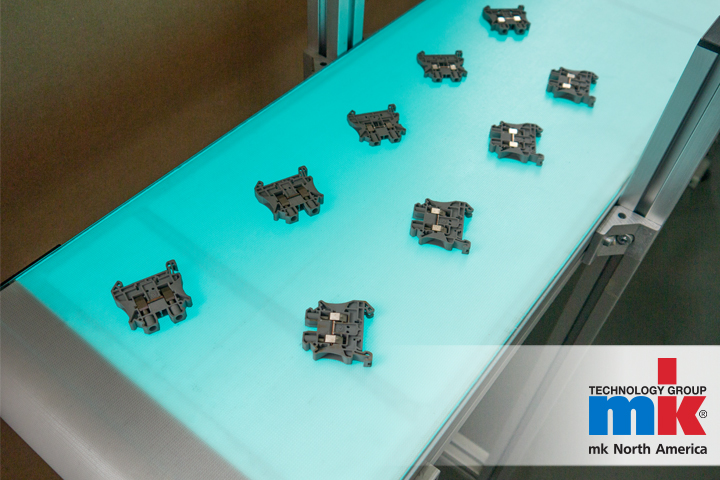 Back-lit conveyors provide additional lighting to a conveyor line, shining a light up on to the product from below. These systems can be extremely useful in vision inspection systems, to assist in robot pick and place applications, and any place workers on the production line require a visual enhancement of the product.
mk North America offers back-lit belt conveyors in a variety of sizes, ideal for a wide range of applications.
Conveyor Construction
Back-lit conveyors from mk are designed using their most popular aluminum frame flat belt conveyor, the GUF-P 2000. Because the back-lit conveyors are based on the GUF-P 2000, there are nearly limitless configurations using the wide variety of drive and idler options from mk.
Light Panel Options
LED light panels are used in the construction of these conveyors to provide a long lasting, bright and flicker-free illumination source. Many of these light panels offer a luminance of 5500K. The back-lit conveyor brochure from mk North America boasts seven different light panel sizes with a daylight color scheme. In addition, mk has recently been able to expand their offering of back-lit options due to developments in the low profile light panel industry and in the availability of illuminated film products. These conveyors are now highly customizable to meet the needs of each particular application.
New light panels come in a variety of colors including red, green and blue. When combined with the variety of translucent belt colors from mk there are many background color options available to the customer. Custom light panels can also be sourced. These panels come in a greater variety of sizes than what is shown in the brochure and allow for features, such as, donut or triangular shapes.
Tying It All Together - An Engineered Solution
mk protects all light panels within the frame of the conveyor by covering them with a clear, anti-static polycarbonate slider bed. The light panels are further integrated into the frame design allowing for sleek wiring and easy access to on/off switches. The seamless integration also allows for quick access to the light panel for maintenance or servicing.
Because back-lit conveyors from mk are based on the GUF-P 2000 series belt conveyor, the customer is able to have the conveyor furnished with a variety of accessories to meet their particular needs. Motors are available in single and three phase voltages and can come complete with controllers, cords and plugs. Conveyor supports or stands can also be supplied, as well as custom mounting for integration into existing equipment or bases. mk also offers a wide variety of side rails, which can be used to contain product or to funnel product over the light panel.
DOWNLOAD BACK LIT CONVEYOR BROCHURE
Like all conveyors from mk, mk back-lit conveyors are fully assembled and tested prior to shipping. This ensures fast and easy integration into your existing workflow with little downtime.

Contact mk today! Fill out the form below to learn more about back-lit conveyors or get a quote on your next project!
---