Bottle Conveyors & Conveyor Systems for the Beverage Industry
Posted on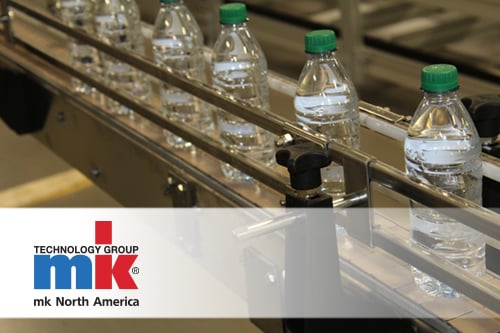 Whether you're craft brewer, a soft drink company, a bottler of fresh spring water, fruit juice, or anything in between, there are some things that any major player in the beverage industry knows: one of the most crucial for day-to-day operations is the need for effective bottle and can conveyors.
Conveyor systems in the beverage industry are essential for numerous processes on the bottling line: filling, capping, labelling, packing, shipping, and more. A speedy, efficient line not only keeps production on schedule, but can help growing businesses scale to meet demand and more.
If you're looking to expand or replace your bottle conveyors, can conveyors, or other parts of your handling or automation systems, mk North America offers a number of solutions perfect for use in the beverage industry.
Beverage Conveyor Systems from mk North America
From mk's CleanMove line of food-grade steel conveyors, the CTF and CRF flat top chain conveyors are ideal for applications in the bottling and can industries.
The CTF-200 and CTF-400 flat top chain conveyor systems are made with 304 stainless steel with FDA-approved chain, positive drive, and a variety of custom lengths, widths, side rails, and custom components to accommodate any bottles, cans, or packaged goods your application requires.
CRF-200 and CRF-400 conveyors are similar to the CTF line, but can be configured with 30°, 45°, 90° or 180° curves to take product around corners and meet other specialty configurations.
Keeping Up with the FSMA and Strict Industry Safety Standards
CleanMove conveyors like those in the CTF and CRF lines are designed with sanitation and safety in mind. Stainless steel frames, welded fasteners, and food-grade belting make thorough cleaning and washdown, even with harsh chemicals or high temperatures, possible in facilities where strict standards of sanitation are essential. When it comes choosing a conveyor system for use in the beverage industry, that's nothing to take lightly.
Since the Food and Safety Modernization Act (FSMA) went into effect last year, food and beverage manufacturers and processors have been responsible for a higher level of sanitation than ever before.
"[Food] companies must tighten supply chain and safety management or suffer severe consequences," says Gene Grabowski, a partner at PR firm kglobal, "companies must invest in meticulous record-keeping of plant maintenance and safety measures, along with quality checks and full transparency."
With sanitary CleanMove conveyors from mk, meeting these safety measures is that much easier.
Learn More & Get a Quote on Beverage Conveyors from mk North America
To learn about the bottle conveyors, can conveyors, and other solutions mk North America can offer the beverage industry, get in touch by calling (860) 769-5500 or by using this convenience online form.
---