Guarding Equipment For Conveyor Systems
Posted on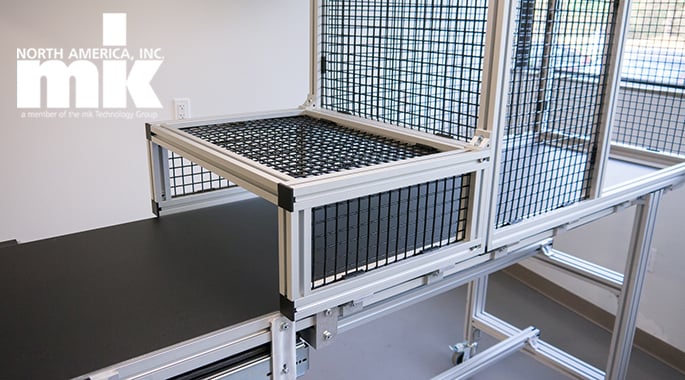 If conveyors are the backbone of the modern automated manufacturing and assembly facilities, then guards are the skin. Guards keep everything safe, containing potentially hazardous robots, presses, indexers, feeders, welders, grinders, and conveyors away from human operators. They surround and protect everything.
So why take a chance and order guards separate from your conveyors? When you work with mk North America, you do not have to. Continue reading to learn about the various types of conveyor and guarding solutions that are possible.
Perimeter Guards
When you have a large area to guard or multiple pieces of equipment to protect operators from, then perimeter guards are your best bet. As the name implies perimeter guards guard along the perimeter of an area. They can include cut-outs to allow product to flow in and out of a particular work area, as well as doors and windows to allow authorized personnel access to the equipment and area being guarded. The cut-outs, doors, and windows can all be equipped with various safety devices that can sound alarms, flash lights and even turn off interior equipment if the perimeter is illegally broached.
Guarding Options
Doors and windows are not the only option when it comes to factory guarding. mk North America offers a wide variety of paneling for your guarding – from various types of polycarbonate to PVC coated wire mesh in a variety of colors to custom options. All guards from mk, including machine and perimeter guards, are constructed out of mk's very own t-slot aluminum extrusions. This allows for the panel options to be mounted in a variety of ways, for whatever best suits the application. Additionally, the customer can add colorful closure strips to close off the t-slots and mark important or dangerous areas of the guard. mk also offers a wide variety of floor mounts, and even casters for portable or movable machine guards.
Conveyor and Guard Solutions
When it comes to guarding a conveyor, there are a variety of possibilities. Because mk's conveyors are also constructed out of mk's aluminum extrusion, mounting a machine or custom guard to the conveyor is simple. And these guards can be mounted to any of mk's aluminum conveyor types, including:
All the previous guarding options mentioned still apply when the guard is mounted directly to the conveyor. And when you order a complete conveyor and guard solution from mk North America, you can be confident that all your pain points will be addressed in a single solution. mk's application engineers will take the time to understand your unique application and work with you to select not only he best conveyor for your process, but also the best safety guard based on the environment the complete unit is to be installed.
This is the first blog in a series of blog posts looking at the mk conveyor and mk aluminum extrusion connection and advantages. You can read the other parts in this series using these links:
Conveyors - Supports and Side Rails
You can find inspiration and ideas in this photo gallery of past projects which featured both conveyors and guards.
To learn more or to get started on your next project contact mk North America today, using the form below. Or call us at (860) 769-5500.
---