Conveyor Supports and Side Rails
Posted on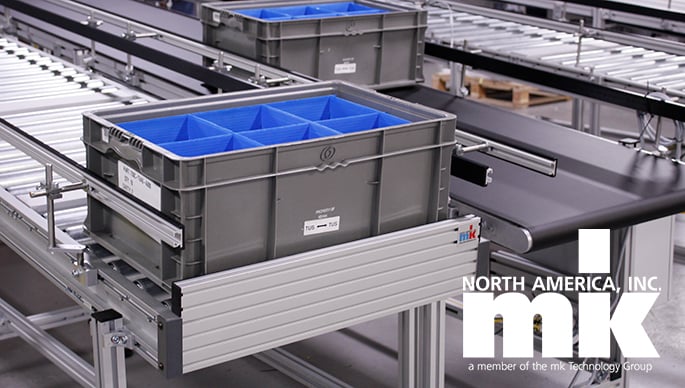 Some things are meant to go together, and that is true for mk's aluminum conveyors and t-slot aluminum framing. In fact, mk's conveyor supports and guide rails are designed and built using mk's very own line of profile and components. And because of this, that means conveyor stands and side rails are not limited to those shown in the catalog. Continue reading to learn more about this unique mk advantage.
Conveyor Supports
mk offers a wide variety of conveyor supports – from basic "H-style" to elaborate supports designed for mobile conveyors. There are conveyor stands for very narrow conveyors and stands for extra wide conveyors. There are stands for horizontal conveyors, and incline or decline conveyors, as well as fixed height or adjustable height supports.
Conveyor Side Rails
mk offers a wide variety of conveyor side rails and guides. This includes options that are fixed (non-adjustable) and non-adjustable as well as side rails that are fully adjustable (in and out, as well as height adjustment). The horizontal portion of the rails can feature UHMW-PE wear strips, steel – galvanized or stainless wear surfaces, or an aluminum wear surface.
mk Solutions for Unique Applications
However, mk knows not all conveyor solutions call for standard conveyor supports or side rails. Often the stands need to preform "double duty" and support more than just the conveyor. The conveyor supports may need to hold multiple conveyors in fixed or adjustable positions. The supports may also be used to support worktable or workbenches along the side of the conveyor. The conveyor stands may be designed for multiple conveyors stacked on top of each other. Thankfully, it's easy to design a solution using mk aluminum extrusion and components.
The same goes for conveyor side rails. Side rails from mk North America can be designed to have multiple purposes and can also be designed for tool-less adjustment (the same goes for mk conveyor stands). The conveyor guides can be designed to create multiple product lanes on a single conveyor. Or they can assist product on and off conveyors.
This is all possible due to mk's complete line of t-slot aluminum extrusion and accessories.
Working with mk North America
All these various options may make the choice seem overwhelming; when you work with mk North America you are working with a company that will fully assist in the design of your conveyor.
mk will not only aid in selecting the optimal conveyor for your application, they will also design the conveyor supports and guide rails best suited for the application – standard or custom. mk's engineers and sales team will draw on their outstanding knowledge of the various mk products and create just the right conveyor or conveyor system solution for your application. And you can trust that your design from mk will work – as all conveyors are fully assembled and tested in-house prior to shipping. When you work with mk North America you are working with a conveyor and extrusion company that provides you not only a better product, but also a better solution.
This is the second post in a multi-part series on the mk conveyor and mk aluminum extrusion connection. You can read the other parts in this series using these links:
Ready to get started on your next project or want to learn more? Use the form below to contact mk today.
---