Conveyor and Linear Motion Systems
Posted on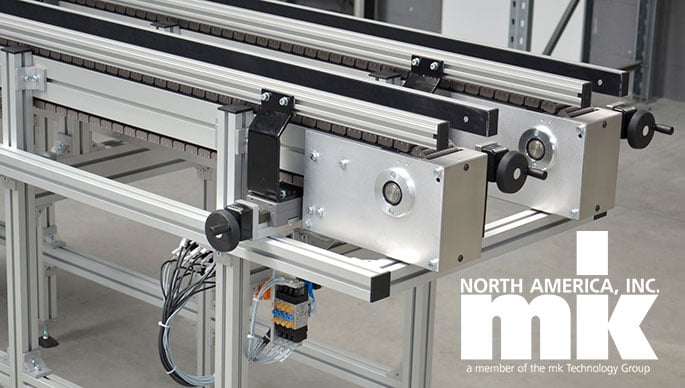 Linear positioning systems and conveyors each have their own unique, yet complimentary, functions in industrial automation. Often these two pieces of equipment are stand-alone solutions. But when you combine the two – conveyors and linear positioning system – a truly unique, one-of-a-kind solution, emerges, harnessing the power of each module into a powerful, versatile, material handling solution.
mk North America is a conveyor system and linear motion manufacturer. When you integrate mk's conveyor platforms and linear motion modules you can count on fit and function of your solution. In this article we will explore some of the many solutions from mk that combine both pieces of industrial automation equipment.
Vertical Transfer Units
mk's LZR, a timing belt driven motorized linear module, can be used vertically and with its high load capacity it can easily support the weight of a conveyor and product. These two pieces create a simple, yet effective vertical transfer unit. The conveyor, which moves the product horizontally, can be configured to discharge the product in any number of ways – at 0°, 180° or 90° from the direction in which it was fed. But the solution does not stop there. mk also offers a complete line of t-slot aluminum extrusion and components – ideal for creating machine guarding. This means mk can provide a complete vertical transfer solution, including safety guarding, out of mk product will ensures fit and functionality.
Gripper Conveyors
There are a variety of reasons to use a gripper or wedge conveyor – from exposing the bottom of the product to transferring product between gaps. These conveyors work by gentling compressing the sides of the product, with conveyors running on their sides, while moving it forward.
While it is possible to design these conveyors with a fixed width between the conveyor faces, it is helpful and often necessary to make this distance adjustable. Mounting the side running conveyors on linear modules simplifies this. mk's VST is a gliding assembly linear motion module. The VST has the option to be configured with two plates moving independently in opposing directions and can be supplied with either handwheel (for adjustment) or motorized. This solution provides fast, and accurate adjustments between conveyor faces and allows for fine tuning of the system which increases effectiveness and productivity.
Adjustable Width Conveyors
When a single conveyor needs to carry a variety of different product sizes and have an open center an adjustable width conveyor is the ideal solution. mk's TKU 2040 offers an adjustable width option, featuring mk's VST linear motion module.
If an attachment chain conveyor is not the ideal conveying platform for your application mk can apply this design principle to nearly any of its other conveying platforms. In these applications the driven conveyor lane typically remains fixed and the other conveyor lane is adjusted in and out based on product size. Like the gripper conveyors above, mk's VST is used to adjust the distance between lanes of the adjustable width conveyors. Additionally, mk uses some of their other various slide and gliding assemblies to support and adjust down the length of the conveyor. Depending on the application it is also possible to use an LZR linear module. This is one of the benefits of working with mk on solutions like this – the ability to draw on multiple standard products to create a custom solution.
Positioning Conveyors and Devices
mk's various linear module units can be used to position conveyors, their accessories, and product. Some of these examples are as follows:
Conveyors that telescope in and out of work areas on linear modules
Linear motion module as print head gantries above conveyors
Height adjustable conveyors using linear motion modules
Overhead vacuum conveyors mounted on linear motion modules to adjust position and incline
Conveyors with adjustable stop bars mounted on linear motion modules
Custom adjustable side rails on a conveyor
Linear motion modules for positioning and centering product on conveyors
This is the second post in a multi-part series on the mk conveyor and mk aluminum extrusion connection. You can read the other parts in this series using these links:
Working with mk North America
When you work with mk North America you are not only working with a world-class conveyor manufacturer you are also working with an industrial automation solutions provider. mk's highly diverse line of conveyor solutions combined with their linear motion products allows mk to provide a unique, single-source solution for a variety of diverse applications. When you work with mk you are working with a company that is dedicated to providing not only a better product, but also a better solution.
Contact mk North America today to get started on your next industrial automation application.
---