Wedge & Side Gripper Conveyors
Posted on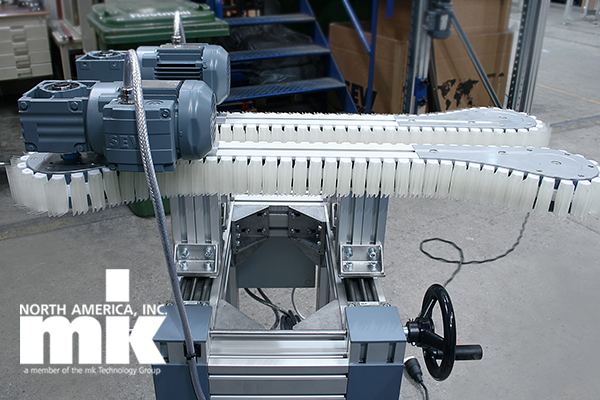 A lot of various applications require the bottom of the product to be exposed - printing, labeling or inspection. Side gripper conveyors are the conveyance of choice in this instances. These conveyors work by gentling "pinching" or compressing the sides of the product. Back in 2017 we covered side gripper conveyors in detail. To refresh yourself on this topic check out that post.
In this post we'll look at some of the advances and additional side gripper (or wedge) conveyor system that mk is now offering.
Side gripper conveyors were previously only offered using our most popular model belt conveyor, the GUF-P 2000. Now we are able to supply side gripper conveyors with timing belt, or stainless steel frame conveyors. Timing belt conveyors are excellent for metering out product between stations. Side gripper conveyors that are constructed out of stainless steel can be designed for food or non-food applications, and are ideal in wash down or high humidity environments.
Another popular option for side-gripping conveyors is table top chain conveyors. With mk's VersaFlex wedge conveyors, product can be gripped from the sides and conveyed up inclines and vertically. Wedge conveyors can be used to transport product between various floor levels - both up and down the levels. There are a wide range of table top chain options for use with wedge conveyors, depending on the product being conveyed, conveyor speed and distance traveled. Wedge conveyors can move product quickly and securely between various points.
Both traditional side gripper and wedge conveyors can be used to as a "bridge" between conveyor lines. These bridges are ideal in areas with high production speeds or in vision applications.
Contact mk North America to learn more or to get started on your next wedge or side gripper conveyor application.
---