Employee Spotlight: Welcome Tom Schaffner New Sales Manager
Posted on
It is with great pleasure that mk North America welcomes Thomas Schaffner as their Sales and Business Development Manager. Schaffner is a dedicated, tireless sales professional with a long and deep career in the robotics industry.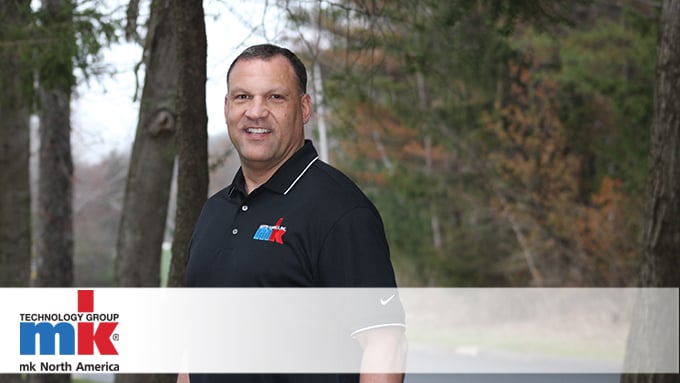 Schaffner began his career at National Semiconductor Corporation (NSC) after attending the Connecticut School for Electronics, as well as Waterbury State Technical College. At the time electronics was a new and emerging technology and he was excited to be on a ground floor of such a progressive industry. In 1990 NSC began consolidating and closing branches, they gave Schaffner the opportunity to relocate. However, he chose to stay in the area, looking for opportunities in other up and coming markets.
At the same time an Austrian robotics company was just starting to lay down roots in the US thus began Schaffner's long career with Wittmann Incorporated (later to become Wittmann Battenfeld). At the time robots were beginning the transition from pneumatic to motorized units and it was Schaffner's responsibility to learn the machines, working only with materials provided in German; and then to go out and support them. He had a heavy travel schedule and was out of the office 90% of the time. But that did not slow down his desire and ambition to grow and grow with the company. As he went from a Field Service Engineer to the Service Department Manager he hired a group of service technicians and wrote and developed training programs, spare part documentation and other various company standards.
Schaffner's breadth of expertise on the various products lead him into helping the sales team develop solutions, and from there into costing and estimating and proposal writing. It was this step that grew into his position as Wittmann's Northeast Sales Manager; where he eagerly went out to meet customers and developed the company's selling culture. After nearly 12 years in this position he became Wittmann Battenfeld's National Sales Manager. Here he developed and managed key accounts while growing and mentoring regional sales managers.
Schaffner enjoys an active lifestyle with his two children and long-time and long-distance partner Mary. It was during one of his daughter's soccer games on a Sunday, while he was working in the car while she played; that he realized the personal toll his work was putting on him and his family. Schaffner wanted more and felt a desire to work at a company where he knew he would be putting his best foot forward and able to balance the various roles in his life.
Right around this time mk North America's current Sales and Business Manager, Todd St. Pierre; had accepted a new job offer as President of Boy Machines. St. Pierre, a personal friend of Schaffner; arranged for Schaffner and Andreas Haussmann (President of mk North America) to meet. The rest, they say, is history; and Schaffner officially joined mk on Sunday, April 2, in Chicago, IL at Automate 2017.
When I asked Schaffner what sold him on coming to work for mk North America, after more than twenty-seven years with Wittmann; he said it was Haussmann and the respect he showed to his employees. Schaffner feels empowered to work for someone, who he describes as a "good guy" and puts his "blood, sweat and tears" into his company. He appreciates Haussmann's technical expertise and hands-on approach to running the company.
But it's not just Haussmann; Schaffner appreciates the passion his coworkers have for the company. He also believes in the company's business plan as well as the company's diverse product offering and ability to sell into a wide variety of markets; including automotive, food and pharmaceuticals, as well as consumer goods (to name a few).
"I think the country is heading into a serious automation phase and conveyors are an essential part of that. You need conveyors to feed assembly lines and robotic work cells. It's almost like you can't be a manufacturer without a conveyor line, you cannot do fundamental assembly without them. In the future everything is going to be built by robots, and you need conveyors to compliment them."; said Schaffner while we were talking.
Schaffner appreciates the diversity of mk's product lines – from the raw materials offered in the profile and components lines, to standard conveyors, to custom workstations and linear modules, food conveyors as well as fully automated pallet-handling systems. He is most excited to take these products, get out their traveling and building up the mk sales network.
When he's not at work Schaffner is spending time with his kids and partner. He frequently travels out-of-state to spend time with her, and vice versa. They are a sporting family and spend a good deal of time outdoors. Schaffner restored an old car and just purchased a motorcycle, after riding dirt bikes for a number of years.
mk North America is excited to have someone as ardent, dedicated and ambitious as Schaffner is leading the sales team.
---