What You Need to Know About Linear Positioning Units
Posted on
Manufacturing industries across the globe are under extreme pressure to deliver work faster and smarter than ever before. Automation and innovation are both key in making this possible.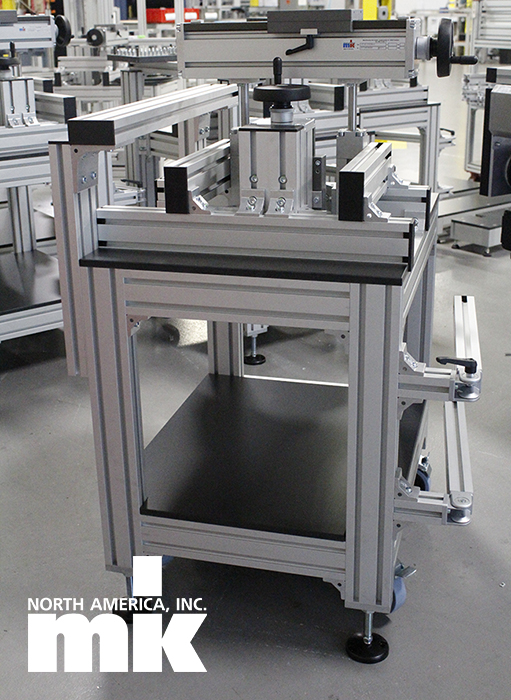 In applications where linear motion is needed (movement from left to right and back again) versus the typical rotary motion or over, under belt movement of a conveyor, users can achieve precise automation, guidance and material transfer using linear motion.
Why Linear Modules?
Linear motion systems are often driven via an external motor, although models with hand cranks are available. Similar to conveyor, linear modules can be mounted on various frame or stand systems.
In applications like medical manufacturing, packaging, automotive assembly, food processing and aerospace for example, linear systems can be used to glide products smoothly across the system.
Other typical applications uses include measuring, labeling, scanning and printing quickly and with accuracy without sacrificing quality.
Linear Modules vs. Conveyors
Since the end goal is different for each application, it's important to have a variety of options with your manufacturing equipment. There are some differences when it comes to conveyors and linear modules including the fact that the belt/pallet doesn't recirculate as it does with a conveyor. Instead with a linear module the pallet or carriage plate moves in a back and forth motion.
The speeds and accuracy capabilities are also much higher when using linear modules. When either of those is the end goal, liner modules make sense over a conveyor. They are also modular, meaning they can be set in differing positions. Unlike a traditional conveyor linear motion modules excel when mounted either horizontally or vertically. It is also possible to combine several different linear motion modules in order to move in multiple axes. It is also possible, with certain types of modules, to have multiple carriage plates. These multiple carriage plates can move together or in opposing directions.
To choose the best option, it's important to understand what length and force is needed to complete the action. Factor in the weight on the linear actuator as well as the direction it will be mounted to make the best selection.
LZR linear modules from mk North America are timing belt driven and include a carriage wagon, track profile and drive components. In addition to high speed and long travel, they are perfect for custom applications for a wide range of requirements.
In those applications with especially demanding designs, mk North America also offers a VST linear positioning module. With trapezoidal spindles, POM-nuts, and a high-quality surface coating to reduce friction, even the most demanding adjustments and positioning requirements can be met. VSTs from mk can come equipped with a motor or they can be delivered with a hand crank. The hand crank option is ideal for applications in which an operator will interface with the equipment.
Questions? mk North America Can Help
If you're in need of assistance or have questions about which solutions will be a fit your requirements, get in touch with the experts at mk North America.
---