What Makes a Conveyor Suitable for Food Handling?
Posted on
What makes a conveyor suitable for food handling?
This seems like a simple enough question to answer. One might say that it is built using a stainless steel frame. But then again, it is entirely possible to build a conveyor out of stainless steel that is not suitable for use in the food industry. So that's not the answer.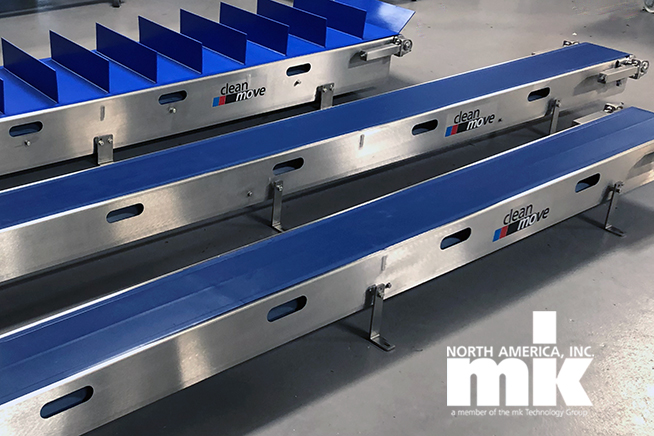 So, if that is not the case, then perhaps one needs to look for a conveyor that is approved by the Food and Drug Administration (FDA). But the FDA does not approve conveyor construction or design. However, the FDA does approve the materials which can come in contact with food. Therefore, at the very least the conveyor company you are working with should be aware of these materials.
And speaking of the bare minimum, the conveyor manufacturing company you work with should be following Good Manufacturing Processes (GMP); this is in addition to your facility adhering to GMP as well.
But conveyor design and food safety go well beyond the materials used. There are various national agencies and organizations which provide design standards and guidelines for conveyors suitable for food processing and handling. Approval of these conveyors is determined on the local level by various federal, state and local inspectors. Like with the inspectors, some of the agencies offering guidance are part of the US federal government, such as the United States Department of Agriculture (USDA). While others are non-government independent agencies such as Baking Industry Sanitation Standards Committee, BISSC for short.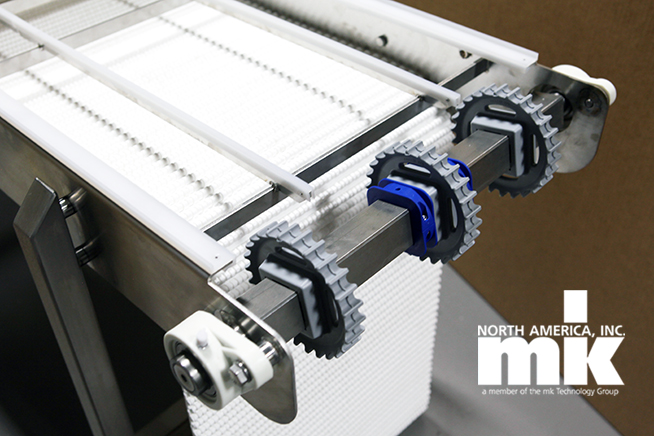 While these standards are nice, they can also be confusing. What is important when selecting a conveyor manufacturer for your food processing application is to select a company that designs and builds conveyors to the highest manufacturing standards. Additionally, this company should be well versed in the various industry standards available and should be able to address conveyor design concerns that are unique to your specific type of food product. A conveyor that is suitable for carrying packaged pudding cups may not be the best one for carrying raw pizza dough, and that conveyor may not be suitable for conveying raw chicken.
Conveyors That Are Easy to Clean
Conveyors for use in the food processing and packaging industries also need to be easy to clean; in order to comply with all facility hygiene standards. Various items can be added to conveyors, and design elements modified in order to increase the cleanability of a conveyor. These items include, but are not limited to:
Frame stand-offs
Belt lifters
Frame cut-outs or windows
Easy to remove belts and motors
Washdown rated motors
Tip-up tails
Conveyor supports with no flat surfaces
Specific types of welds
Quick disassembly and reassembly
Clean-in-Place systems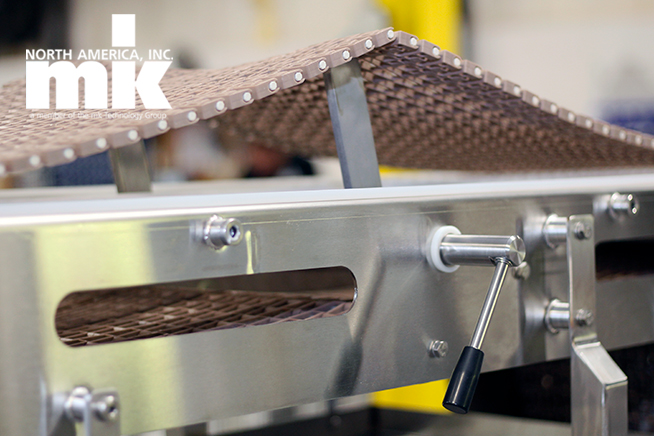 It Depends On The Type of Food Being Conveyed
To answer the question, we started with – what makes a conveyor safe for food handling – the answer really depends on the type of food being conveyed and the facility in which it will be installed. All conveyors for food handling and processing need to be constructed out of approved materials and build to the highest manufacturing standards. Once those two components are ensured then design compliance within the standards that specifically address the food product being handled can and should be addressed.
CleanMove by mk North America: Conveyors Suited for Food Handling
The CleanMove line from mk North America offers all these designs and cleanability requirements and so much more. When you work with mk North America you are working with a company that will ensure the requirements for your unique and specific application are met and that you are able to deliver a safe product to market. In addition to offering conveyors to meet USDA, WDA and BISSC requirements mk's CleanMove line can also offer conveyors designed to meet NSF (National Sanitation Foundation), NAMI (North American Meat Institute) requirements and 3A Sanitary Standards. CleanMove conveyors are ideal for the bakery and snack industries, fresh and frozen fruits and vegetable, raw meats, beverages, and various packaged items including rigid, semi-flexible and flexible packaging.
To learn more about CleanMove from mk North America, please use the form below to contact us. Or call (860) 769-5500.
---