Problem Identified
Requirements for Different Types of Conveyors within One Frame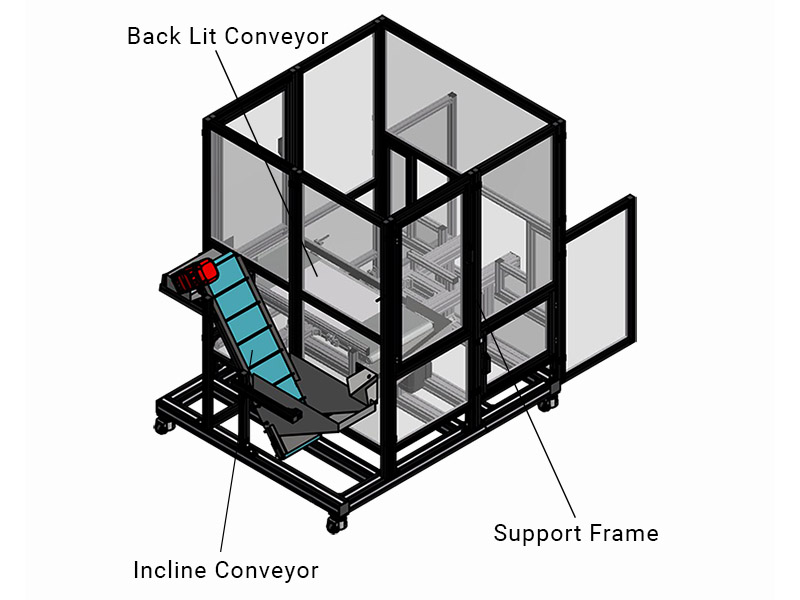 Plastimation, a robot, automation systems and controls integration company needed to partner with a conveyor manufacturer to provide a variety of conveyors for use in their "flex feeder" systems. The "flex feeder" system requires three different conveyors, configured in such a way as to allow for products to recirculate. Parts would be loaded into a hopper by an operator and would incline up the first conveyor. Next the parts transfer 90° off the end and onto a back-lit conveyor, where a vision guided robot would pick one part at a time. Parts not picked would then transfer 90° and drop back into the hopper of the first conveyor.
Plastimation knew they needed to work with a versatile conveyor company that would be able to provide both conveyors, as well as the support structure for the project.
Plastimation & mk North America's Custom Solution
Creating a Self-Supporting Conveyor System
mk North America offered Plastimation their GUF-P 2000 conveyor platform and a support frame construction of their 40 series t-slot aluminum extrusion. The support frame also included a complete custom guarding package.
The GUF-P 2000 is a highly versatile conveyor that can be configured in thousands of different ways. And since the conveyors are constructed out of mk 50 series t-slot aluminum extrusion, integration into the support frame was seamless. The incline conveyor featured a cleated belt and a direct-drive motor mount. The back-lit conveyor featured an LED light panel and a white, translucent belt.
The load bearing portions of the support frame were constructed using mk's 80x80 heavy profile, whereas the guarding portion of the frame used 40x40 profile. The guarding panels where clear polycarbonate which included cut-outs that allowed for the various parts chutes to pass through. Several swinging doors were also included. Lastly the entire assembly was mounted on heavy load, high performance casters to allow the entire assembly to be rolled, as necessary.
This was one of several "flex feed" systems mk North America worked on. In other systems the conveyors varied based on specific of the product and application, one example of this is when the back-lit conveyor was replaced by a standard conveyor with a light blue belt for use with a dark colored product.
Customer Benefits
One conveyor platform for streamlined spare parts
Single supplier of the frame and conveyor to ensure easy integration
A variety of LED light panel sizes to choose from
Simple conveyor modifications based on product and application details
Video provided courtesy of Plastimation. In this application the conveyors recirculate plastic cups, which the robot washes and bags. You can find other projects on their website.
---