Systems Integrators: What are they, What you can expect from them, Working with mk
Posted on
What is a Systems Integrator?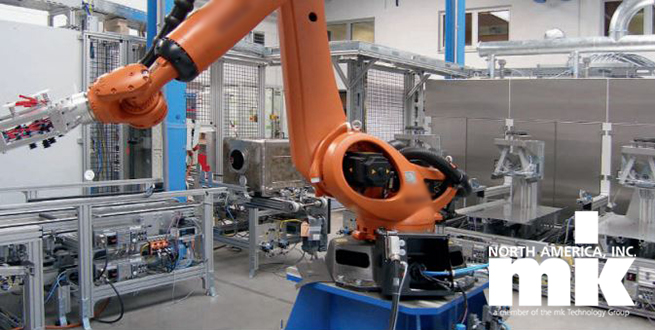 A systems integrator is a company which; after careful review and planning, implements automation systems. The systems integrator is responsible for thoroughly understanding the end-user's requirements and then integrating together the various technologies necessary to make the end-user's vision become a reality.
After the end-user's process and desired outcomes are understood the systems integrator (the integrator) will develop a layout, which may experience multiple revisions, and begin sourcing the various components necessary to complete the automation. These components include robots, conveyors, presses, indexers, feeders, as well as sensors, pneumatic fittings, and appropriate guarding. In the end, all the various components will "talk" to each other through via the controls and programming that the integrator develops.
The integrator will closely collaborate with the end-user, as well as all the various equipment suppliers.
What can you expect from a Systems Integrator?
One of the keys, non-tangible, components that the integrator brings to the table is project management. The other non-tangible component that the integrator provides is expertise. Project management and material handling expertise are what drive what one should expect from an Integrator – before, during and after the install.
Before: The integrator is going to provide a scope of work. This document lets the end-user know exactly what to expect. The integrator will also provide a scope of work to each of the component suppliers. This will allow the component suppliers, such as the conveyor manufacturer, the opportunity to present their best possible solution for their slice of the project. Many times, component suppliers will need to provide a variety of models in order to make a system work seamlessly. For example, the conveyor supplier many need to supply belt conveyors, precision indexing conveyors, and accumulating conveyors. In the development phase all the details are flushed out.
During: Once the layout has been established and the orders have been placed, the integrator and component suppliers will go through a rigorous approval process. During the approval process drawing and models will be reviewed, moved around in layouts, and signed off on. It is common during this phase for the layout to be adjusted further before the layout is finalized and signed off on. From this point the integrator will communicate with all parties to ensure all deliverables and dates are being met. During this phase the integrators project management and material handling expertise are critical. Major components will be run off at suppliers; and the integrator will build, as much as possible, the new system on their floor. Controls will also be built and tested, and programming added. Then, after all these steps the system will be installed on the end-user's floor.
After: Once the installation is complete the integrator's work is not done. The system will go through an extensive testing period and will be debugged. The integrator will also provide the end-user with training on the new equipment and teach them how to properly maintain the line. Additionally, many integrators will assist in developing and deploying a spare part program.
Working with mk North America.
mk North America is a conveyor, linear motion and guarding supplier to many integrators, both large and small, across the United States. If you are an end-user and would like to work directly with mk North America, you are welcome to. Our customer base is a mix of end-users and integrators. But if you feel your project requires something "more" and you need assistance in combining technologies, than an integrator may be the right fit for you.
mk offers a wide variety of benefits to integrators:
Low profile, space-saving, conveyor designs which integrate easily
Tight nose-bar transfers for small or delicate products
High speed, precision indexing conveyors
Pallet-handling conveyor system expertise
Custom conveyors are no problem with mk's Engineered Solutions
No worry assembly when using mk conveyors and mk aluminum extrusions – using compatible profiles from the same supplier ensures ease of build
Material handling expertise and design tools – such as CAD360!, our online conveyor modeling configurator
When integrators opt for mk conveyors they are opting for a conveyor system that is backed by a full-line of t-slot aluminum extrusion. This allows for easy addition of accessories and modules; as well as guarding and other protective devices. This saves time and money; and results in a more aesthetic build.
With CAD360! the designer has over 20 different conveyor models at their fingertips – all online and accessed within one easy to use interface. This software allows the designer to create a single conveyor or start working off a predesigned layout. This enables engineers to quickly develop conveyor layouts for their project, and to make on-the-fly changes as necessary. However, once a project moves into the job phase mk North America will provide complete detailed approval drawings of the various conveyor modules as well as the conveyor layout. This allows the integrator to see exactly what is to be delivered, and to ensure it meets everyone's expectations.
---